Updated: 11/15/2019
Huong Pagoda Festival (Lễ Hội Chùa Hương or Trẩy Hội Chùa Hương) or Perfume Pagoda Festival is a famous festival in Vietnam. It is located in Huong Son Commune, My Duc District, Hanoi. In Huong Son, visitors will admire a vast complex of Buddhist Temples where the Bodhisattva Guan Yin appears to lead a religious life. It is considered one of the largest and most famous festivals in the North of Vietnam, which attracts thousands of Buddhists all over Vietnam.
Huong Pagoda is a famous scenic spot, not only because of the beautiful scenery but also the beauty of the Buddhist religious beliefs of Vietnamese people. Unlike any other place, Huong Pagoda is a complex of many temples, pagodas, and caves surrounded by mountains and forests, and it becomes a complex of large landscapes with a harmonious architecture between nature and man-made. The Creator has bestowed here mountains and peaceful rivers, and then people have blown the soul into the miracles so that it becomes sparkling, lively, and colorful. That has created a unique culture of the nation – the culture of Buddhist religious beliefs. Although it has existed for many centuries, the culture has imprinted in the mind of every Vietnamese person when coming to Huong Pagoda. Therefore, visitors want to come back every year with the desire to incense and pray for a lucky and happy new year. The Kings of Vietnam and famous poets have repeatedly praised the beauty of the mountains and forests here. In 1770 when Trinh Sam Lord came to Huong Son, he carved five words on the door of Huong Tich cave "Nam Thien De Nhat Dong" (The Most Beautiful Cave of Vietnam), "Ky Son Tu Thuy" (strange and beautiful mountain). Many famous Vietnamese poets came here to write poems; such as Chu Manh Trinh, Cao Ba Quat and Xuan Dieu. Che Lan Vien, Ho Xuan Huong.
I. What Is The Best Time To Visit The Huong Pagoda Festival?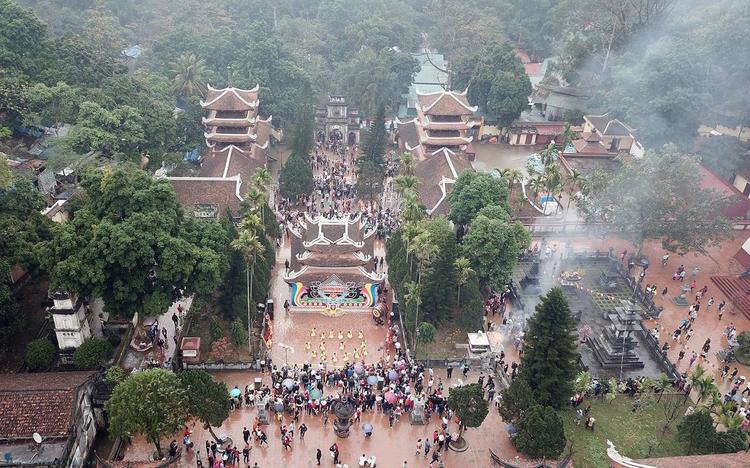 Huong Pagoda Festival is held every year, and it for three months from January 6 until the end of March of the lunar calendar. But the official days of the festival is from January full moon to February 18.
II. What Are Activities For Tourists To Do?
Every year, Huong pagoda festival attracts millions of domestic and international tourists. At the time of the festival, there are many cultural and sports activities taking place including:
1. Incense And Pray At The Beginning Of The Year
Huong Pagoda festival takes place within about 3 lunar months of the year. Especially in the period from January full moon to the February 18 lunar calendar. Most tourists who come to Huong pagoda on the beginning of spring have a common purpose to worship Buddhism, pilgrimage, spirituality. When coming here, tourists often pray for a full life and a successful trading year. Farmers wish for a good harvest while merchants hope that a year of many fortunes would come with them. According to the old concept of Vietnamese people, if anyone wants to have a son, rub the head of Cau Mountain (núi Cậu), and if anyone wishes for a daughter, rub the head of Co Mountain (núi Cô). The patients believe that drinking drops of the breast milk of fairy (vú mẹ) will improve their health quickly.
2. Join Leisure Activities At Huong Pagoda
When visiting Huong Pagoda, tourists can immerse themselves in cultural activities and festivals here. Huong Pagoda Festival is a place to gather unique ethnic cultural activities such as boating, mountain climbing, Chau van Singing (Hát Chầu Văn), and Cheo Singing (Hát Chèo).
Sailing
When coming to Huong Pagoda, visitors will be able to take a boat trip, which is the main means of transportation in the festival. Tourists can sit on a boat and admire the beauty of mountains and rivers, which gives you a feeling of peace. On the main days of the festival, a series of boat race on the Yen stream (suối Yến), which becomes an indispensable entertainment activity in the festival.
Climbing Mountain
After leaving the pier, visitors come to the unique climbing activities of the area. Visitors can climb the stairs to the Huong Tich Cave (động Hương Tích) and Trong Pagoda (Chùa Trong). The feeling is great if you conquer each step into the Huong Tich cave. You can also choose to take a cable car instead of walking to Huong Pagoda. But we recommend walking, which is good for your health.
Cheo Singing And Singing Folk Songs
When going along the boat wharf or setting foot on this spiritual land, you will encounter Vietnamese folk tunes such as Cheo singing (Hát Chèo) or Sam singing (Hát Sẩm) on each cottage. The folk songs are deep in the hearts of first-time visitors. Please give yourself the best moments when immersing in those traditional folk songs.
III. What To Eat?
When traveling to Huong Pagoda, tourists can enjoy a lot of specialties. You can eat Sang Vegetable cake (Bánh Rau Sắng), or dishes made from Sang Vegetable. This vegetable is grown only in Huong Son area. In addition, there are also quite crispy and sweet apricot fruits in the summer.
Besides, you can eat vegetarian food when you come to the pagoda. But you can also enjoy dishes prepared from goats, cows, and horses. Although there are many restaurants along the road, you should ask the price first to avoid high prices. At the foot of Thien Tru Mountain (núi Thiên Trụ,) there is Mai Lam restaurant with good service quality and affordable price.
IV. Where To Stay?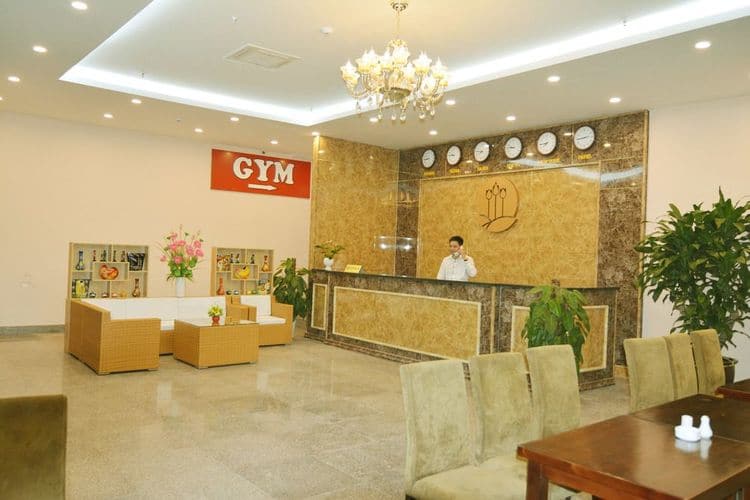 There are some hotels located near Huong Pagoda. Some suggestions include:
Lotus Legend Hotel: 197, Tran Phu Street, Ha Dong District, Hanoi. The price of a room begins at $43/night.

Perfect Hotel: 1, Thanh Binh Street, Ha Dong District, Hanoi. The price of a room begins at $21/night.
See more:
Do you find this information useful about Huong Pagoda Festival? Please share your interesting experiences when participating in the festival activities with us! To learn more about Vietnam tourism, visit our homepage.