Hoa Trung Lake (Hồ Hòa Trung) in Danang is gradually becoming an attractive destination for many young people who love tranquil and rustic landscapes.
This lake is located in 2 communes of Hoa Lien (Hòa Liên) and Hoa Ninh (Hòa Ninh). It is about 20km from DT602 Road (Ba Na (Bà Nà) Road), and 20km from Danang city center. Being a man-made lake, Hoa Trung Lake was built to provide water for daily life and cultivation of people in Hoa Lien and Hoa Ninh Communes, Lien Chieu (Liên Chiểu) district, Danang, Vietnam.
If you are planning a trip to explore this lake, do not miss out our helpful sharing below. Surely it will help you have the best experience.
What Is The Best Time To Visit Hoa Trung Lake?
Many visitors say that Hoa Trung Lake is like the Tibetan plateau in the middle of Danang. This lake is now becoming a favorite destination for many young people who love to travel to Danang and want to camp.
The time from late September to early October is considered the ideal time to visit Hoa Trung lake. At this time, the lake begins to dry and reveals the green color of beautiful grass stretches.
You can come here early in the morning when the dew drops on the grass, or in the afternoon when the sun goes down behind the mountain.
How To Get To Hoa Trung Lake?
It takes 40 minutes to go from Da Nang center to Hoa Trung Lake. You can go by car or motorbike since these are two suitable means helping you take the initiative in time and stop at any time for sightseeing along the road.
If you go in the dry season: depart from Danang center then go to Hoang Van Thai (Hoàng Văn Thái) Street (direction to Ba Na Hills), and turn right on National Highway 1A. After that, turn to Tan Ninh Road and go straight on this road to reach to Hoa Trung Lake.
If you go in the rainy season, you have to take other roads to avoid flooding: depart from Hoang Van Thai and turn right to National Highway 1A. Turn left onto Au Co (Âu Cơ) Street. Go to the end of this road and you will see a trail leading to the lake.
If you have difficulty finding the way, especially the path down to the lake, you can ask indigenous local people.
Also read: Top 17 Must-See Danang Attractions In Vietnam To Visit
What Are Attractions In Hoa Trung Lake?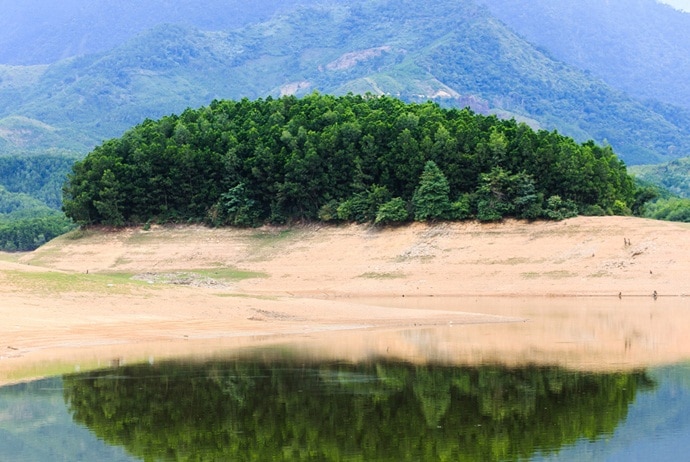 Actually, due to its impressive and wild beauty, Hoa Trung Lake has increasingly become a popular destination for Danang residents who wish to join in outdoor activities or go camping here with their family members and friends. Coming here, you will enjoy picnic resting on the weekend. In addition, Hoa Trung Lake is also a place that many young people and couples choose to take wedding photos.
This lake is also a new site that draws photographers from Danang to come and capture its amazing beauty.
Lake water here is green all year round. From time to time, there will be a few small islands emerging naturally in the middle of the lake, adding to the beauty of natural landscape here.
However, the peaceful beauty of Hoa Trung Lake is related to not only vast pastures but also pictures of cows and buffaloes grazing in the morning and afternoon.
Especially, in Hoa Trung Lake, you should not skip experiencing rowing activities. The boats are made by fish farmers and used to navigate through the lake. Hence, borrow boats from fish farmers to experience this exciting activity.
What To Eat In Hoa Trung Lake?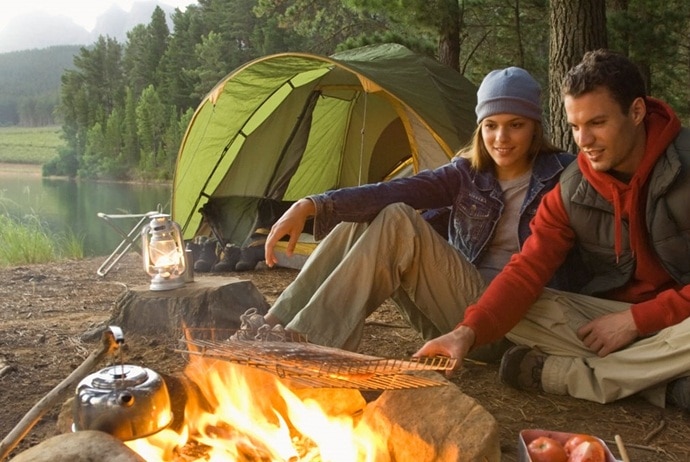 Hoa Trung Lake is an artificial lake surrounded by floating islands. There are not many tourist services here, so you should prepare food and water for your trip.
Some Things To Note
Do not forget to bring insect repellent, flashlight, and medicine.

In the dry season, the most suitable time for camping is from afternoon to early morning in the next day, as the weather is quite pleasant at this time. However, you need to prepare in advance because there may be heavy rain or thunderstorms in the evening.

This is a wild tourist destination and there are no tour operators managing it, so before leaving, you should treat the rubbish properly.
The above are the experiences about Hoa Trung Lake tourism that we would like to share with you. If you want to find a place to stay away from the hustle and bustle of urban life, Hoa Trung Lake is a great suggestion. Wish you have a fun trip!
Leave a comment below this post if you have any question about this article, we will reply as soon as possible.