Updated: 11/22/2019
When it comes to Danang (Đà Nẵng), Vietnam (Việt Nam), people often think about a dynamic tourist city with many famous places like Ba Na Hills, Ngu Hanh Son (Ngũ Hành Sơn), Son Tra peninsula (Bán Đảo Sơn Trà), My Khe beach (Bãi Biển Mỹ Khê), Than Tai mountain (Núi Thần Tài)…etc. However, not many people know that there is a rustic and wild village called Van village situated at the foot of Hai Van Pass (Đèo Hải Vân). In spite of many destinations in Danang city that attract tourists worldwide, Van village is still peaceful and quiet as an innocent girl in the city.
Indeed, this village is ideal for young people to explore and travel on the weekend. Previously, it was called "Cui" Village (Làng Cùi) because it was the home of people suffering from leprosy during the 80's. They kept living separately from the outside world. After that, the state supported them to integrate into the normal life. This village, as a result, seems to be forgotten without people living there. Perhaps, this is the reason why this small village still retains its rustic beauty until now.
Van Village is quite small and lies at the base of Hai Van Pass, which was voted by the Guardian as one of the 10 most beautiful lines on the planet.
You are probably feeling very excited about the trip to this small village. The following article will reveal to you useful travel experience to help you have a more enjoyable trip.
What To Prepare Before Going To Van Village In Danang?
Because this village is isolated from the Danang city, you may hardly buy the essential items prior to coming here. Therefore, take the initiative to prepare some of the following items to avoid unwanted inconvenience:
Identity cards or visas, clothing (including beachwear), sandals, hats, sunscreen, toothbrush, and toothpaste.

Tents, water, medicine, and flashlights.

Mosquito repellent.

Some junk food.

Cooking utensils and some dishes such as bread, milk, noodles and sweet potatoes.
How To Get To Van Village?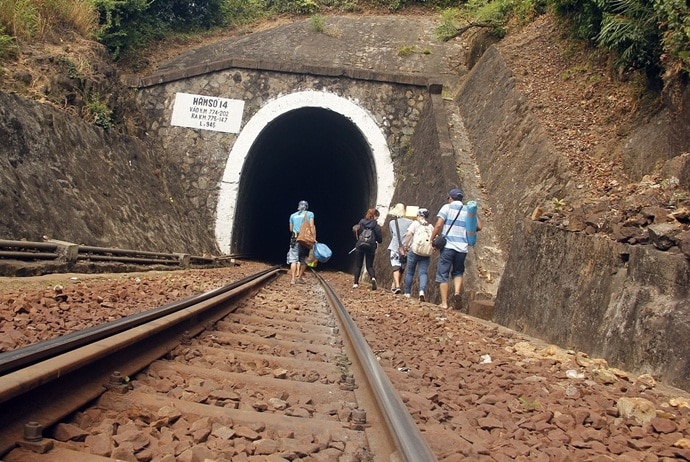 There are many ways to get to Van Village. Here are the most convenient ways:
This is the simplest way to travel to Van Village. You just need to go to the end of Nguyen Tat Thanh (Nguyễn Tất Thành) Road, and then turn to Highway 1A. There, you will see many places for boat renting in order to get to Van village. Ask local people to know how to get there.
Go Down From The Mountain
You need to go towards Hai Van pas direction. From the foot of the pass, go up about 2-3km, you will see a small store on the right side of the road. Park your vehicle there and ask for directions to Van Village.
This is considered the most interesting way to go to Van village. When riding a motorbike to Hai Van Pass, you will see a railway barrier. You can park your motorbike there and go through the tunnel. Note that to warrant for safety, you need to watch the train before running through the tunnel.
What Are Attractions In Van Village?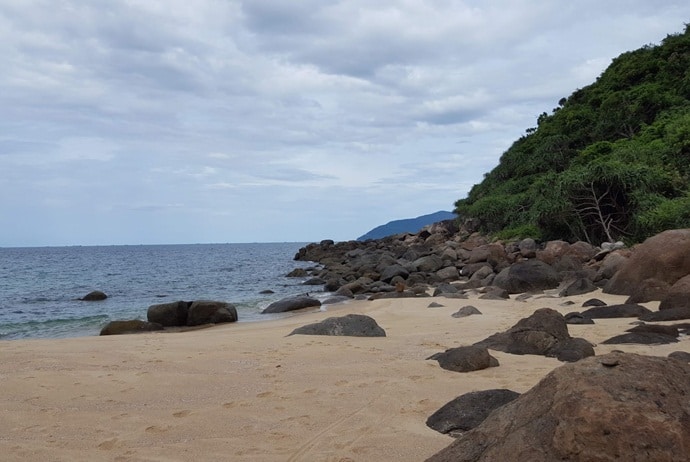 At present, only very few people live and earn a living by fishing in this village, so the sea landscape here is very primitive. The clear water, lush coconut trees, majestic mountains, peaceful landscapes and blue sky are what you will feel right in the first time of coming Van Village. To describe the beauty of Van village, there are three adjectives: pristine, peaceful and poetic.
Van Village has 3 main beaches, of which the Dua beach (bãi Dừa) is the closest to the city center. Dua beach is covered by green lush, soft sand, which embraces a large sea.
Chinh Beach (Bãi Chính), where people live in, is the main beach in Van Village. To learn about the culture here, you can stay and chat with the villagers who are very friendly and hospitable. You can camp overnight at this beach. At the gate of the village, there is a vacant area, and you can camp there. Also, you can go to nearby Isabella Cape to catch crabs and sea snails. This is a very interesting experience.
Xoan beach (Bãi Xoan) is the most beautiful beach in Van village. However, you should not swim at this beach because it has swirling waters. Just standing on this beach of Van Village, you can admire the dawn. You can also camp and cook on this beach, or catch crabs and sea snails with the locals. The road to Xoan beach is quite far away, so it is only suitable for healthy people who like to explore and have perseverance. If you are up for a little venture, you could walk to the end of the last beach that passes through Van Village in order to cross one of Hai Van mountain spurs through a lush valley. There is a path which can help you get another beach (the 4th beach) that is enclosed by rocky mountain on the beach's end.
Behind Van village, there are mountain and forest. Standing in this village, you will feel like standing in the harmony of earth and heaven, city and countryside. This village is also ideal for you to admire sunrise.
Don't skip:  Top 17 Must-See Da Nang Attractions In Vietnam To Visit
What To Pay Attention When Visiting Van Village?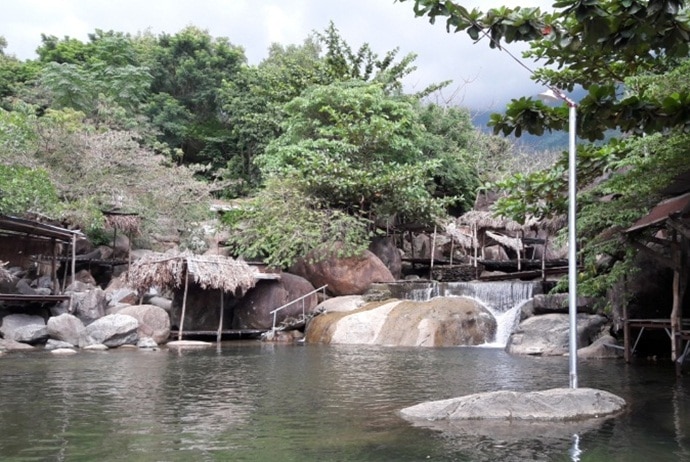 The road to Van Village in Danang, Vietnam is quite bad due to the availability of many stones, so you need to bring sports shoes to facilitate travel.

You need to bring enough water and food to supply for all of your team's members (if any).

In the third way to get to Van Village, you need to go through the tunnel. The tunnel is very dark, so take a torch with you to ensure safety when moving. It is best to carry a flashlight on your head. You need to pay attention and observe the train continuously. Follow a group of three, when you hear the sound of the train, run up to the narrow niche in the tunnel.

Van Village is isolated. Many places in this village are abandoned, so it is best to follow the group to support each other when encountering unexpected problems. Do not go alone.

When you arrive at Van Village, you need to go to the border station to provide personal information and leave the contact number.
There, you have just found out some useful experience about Van Village tourism. Van village in Danang, Vietnam is still beautiful and peaceful, and ideal for those who like adventure. If you are traveling with children and old people, you need to consider carefully before going because the conditions in this village are not good.
Wish you have a fun and safe traveling trip in Vietnam! If you have any questions, please leave a comment, we will reply as soon as possible.