In the past, airport cuisine has only a few culinary options for passengers who have frequent trips. However, nowadays, Noibai airport in Hanoi, Vietnam has turned into an ultra-fine dining area that brings newfound and unexpected discoveries to passengers while waiting for long flights. Discover the list of best restaurants near Noibai airport on Vina.com!
Top 5 Best Restaurants Near Noibai International Airport In Hanoi, Vietnam For You To Enjoy
1. Hai Cang Restaurant (Nhà Hàng Hải Cảng)
Perhaps, Hai Cang restaurant is the first ideal stopover for customers who have just gone through a long flight to Hanoi. Coming to Hai Cang, visitors are not only overwhelmed by the cozy space and attractive dishes but also satisfied by professional staff services. With a typical style of Hong Kong cuisine, locals and foreign tourists will surely have exciting experiences when enjoying tasty dishes here. In addition to traditional Hong Kong breakfast dishes including dim sum, and sophisticated royal dishes with shark fins, bird's nest, and sea cucumber, the restaurant also serves Vietnamese dishes such as pho and fried rice with great traditional flavor. 
Location: 4th floor, T2 station, Noi Bai airport, Hanoi
Tel: 1900 0316
Price ranges: 150.000 – 300.000 VND/person
2. Confetti Restaurant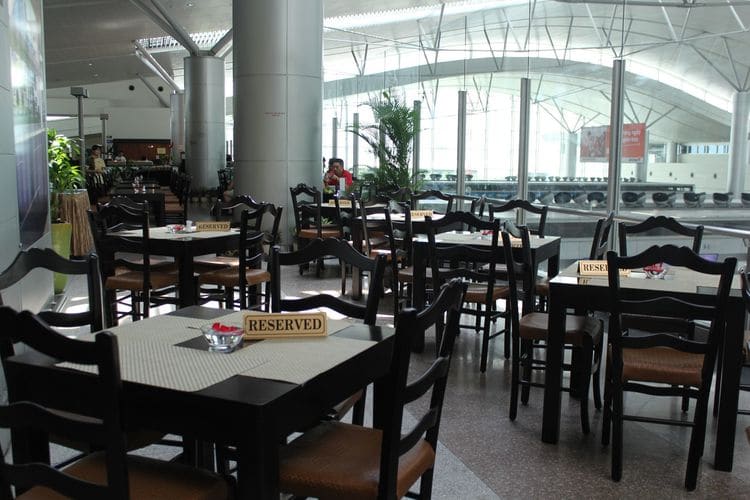 Confetti restaurant system spreads throughout Vietnam's domestic and international airports recently, and the most notable branch located at the T2 station of Noi Bai airport in Hanoi. The unique attraction of the restaurant comes from the open space, delicious food, and reasonable price. Catching a variety of dining needs, the restaurant offers many typical European and Vietnamese dishes, such as steak, sauté diced beef, stir-fried rice, and vermicelli bowls. In particular, the restaurant also serves fast food for busy passengers, including a soft egg sandwich and a stunning beef burger served with cheese and fried eggs.
Location: T2 Station, Phu Minh, Soc Son, Hanoi
Tel: 096 576 1023
Price ranges: 150.000 – 200.000 VND/person
3. Pho Nui Restaurant (Nhà Hàng Phố Núi)
Ethnic specialities in northern Vietnam are always one of the interesting culinary experiences for foreign tourists during their visit to Hanoi. Coming to Pho Nui, diners can freely choose many specialities of the Northwest Vietnam mountain with an unforgettable attraction from the extensive menu. Must-try dishes at the restaurant include grilled wild boar, salted turtle, and some fresh seafood dishes shipped from large seas across the country. No need to go far, let visit Pho Nui restaurant and enjoy plenty of dishes from the Northwest mountain with the most typical flavor.
Location: 82, Road 2, Phu Minh, Noi Bai airport, Hanoi
Tel: 043 584 1396 / 0947 363 418
Price ranges: 200.000 – 300.000 VND/person
4. Green Airport Restaurant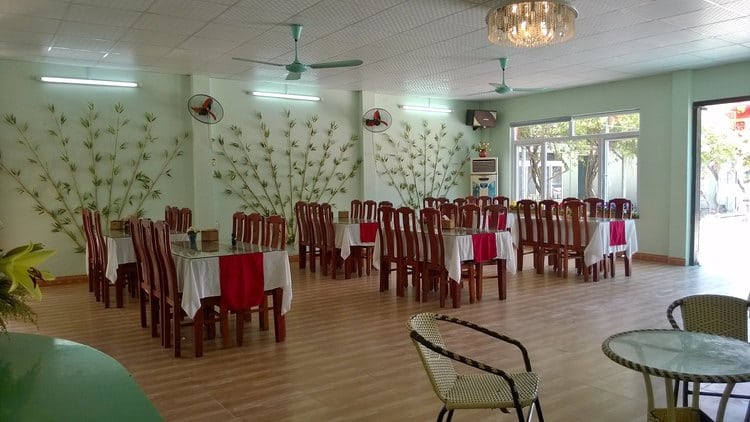 Located at Cienco 4 Gate and opposite Noi Bai Airport VIP lounge, Green Airport has become one of the most excellent restaurants near Noibai International airport. The restaurant serves Vietnamese breakfast, lunch, and dinner at lower prices than other places. With only 30,000 VND, you can enjoy pho, noodles, and fried rice as a healthy breakfast before boarding the plane. In addition, lunch and dinner sets are also popular with passengers for only VND 100,000 including fruits as desserts. A plus point comes from the free flight check-in service for customers in groups.
Location: Cienco 4 Gate, opposite Noi Bai Airport VIP lounge, Soc Son, Hanoi
Tel: 0936 286 638 – 0979 866 925
Price ranges: 30.000 – 100.000 VND/person
5. Ngoc Suong Restaurant (Nhà Hàng Ngọc Sương)
It is not difficult to find restaurants selling snacks and drinks at Noi Bai airport. However, searching for a good place to have a meal at an affordable price seems not to be easy in such a high-quality airport. Therefore, we would like to introduce you to the Ngoc Suong restaurant. Ngoc Suong's menu is quite diverse, including Vietnamese dishes such as pho, noodles and lunch, and dinner set. In addition, the restaurant serves a list of various drinks, and sweet soup here is highly appreciated for gourmets who want to experience the traditional sweetness of Vietnam.
Location: 4th floor of Public Hall, Noi Bai Airport, Soc Son, Hanoi
Tel: 0438 866 475
Price ranges: 40.000 – 300.000 VND/person
Here are the top 5 best restaurants near Noibai International airport that you should definitely try once while waiting for your flight or after a long flight. Instantly share your own culinary experiences on our website right now!