Living conditions in Vietnam have made dramatic increase, making the demand for enjoying delicacies also increase. In particular, the French restaurants in Hanoi become one of the prevailing styles for many customers to choose and host many luxurious parties. Discover more on Vina.com with some impressive French restaurant addresses in Hanoi right now.
We would like to introduce to you 5 of the classiest French restaurants in Hanoi that receive a lot of good feedbacks from guests:
1. Saint Honoré Restaurant
Are you looking for a French restaurant with the most standard flavor? Visit Saint Honoré immediately to treat yourself to the most perfect French party in Hanoi. Indeed, Saint Honoré has successfully created a romantic space for guests who love to explore French cuisine.
The restaurant is divided into two large rooms filled with books, with a scenic view from the balcony area. On the menu, Saint Honoré is outstanding for pastries and tea, but diners can still enjoy some savory dishes like burgers and pork and beef dishes at affordable prices.
Location: 5 Xuan Dieu street (phố Xuân Diệu), Quang An ward (phường Quảng An), Tay Ho District (Quận Tây Hồ), Hanoi
Tel: 024 3933 2355
Price ranges: 100.000 – 275.000 VND/person
2. A La Folie Restaurant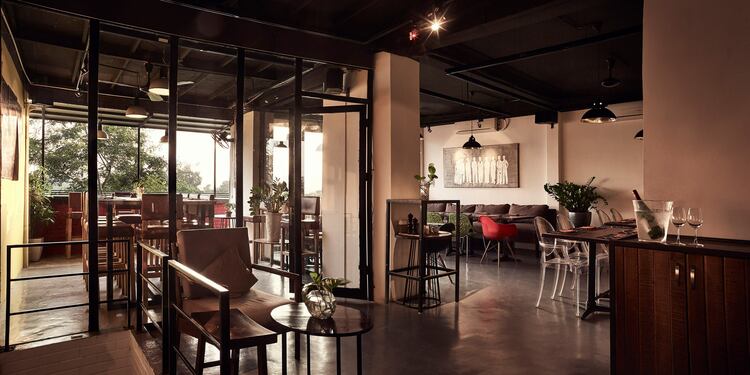 For a true taste of French cuisine, A La Folie restaurant can be the ideal place for gourmets who love French food. Located on Truc Bach street, A La Folie has nicely decorated space with the impressive view to Truc Bach Lake. The whole dishes are really great and varied from appetizers, main courses to desserts.
Coming to A La Folie, we recommend trying some dishes including shrimp salad, sautéed tuna, seafood pasta with creamy foie gras, and so on. Especially, the most impressive dish is Tarte beef – a famous raw meat dish enjoyed by Mr. Bean with soft beef without stink smell served with a mild sour sauce combined alongside sweet egg yolk to create the harmony of the French exquisite cuisine.
Location: 11B, Truc Bach street (phố Trúc Bạch), Ba Dinh District (Quận Ba Đình), Hanoi
Tel: 024 3976 1667
Price ranges: 200.000 – 450.000 VND/person
3. Le Beaulieu Restaurant
Le Beaulieu is one of vintage French restaurants in Hanoi belonged to the 5-star Sofitel Metropole. Highly recommended by TheDailyMeal.com, Le Beaulieu in Hanoi is serving high-class food meals to diners when visiting here on special occasions. The menu is beautifully presented with great flavors coming from high-end ingredients. In addition, diners can order imported wine to enhance the perfect flavor of the sophisticated meal as well as enjoy the live music performed every day.
Location: 15 Ngo Quyen street (Phố Ngô Quyền), Trang Tien Ward (phường Tràng Tiền), Hoan Kiem District (Quận Hoàn Kiếm), Hanoi
Tel: 024 3826 6919
Price ranges: 500.000 – 2.000.000 VND/person
4. Panam 'Creperie Restaurant
Truong Han Sieu Street is a peaceful street, so visitors may be surprised to learn about a French restaurant specializing in serving lovely crepes here called Panam 'Creperie. Panam 'Creperie is decorated in such a delicate and gentle European style, with many beautiful vintage artworks suitable for the romantic meals.
Panam 'Crêperie's menu includes savory and sweet crepes with a variety of unique ingredients. Overall, all the crepe dishes here have the soft, medium-thick crust along with an eye-catching golden brown look. Notably, savory crepe with cheese served with sweet cream and ham sauce, along with a sweet crepe with light sour cream can easily satisfy the hardest gourmet. Moreover, you can enjoy some excellent French tea sets at affordable prices for the awesome afternoon tea party.
Location: 26 Truong Han Sieu street (phố Trương Hán Siêu), Hoan Kiem District (Quận Hoàn Kiếm), Hanoi
Tel: 024 6291 1026
Price ranges: 50.000 – 250.000 VND/person
To make your trip in Hanoi more enjoyable and memorable, put our checklist of Hanoi activities into your pocket.
5. La Table du Chef Restaurant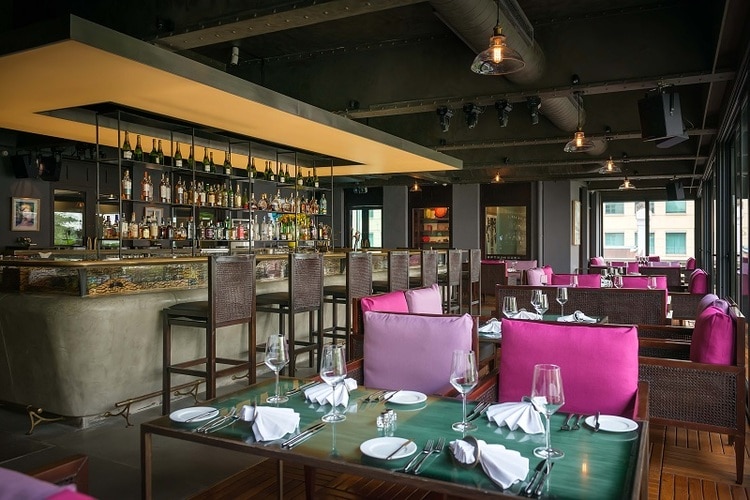 La Table du Chef is really a high-class restaurant among many Hanoi restaurants, ensuring all criteria of space and food. The space is very beautiful with wooden designs and retains from the original color of the wood. The interior space is divided smartly, including a private corner for couple and larger corners for the group. Especially, there is an outdoor section with a white bridge and table type look very nice to host a light snack party.
On the menu, diners will be surprised by some impressive dishes made from seafood and foie gras like shellfish in perfumed infusion with a variety of multi-tiered herbs flavored with fresh seafood. Also, sauté foie gras with chestnut cream, and truffle mushrooms will be a great side dish for guests. Besides, passion fruit ravioli with coconut rice milk is considered the most unique dessert prepared at La Table du Chef.
Location: 3rd floor, Press Club Building, 12 Ly Dao Thanh street (phố Lý Đạo Thành), Hoan Kiem District (Quận Hoàn Kiếm), Hanoi
Tel: 024 3934 0888
Price ranges: 100.000 – 500.000 VND/person
The French restaurants always focus on service specifications and quality in the menu, so it is an obvious reason why they are always considered as familiar spots by local diners and tourists.
Drop your words below this post to share your experience in Hanoi! We love to hear your voice!