If you regularly watch Thai movies or have traveled in the land of Golden Temple, you will surely be impressed with exquisite Thai cuisine in sophisticated Thai dishes from the presentation to their taste. Right now, Vina.com will introduce some of the most delicious and favorite Thai restaurants in Hanoi, Vietnam!

Here are the top 5 most beloved Thai restaurants in Hanoi not only about the deliciousness but also the freshness of the menu:
1. Thai Express Restaurant
When it comes to the amazing Thai cuisine, visitors cannot help but think about Thai Express – one of the largest Thai restaurant chains in the world which have succeeded in impressing Vietnamese customers and foreigners for nearly a decade. The menu including a variety of Thai street food and family-style dishes helps give sensory dining experiences to guests.
When visiting Thai Express, we suggest you enjoy Tomyum hotpot with aromatic and spicy flavor from lemongrass, galangal and lime leaves. Besides, the mango salad of Chiang Mai, sweet and sour seafood glass noodles, or Pattaya grilled chicken, can be good options for you to try when visiting Thai Express.
Location: Vincom Center, 191 Ba Trieu street (Bà Triệu), Le Dai Hanh Ward (Phường Lê Đại Hành), Hai Ba Trung district (Quận Hai Bà Trưng), Hanoi
Tel: 024 6255 9191
Price ranges: 100.000 – 300.000 VND/person
2. Chai Talay Restaurant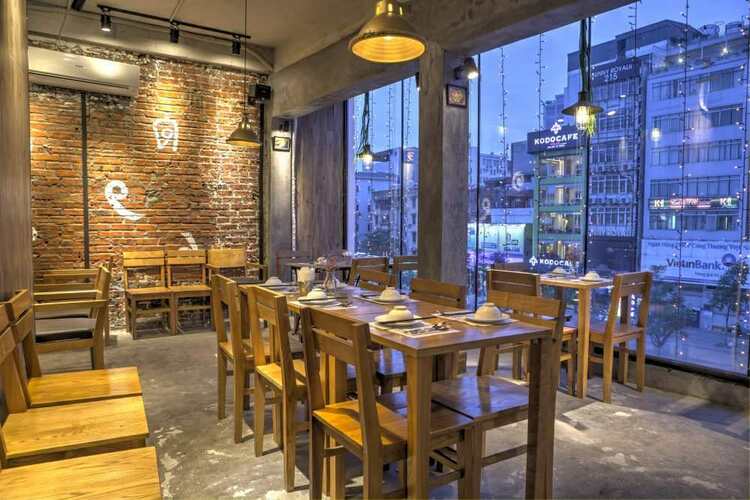 Chai Talay restaurant is one of the Thai restaurants in Hanoi that received many good feedbacks from customers with a hotpot buffet costing only 99.000 VND. The broth here has an excellent sweet and sour flavor served with fresh vegetables and American beef in accordance with the common taste of all the customers.
The plus point comes from the professional service of the staff when the plates of fresh meat and vegetables are provided continuously to ensure your stomach will feel full with such an economical buffet. Besides, the restaurant also offers some delicious Thai dishes such as outstanding Thai salad and mango sticky rice.
Location: 474 Xa Dan street (phố Xã Đàn), Dong Da District (Quận Đống Đa), Hanoi
Tel: 096 249 06 02
Price ranges: 99.000 – 300.000 VND/person
3. Gusto Thai Restaurant & Cafe
Gusto Thai Restaurant is a fairly new Thai restaurant in Hanoi, featuring neat furniture with dark tables and chairs alongside beautiful wood carvings of Apsara dancers. A quick look at the menu here, you can see a detailed selection of dishes that can meet the needs of the most fastidious gourmets.
The first page is a chart of the spicy levels that you may require the proper one to enhance the Thai flavor for your memorable meal. In addition, Gusto Thai is famous for many standout dishes of Thai cuisine such as Gai Hoh Bai Teoy (Thai chicken in pandan leaves), Thai Pat (stir-fried noodles with shrimp, seafood and meats), along with green or red curry processed from chicken, pork, beef. Besides natural and fresh ingredients, Gusto Thai food always impresses its customers not only about the unique flavor, but also from the techniques and recipes of Thai chefs.
Location: 9 Phan Chu Trinh street (Phố Phan Chu Trinh), Hoan Kiem District (Quận Hoàn Kiếm), Hanoi
Tel: 0243 933 6353
Price ranges: 150.000 – 450.000 VND/person
4. Thai Little Restaurant
As its name, Thai Little is really a small Thai cultural corner that stands out with a range of standard-flavored dishes from the land of golden temples. Visiting this place, visitors will be easily conquered by the true flavor of Thai hot pot with sweet and spicy broth alongside fragrant coconut milk, served with beef, chicken, seafood and fresh vegetables. In addition to hotpot dishes, diners can try some snacks such as Sum Tom salad or seafood glass noodle with lots of toppings while waiting for main dishes.
Location: 1 Yen The street (Phố Yên Thế), Ba Dinh District (Quận Ba Đình), Hanoi
Tel: 098 466 90 60
Price ranges: 50.000 – 150.000 VND/person
5. Thai Deli Restaurant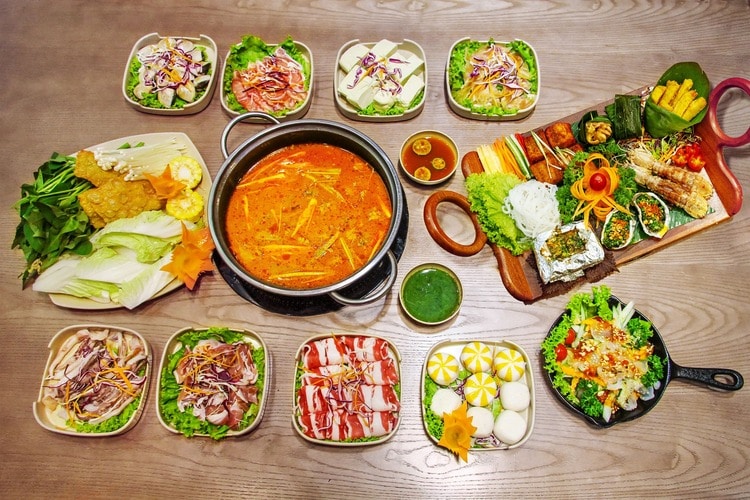 If you are looking for a Thai restaurant to host cozy family or colleague parties, Thai Deli is really an interesting choice for you. With buffet self-serving style at an economical price, you have the opportunity to enjoy plenty of excellent dishes in countless quantities. A special menu of Thai Deli must be mentioned as fried rice with spicy stir-fried chicken, seafood salad and original Thai hotpot which are enhanced the flavor by the professional processing style of chefs here. In particular, the restaurant always spends some gifts like lovely toys for children as promotions.
Location: 62 Mai Hac De street (phố Mai Hắc Đế), Hai Ba Trung District (Quận Hai Bà Trưng), Hanoi
Tel: 043 5779 888 and 0961 917 119
Price ranges: 100.000 – 300.000 VND/person
Here are 5 of best Thai restaurants in Hanoi that Vina.com would like to introduce to you when travelling Hanoi. Discover more about Hanoi restaurants and leave your comments in our website right now.