Luxurious restaurants with exquisite cuisine from Europe always have their own attraction for all customers. With the criteria of bringing satisfaction to diners from beautiful space, professional services, and delicious food, these restaurants have become the ideal places for many luxurious and cozy parties. To help you enjoy delicious dishes in the romantic and classy spaces, Vina.com introduces the most luxurious European restaurants in Hanoi.
Read also:
Top 5 European Restaurants In Hanoi, Vietnam
1. Maison Vie Restaurant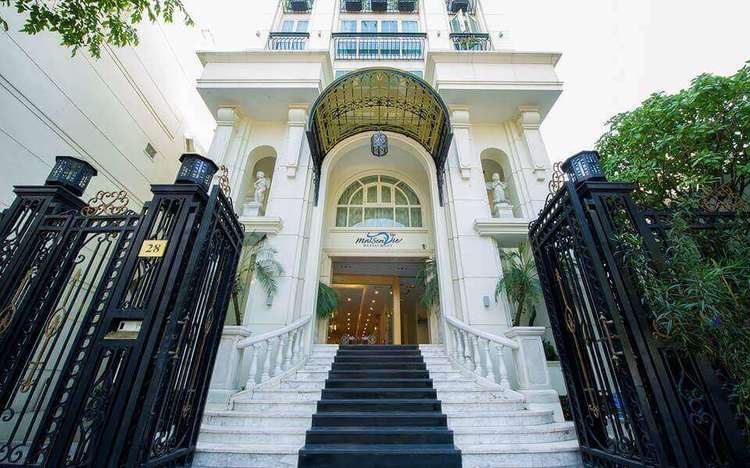 Maison Vie – A luxurious restaurant is inspired by the typical classic architecture from France. Located in the bustling Tang Bat Ho Street, Maison Vie is considered a familiar restaurant for food lovers who are passionate about French culture. Here, diners can fully experience a lot of creative and flavorful French dishes prepared by skillful hands of long-experienced chefs. The best-selling dishes must include sauteed duck foie gras, roasted chicken breast served with herb sauce along with smoked salmon spaghetti. Furthermore, you can order some imported wines to enhance the flavor of your small party.
Location: 28, Tang Bat Ho Street (Phố Tăng Bạt Hổ), Hai Ba Trung District (Quận Hai Bà Trưng), Hanoi
Tel: 090 415 03 83
Price ranges: 250.000 – 700.000 VND/person
2. JW Café
Belonged to the luxury restaurant chain of JW Marriott Hotel, the European restaurant – JW Café features an attractive menu that blends many international cuisines. Obviously, the most attractive point comes from the style of restaurant layout with 70% of glass doors surrounded and the view of natural space with a beautiful lake. Visit JW Café, you can choose a table for 4 or 6 to enjoy the most comfortable dining experience.
To get a meal here, the price seems quite high (about 1 million VND), but the quality of the meal is really worth the money you have to pay. Specifically, you will have the opportunity to try various food made from many rare and special ingredients. For example, the restaurant will serve some appetizers like seafood salad with squid and jellyfish, followed by some European main dishes such as pizzas, pasta, and beef steaks. In addition, diners can order some extra items such as grilled eel sushi, Chinese dimsum, meat buns, and roasted ducks, etc. To finish the meal, you will be able to enjoy the excellent desserts like Italian-made gelato ice-cream or some French-flavored pastries.
Location: 8 Do Duc Duc Street (Phố Đỗ Đức Dục), Me Tri Ward (Phường Mễ Trì), Nam Tu Liem District (Quận Nam Từ Liêm), Hanoi
Tel: 024 3833 5588
Price ranges: 300.000 – 1.500.000 VND/person
3. The Bistro – Café & Restaurant
The luxurious and poetic space with an excellent menu is the reason why The Bistro – Cafe & Restaurant becomes one of the best European restaurants in Hanoi. The Bistro's famous delicacies include the nutritious grilled salmon; roasted lamb served with a delicious potato curry sauce; and BBQ pork ribs. Each dish not only brings a unique experience but also very subtle and beautifully presented to surprise our guests from the first bite. Moreover, we recommend you to taste some famous dessert cakes here for perfecting your memorable meal.
Location: 2/2C Diplomatic Corps Area (Khu Ngoại Giao Đoàn), Van Phuc (Vạn Phúc), Ba Dinh District (Quận Ba Đình), Hanoi
Tel: 024 3726 4782
Price ranges: 50.000 – 220.000 VND/person
4. La Verticale Restaurant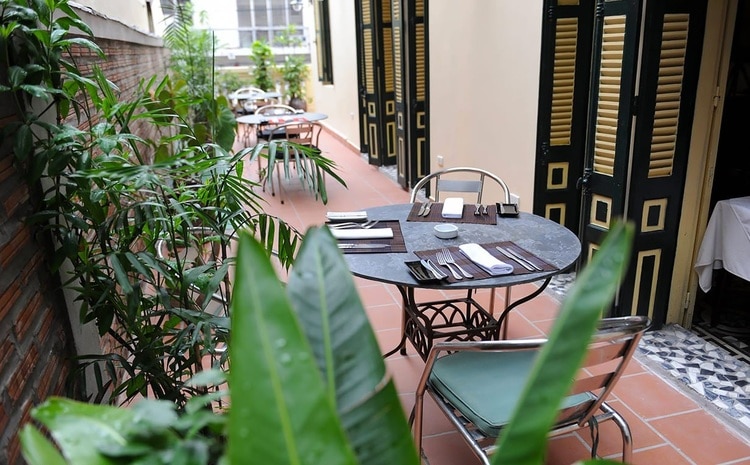 La Verticale Restaurant – A European restaurant located in an old 4-storey villa with the old beauty of an Indochina in the 1930s will become a great place for gourmets in Hanoi. The restaurant is divided into 3 separate areas with floors 1 and 2 where guests dine, and the terrace is a place to enjoy exquisite drinks. There is a special feature that customers will be able to observe all the chef's activities in the open kitchen on the ground floor. In La Verticale, customers can truly enjoy some special European dishes such as steamed fresh foie gras, roasted duck served with fruit sauce. In addition, tropical fruit is also a high-quality food that every customer wants to try when coming here.
Location: 19 Ngo Van So street (Phố Ngô Văn Sở), Tran Hung Dao Ward (Phường Trần Hưng Đạo), Hoan Kiem District (Quận Hoàn Kiếm), Hanoi
Tel: 024 3944 6317
Price ranges: 300.000 – 700.000 VND/person
5. Botanica Restaurant
The first impression when stepping into Botanica is the warm tones from the brick wall to the furniture, bringing a warm and friendly feeling to the guests. Food and drink in European style with the main dish – delicious steak, served with hot soup, and a number of classy roasted meats such as lamb, ostrich imported directly from the US, with premium quality wines. Add a plus point to the restaurant because the service attitude of the staff is always polite and the price ranges at Botanica is very suitable for everyone.
Location: 116/D4, Giang Vo Street (Đường Giảng Võ), Ba Dinh District (Quận Ba Đình), Hanoi
Tel: 024 3992 2328
Price ranges: 70.000 – 180.000 VND/person
With a list of 5 European restaurants in Hanoi with the top-class elegance offered above, now you do not need to worry when looking for a great place to entertain family and friends. We can guarantee that you will impress anyone who is very fastidious about space, and cuisine when taking them to one of our top European restaurants. If you want to know more about the Hanoi restaurants, and Vietnamese street food, visit my home page.