Hanoi is not only a paradise of very beautiful attractions and interesting entertainment spots but also famous for a variety of delicious and appealing dishes from many countries around the world. Together with Vina.com to explore the list of the most highly recommended Hanoi restaurants by visitors now!
Top 5 Must-Try Highly Recommended Hanoi Restaurants
1. G-Crab Restaurant
G-Crab is located in the Hanoi Old Quarter near the Sword Lake with green space, and lots of trees arranged around the restaurant. Indeed, what impresses most visitors is that the staffs here are very friendly and caring about the guests.
G-Crab's menu is not so much but very special with fresh shrimp salad, homemade tomato beef sausage, and excellent crab dish. Tasting a glass of red wine or a fruit cocktail with gentle dishes and a set of seafood are what make your family party meaningful when coming to G-Crab. In general, the Italian-style menu is enough to cater to dining needs of all guests while the food is extremely good with such a reasonable price for a restaurant located in the crowded city center.
Location: 57, Duong Thanh Street (Phố Đường Thành), Cua Dong (Cửa Đông), Hoan Kiem District (Quận Hoàn Kiếm), Hanoi
Tel: 039 846 2795
Price ranges: 100.000 – 500.000 VND/person
2. Stellar Steakhouse Restaurant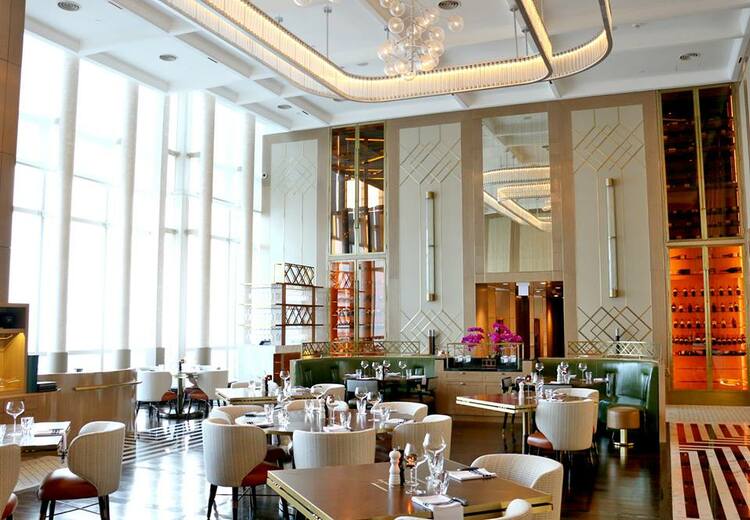 If you need to impress your family, partner or superior, Stellar Steakhouse is a perfect choice for your party on the weekends. The restaurant is situated on the 62nd floor of Keangnam building, where diners can comfortably enjoy dinner and see the city at night. Food can be ordered on a set or single dish and of course, the excellent steak is among the famous delicacies of Stellar Steakhouse. Besides the classy menu, customers can also try the wine at the right temperature that helps enhance the characteristic flavor of elite French culinary when served with other tasty dishes here.
Location: Keangnam Landmark Tower, 72 Pham Hung Street (Đường Phạm Hùng), Me Tri Ward (phường Mễ Trì), Cau Giay District (Quận Cầu Giấy), Hanoi
Tel: 024 3698 8888
Price ranges: 500.000 – 1.000.000 VND/person
3. Thien Di Quan Restaurant (Nhà Hàng Thiên Di Quán)
Thien Di Quan Restaurant is one of the most highly recommended Hanoi restaurants with an attractive Hong Kong cuisine style. The menu focuses on grilled dishes served with delicious secret sauces. Among food choices, the most impressive is the hotpot with new flavors, prepared from bone-stewed broth combined with healthy herb ingredients such as red apples, pears, and snow mushrooms in order to enhance a unique taste and stand out from other places. Besides, the layout of the interior is quite polite, combined with the tranquility to make Thien Di Quan become an ideal spot for enjoying a memorable meal.
Location: 26 Ly Thuong Kiet Street (Phố Lý Thường Kiệt), Hang Bai (Hàng Bài), Hoan Kiem District (Quận Hoàn Kiếm), Hanoi
Tel: 090 255 2358
Price ranges: 120.000 – 300.000 VND/person
4. Poke Restaurant
Poke Restaurant is a healthy restaurant chain for guests who love sophistication in Hawaii cuisine. When visiting Poke, visitors will always feel comfortable with an airy, clean, modern space with soft white light and delight music around the dining area.
The menu is extremely simple but varied. Every time you visit Poke, you can request a unique dish with a multitude of styles mixed from fresh ingredients on the menu. The base part is white rice or brown rice, with a wealth of toppings from tuna, salmon, Japanese beans, corn, tomatoes, tobiko (flying fish eggs), and quail eggs with soy sauce. In addition, the restaurant also offers some fresh and extremely delicious juices for gourmets who love organic foods.
Location: 11B, Hang Khay (Hàng Khay), Hoan Kiem District (Quận Hoàn Kiếm), Hanoi
Tel: 090 348 3218
Price ranges: 140.000 – 200.000 VND/person
5. Cha Ca Lang Restaurant (Nhà Hàng Chả Cá Lăng)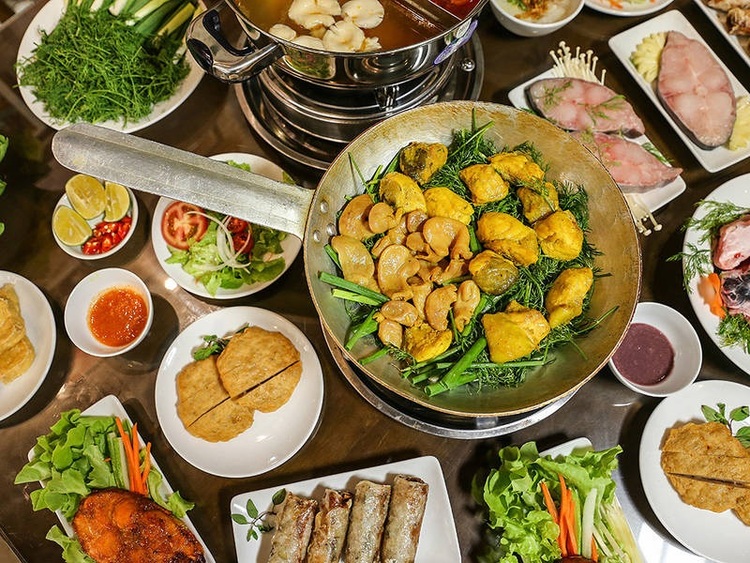 Far away from the noise of the Hanoi Old Quarter, with the delicate space, and the high-quality menu, Cha Ca Lang Restaurant has made an impression on the minds of tourists. As a high-class restaurant belonging to the E Central Hotel located on Lo Su Street, Cha Ca Lang features a small but very clean place with exquisite presentation style.
The name of the restaurant is based on the main dish here which is the grilled "Lang" fish (Bagridae fish), served with fragrant shrimp sauce, fresh vegetables, and roasted peanuts. In addition, many tourists also suggest tasting two more delicacies include fish stomach and handmade grilled chopped squid prepared in traditional Vietnamese cuisine style.
Location: 1st floor, E Central Hanoi Hotel, 18 Lo Su (Phố Lò Sũ), Hoan Kiem District (Quận Hoàn Kiếm), Hanoi
Tel: 024 3938 0175
Price ranges: 70.000 – 200.000 VND/person
With a comprehensive list of addresses of 5 highly recommended Hanoi restaurants shared above will hopefully help you have more wonderful experiences with the tour of Hanoi. Last, feel free to leave your comments below to share with us your experience in Hanoi.