In recent times, the integration among foreign cultures has really formed a diverse culinary style for foreign customers to experience when visiting some of the luxurious restaurants in Hanoi. Let's join Vina.com now to discover more about this elite combination of the culinary!
Truly, not only does Hanoi have many beautiful attractions but it is also extremely famous for its rich and unique culinary elite attracting many visitors from worldwide. With the expensive price, up to a few million VND for a person to have the meal, these luxurious restaurants below still attract a lot of diners by unique aspects in terms of architectural styles, friendly services and, especially the recipes. For such classy restaurants, you can not only getting great food but also admire the masterpieces of culinary.
Here are top 5 most luxurious restaurants in Hanoi with the exquisite cuisine that should be on your bucket list during your vacation:
Discover 5 Most Luxurious Restaurants in Hanoi, Vietnam
1. La Brasserie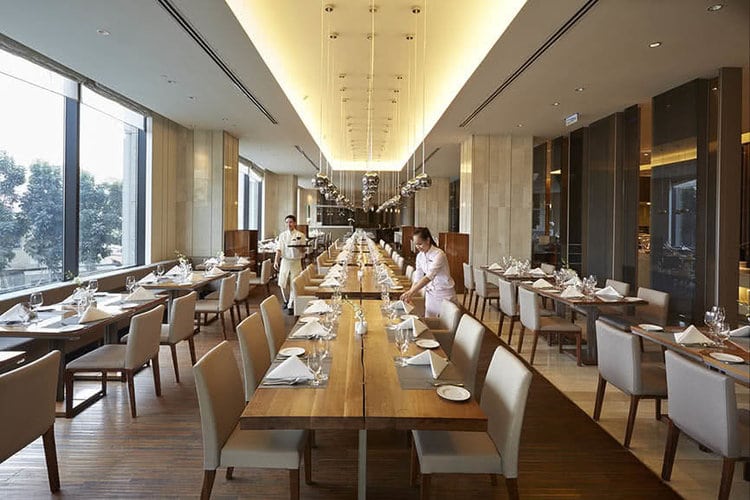 Among the city's most famous restaurants, the first stop for gourmets is probably La Brasserie – a familiar name was honored as one of the world-class five-star restaurants in Vietnam generally and Hanoi particularly. Located right on the first floor of Hotel Du Parc Hanoi Hotel, it is considered as the perfect combination of Asian and European cuisine which always gets ready to serve you anytime. With meticulously selected dishes from the fresh raw materials to the processing stages strictly controlled by the excellent quality criteria, La Brasserie can easily satisfy every palate of the most fastidious guests.
Location: 1st floor, Hotel Du Parc Hanoi, 84 Tran Nhan Tong Street (Phố Trần Nhân Tông), Hai Ba Trung District (Quận Hai Bà Trưng), Hanoi
Tel: (024) 3822 3535
Price range: VND 400.000 – 800.000/person
2. Grill 63
Welcome to the next name on the list – Grill 63 is known as one of the high-class European restaurants for visitors who have a certain understanding of tasting tender steaks with the finest wine.
With an outstanding level, Grill 63 has affirmed its position in the city's cuisine with two excellent dishes of lobster and steak. In addition, the premium taste from imported wine bottles along with amazing desserts such as fluffy fruit cakes will certainly bring to you a wonderful symphony.
Moreover, while enjoying the Grill 63′ s elite menu, customers can admire the great view of a developing city with a sense of relaxation from the 63rd floor of a 5-star hotel. Do not hesitate anymore and reward yourself a nice meal with Grill 63 right away!
Location: Floor 63, Lotte Hotel, 54 Lieu Giai Street (Phố Liễu Giai), Cong Vi Ward (Phường Cống Vị), Ba Dinh District (Quận Ba Đình), Hanoi
Tel: (024) 3333 1701
Price range: 300.000 – 600.000 VND/person
Also read: Hanoi Food Guide – 22 Best Foods To Eat In Hanoi
3. The Rooftop
There is no more controversy when it comes to the popularity of such a high-class restaurant called The Rooftop. With an open architecture style, its entire space is immersed in the beauty of nature. You can freely choose any location and zoom out to see the view of loudly Hanoi in a peaceful atmosphere.
In addition to its advantageous location, customers can also choose a full range of refined dishes from many of Europe's and Asia's top chefs. Especially, The Rooftop always organizes appealing theme music events every day that attract many travelers to come and enjoy.What are you waiting for, let's visit The Rooftop – one of the top luxurious restaurants in Hanoi right away!
Location: 19th Floor, Pacific Place, 83B Ly Thuong Kiet Street (Phố Lý Thường Kiệt), Hoan Kiem District (Quận Hoàn Kiếm), Hanoi
Tel: 091 370 69 66
Price range: 400.000 – 450.000 VND/person
4. French Grill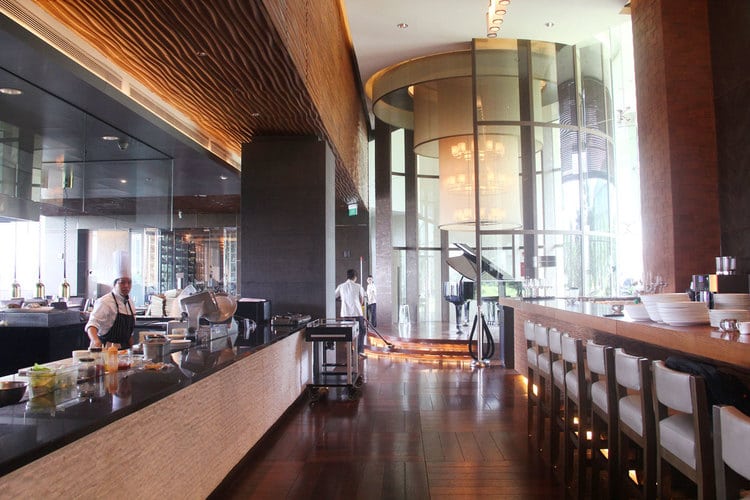 If you are looking for a classy European-style restaurant in Hanoi, French Grill can be a reliable destination offering French dishes in the extremely perfect quality. Here, you not only try many dishes made by the chefs from Europe but also have the opportunity to watch the culinary art performances in a modern open kitchen system in Hanoi recently. Truly perfect beauty is only available at French Grill – give this restaurant a try to get the most enjoyable moments during your travel time!
Location: JW-Marriott Hotel, 8 Do Duc Duc Street (Phố Đỗ Đức Dục), Nam Tu Liem District (Quận Nam Từ Liêm), Hanoi.
Tel: (024) 3833 5588
Price range: 300.000 – 700.000 VND/person
5. El Gaucho
The last name that cannot be ignored when mentioning to Hanoi's top luxurious restaurants is El Gaucho. It was not surprised that El Gaucho has become a luxurious paradise for those who really worship steak. Here, this dish is so popular that you have to spend more than 300,000 VND just to enjoy 100 grams of moist and well-cooked steak, served with special sauces permeated each the fibers of delicious wagyu beef. Furthermore, diners can taste several types of famous homemade sausages, lobster soup, and fresh salads.
Are you ready to come and experience the finest beefsteak of El Gaucho?
Location: 11 Trang Tien Street (Phố Tràng Tiền), Hoan Kiem District (Quận Hoàn Kiếm), Hanoi
Tel: (024) 3824 7280
Price range: 800.000 – 1.000.000 VND/person
It can be said that cuisine is one of the cultural symbols of each country all over the world. Depending on the living conditions of each region, it will create the food culture of that place and Hanoi is not an exception. Hopefully, with the exquisite space and high-class, attractive dishes at 5 luxurious restaurants in Hanoi suggested in our Restaurants Page, you will not miss any excellent cuisine experience in Hanoi, Vietnam.