Located in a very beautiful location of Hanoi, InterContinental Hanoi Westlake is considered as the beautiful island in the heart of bustling capital. All rooms, restaurants, and entertainment services are built on the surface of West Lake, and have sophisticated architecture styles that are influenced by Vietnamese culture, and are combined with the modernity all over the world. In addition to enjoying the on-site facilities, you can also discover lots of great food at affordable prices at some nearby restaurants.
Below are the top 5 luxury restaurants near Westlake in Hanoi, Vietnam that Vina.com would like to introduce to visitors when visiting Hanoi:
1. Tay Long Restaurant (Nhà Hàng Tây Long)
Entering the mansion space of Tay Long, customers will be overwhelmed by excellent hygiene from the first-floor bar to dining area. The restaurant also has a large yard designed a cozy family-style decoration with a capacity of over 200 guests to host group parties. About the food, Tay Long is famous for its special steam hotpot dish as a new attraction for Hanoi gourmets recently. This is a type of hotpot without water, with rice, lotus seeds, pre-sliced beef, at the bottom of the pot while the top is covered with all kinds of seafood, meat, and fresh vegetables.
Everything will be cooked by steam and after 2 minutes, guests can enjoy the topping on the top of the pot. Gradually, all the water from vegetables and seafood will flow down to the bottom and you will have one more amazing soup filled with nutrients. Overall, the price here is quite high and suitable for the classy quality of this special hotpot.
Location: 1/ 347 Au Co Street (phố Âu Cơ), Tay Ho District (Quận Tây Hồ), Hanoi
Tel: 024 3829 4894
Price ranges: 100.000 – 300.000 VND/person
2. Softwater Restaurant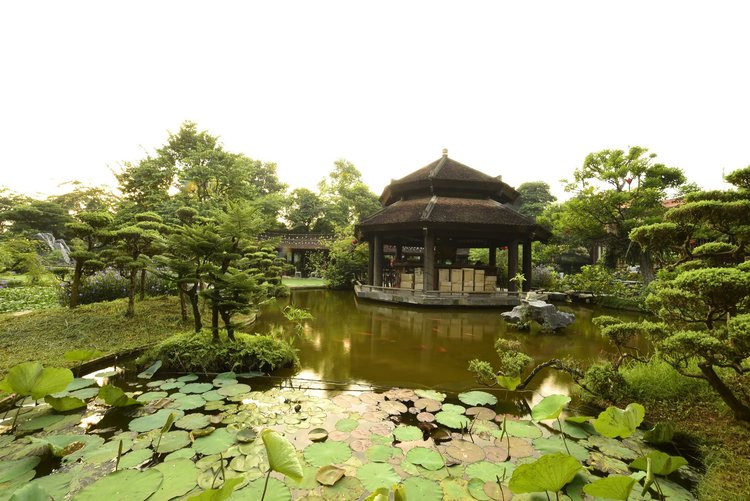 In the cognitive of some Vietnamese, images of banyan trees, wells, and temples always recall peaceful childhood memories. Truly, there is such a wonderland created in Softwater – one of the high-class restaurants in Tay Ho, Hanoi.
Softwater's sophistication in cuisine comes from a breakthrough of authentic flavors on the menu for parties held at the spacious campus. Most of the restaurant's dishes are inspired by a blend of Europe and Asia flavors. Among them, the most prominent dishes include grilled salmon served with herb sauce, steak with French fries and fresh salad, or simply a delicate seafood soup to start the memorable party the guests when visiting Softwater.
Location: 42, Road Number 9, F361, An Duong Street (phố An Dương), Yen Phu ward (phường Yên Phụ), Tay Ho District (Quận Tây Hồ), Hanoi
Tel: 024 2260 8968
Price ranges: 100.000 – 330.000 VND/person
3. Bun Chef Restaurant (Nhà Hàng Bủn Chef)
It can be said that Bun Chef is one of the few restaurants near Westlake in Hanoi that pioneer in serving a huge seafood hotpot. What's more interesting is that diners can enjoy a big hot pot with a length of 1m, and 50cm in the width, full of fresh seafood such as crab, octopus, prawn, clam, and fresh vegetables.
All raw materials here are extremely fresh, specific before pouring the hot broth, you can even see crabs or octopuses still wiggling. In addition, the restaurant also has excellent side dishes such as hand-roasted cows, royal sweet potatoes with handmade beer and wine. Besides, the beer of the restaurant is considered a high-quality and slightly carbonated drink.
Location: 85, Trich Sai street (phố Trích Sài), Tay Ho District (Quận Tây Hồ), Hanoi
Tel: 0989 253 476
Price ranges: 100.000 – 500.000 VND/person
4. Beirut Restaurant
If you want to experience Middle Eastern cuisine right in Vietnam, come to Beirut Restaurant in which can help you experience more about this special cuisine culture. Located at Xuan Dieu street, Beirut Restaurant becomes the perfect place for guests to host any mysterious Arab-style parties. Right at the entrance, there will be a huge camel model allowing visitors to stand for a commemorative photo on that spot.
For the menu of the restaurant, Hummus dishes here are tasted quite well to fit the common taste of the gourmets. The most impressive is the spicy potato dish, soft potato, without being too friable, severed with roasted meat set including 3 types: sheep, cow, and chicken. In general, all  Beirut dishes are related to the typical style of cooking with the spices prepared by Middle Eastern chefs.
Location: 37 Xuan Dieu Street (phố Xuân Diệu), Tay Ho District (Quận Tây Hồ), Hanoi
Tel: 024 3765 8888
Price ranges: 200.000 – 500.000 VND/person
5. Bep Java Restaurant (Nhà Hàng Bếp Java)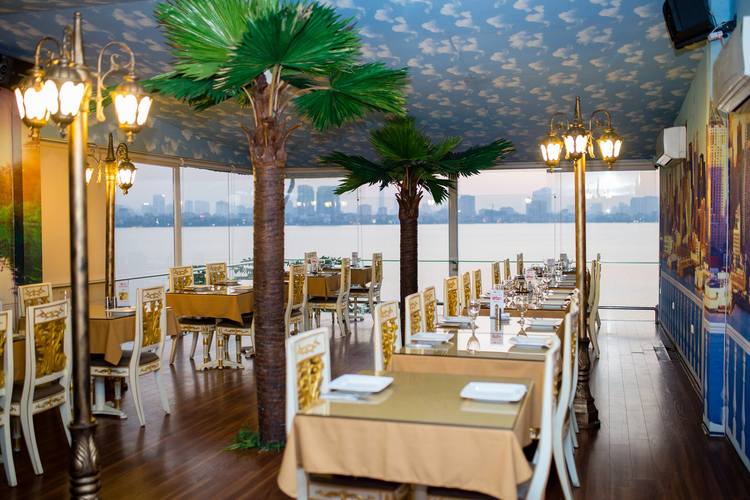 The first impression of the guests when visiting Bep Java (Java's Kitchen) is because of its magnificent outer space, with the view to the West Lake. Located in a peaceful Yen Phu village, Bep Java provides customers with a quiet space, suitable for a family and friend party.
The authentic food here is ground lobster served with American-style Java sauce. In addition, you can also enjoy many other seafood dishes such as the seafood soup presented in the exciting pumpkin-shaped bread. Although the price is a bit high because of the imported items, it is still an acceptable level for an ideal meal on the weekends.
Location: 33, Yen Phu (Yên Phụ), Tay Ho District (Quận Tây Hồ), Hanoi
Tel: 090 454 65 45
Price ranges: 180.000 – 500.000 VND/person
After this article, we hope that you can easily find the best restaurants near Westlake in Hanoi. Please refer to our Hanoi page and leave a comment below about the best restaurants and traveling experience you have had in Vietnam's capital right now.