In spite of being a city of thousands of years of history, Hanoi – the capital of Vietnam – is now becoming one of the most popular tourist destinations in Southeast Asia. Not to mention its ancient charm and distinct air of refinement reflecting through French colonial edifices, the Old Quarter and lifestyle of locals, Hanoi is also famous for its food culture.
An interesting thing about food in Hanoi is hotpot, which is also known as steamboat in Singapore, Indonesia or Malaysia. It mentions to some East Asian varieties of stew feature with a simmering metal pot of stock at the dining table's center area. With this meal, the hot pot keeps simmering while ingredients are put into the pot and cooked at the table. Hot pots are often eaten in cold months like in the winter. There are many types of hot pot using different ingredients.
In Vietnam, this type of meal is very popular and favored by many people, including foreigners working or traveling in Vietnam. In this article, Vina.com will introduce 5 best hotpot restaurants in Hanoi that you must try in cold days.
Top 6 Delicious Hotpot Restaurants In Hanoi, Vietnam
1. Pho Nam Bao Quyen Hotpot Restaurant (Nhà Hàng Phố Nấm Bảo Quyên)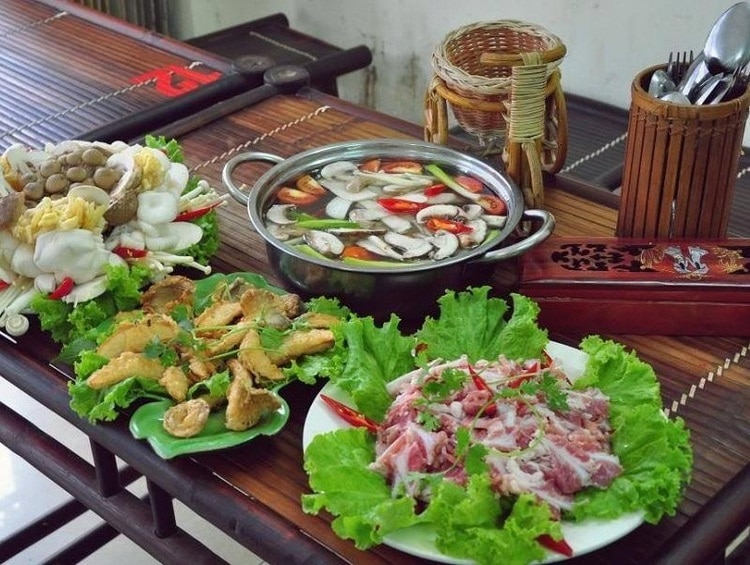 Located on Lo Duc Street, Bao Quyen is a familiar address of people who love mushroom and rib cartilage hotpot. This type of hotpot has its broth made from pork bones, sweet corn, and fresh mushrooms, giving it a natural sweet taste. Young cartilage should be the best type with beautiful pink color. Apart from mushroom cartilage hotpot, diners can order chicken mushroom or beef mushroom hotpot with great taste. The average price of a hotpot is around 250.000 for 4 people.
Address: 67 Lo Duc Street, Hai Ba Trung District, Hanoi
Tel: +84 91 345 84 98
2. Chai Talay Thai Restaurant – Tomyum Hotpot
This restaurant is highly recommended by a lot of travelers and Vietnamese. Some of them even said that this place has the best hot pot.
Chai Talay Thai restaurant is situated on Xa Dan Street and designed with luxurious space. When it comes to Chai Talay, the best-selling hotpot is Tomyum with standard taste. The hotpot's broth is made from herbs and lobsters, in addition to fragrant coconut milk. This gives off seafood flavor and brings salty and sweet taste for Tomyum. The spicy taste coming from chilli, sour taste from lemon and pineapple, and seafood's flavor create such a mouth-catching hotpot, which is abundant in Thai's flavor,  in Chai Talay. So it is really worth a try for those looking for best hotpot restaurants in Hanoi.
Address: 474 Xa Dan street (Xã Đàn), Nam Dong ward (Nam Đồng), Dong Da district (Đống Đa), Hanoi
Tel: +84 96 249 06 02
3. Bo Nhung Dam 555 – Beef Soaked In Boiling Vinegar (Bò Nhúng Dấm 555)
Among top hotpot restaurants in Hanoi, Bo Nhung Dam 555 has captured the heart of gourmets because it focuses on steps of preparing ingredients and putting them onto plates. This restaurant is the name that a lot of customers select when it comes to top hotpot restaurants in Hanoi. The beef is selected carefully and marinated based on a unique recipe, helping it be soft, sweet and firm without being tough.
Ingredients used in the beef dipped vinegar hotpot are different parts of a cow, namely tendons, tails, triplets, heart, etc. Diners will surely enjoy the unique hotpot of beef soaked in boiling vinegar with such an unforgettable taste. The food is suitable for four seasons in Hanoi. Price range is from 150.000 to 170.000 VND/person.
Address: 56 Trung Hoa street (phố Trung Hòa), Trung Hoa ward (phường Trung Hòa), Cau Giay district (Quận Cầu Giấy), Hanoi
4. Caribbean Steam Hotpot
In Caribbean Steam Hotpot, food has been brought new, fresh, pure and nutritious flavor thanks to a special hotpot form. Paying a visit to this restaurant in Hanoi, you can experience a new kind of hotpot with 2 major options, which is seafood steam hotpot and bird steam one.
Address: 63 Hai Ba Trung Street (phố Hai Bà Trưng), Hoan Kiem District (Quận Hoàn Kiếm), Hanoi
Tel: +84 24 3200 7299
5. Ashima 6 Hanoi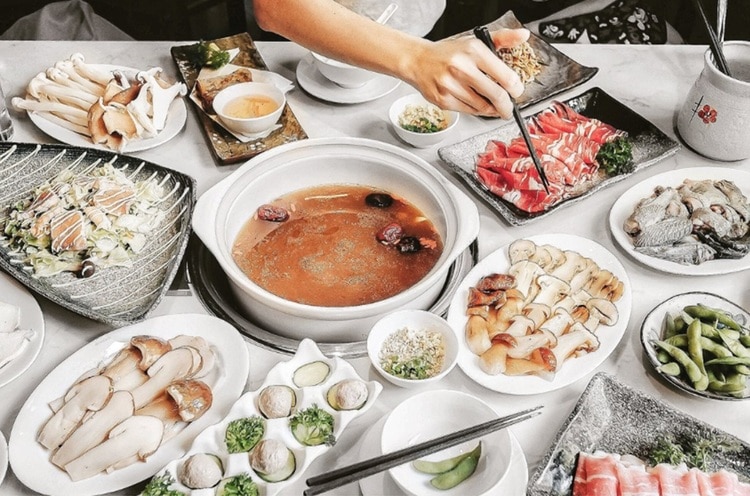 Ashima 6 Hanoi is just about 10 minutes of walking from famous Hanoi landmarks like One Pillar Pagoda and Ho Chi Minh Mausoleum. This restaurant is cozy and specialized in fusion-style dishes and mushroom hotpot. If choosing Ashima 6 Hanoi, you will find that this restaurant is excellent in mushroom hotpot buffet with reasonable prices of about 300,000 VND/person. Covering 12 types of mushrooms, including white abalone mushrooms, yellow fungus, and white fungus, the ingredient list in Ashima 6 is also diversified with beef, chicken slices and fresh vegetables.
Address: 60 Giang Van Minh street (phố Giang Văn Minh), Kim Ma ward (phường Kim Mã), Ba Dinh District (Quận Ba Đình), Hanoi
Tel: +84 43 722 6353
6. Song Ha Crab Hotpot (Lẩu Cua Đồng Song Hà)
The crab in Song Ha Crab Hotpot is what makes this restaurant one of best hotpot restaurants in Hanoi. Crab is 100% naturally caught, making the broth taste so sweet and strong with crab's aroma. Especially, the most appealing characteristic of this hotpot type is its golden color dotted with red tomato, golden fried tofu, and green onion. What is more interesting is its affordable price of 150,000-170,000 VND/person.
Address: 685 Lac Long Quan street (Phố Lạc Long Quân), Phu Thuong ward (phường Phú Thượng), Tay Ho District (Quận Tây Hồ), Hanoi
Tel: +84 94 471 89 89
Here you have grasped 6 out of most delicious hotpot restaurants in Hanoi with affordable prices. I hope that this checklist helps you have the most rewarded dining experience in Hanoi, Vietnam. Leave your comments below this post to let us know what you think about Hanoi after finishing your trip!