The buffet meal is a popular type of food service with a variety of dishes and drinks at Vietnamese restaurants in recent years. When attending a buffet, visitors can comfortably choose and self-serve their favorite dishes under a limited time regulated by the restaurant.
The reason for such fast-growing buffet meals come from the tendency to choose the delicacies of the locals, and especially foreign tourists. For them, enjoying specialties from buffet menus will bring more opportunities with affordable prices along with professional service style. If you are visiting Hanoi and willing to learn more about delicious buffet restaurants here, Vina.com can help you right now!
Top 5 Buffet Restaurants in Hanoi, Vietnam To Try At Least Once
Here are the best buffet restaurants in Hanoi with outstanding dishes that you can refer to:
1. Sen Viet Buffet Restaurant (Nhà Hàng Buffet Sen Việt)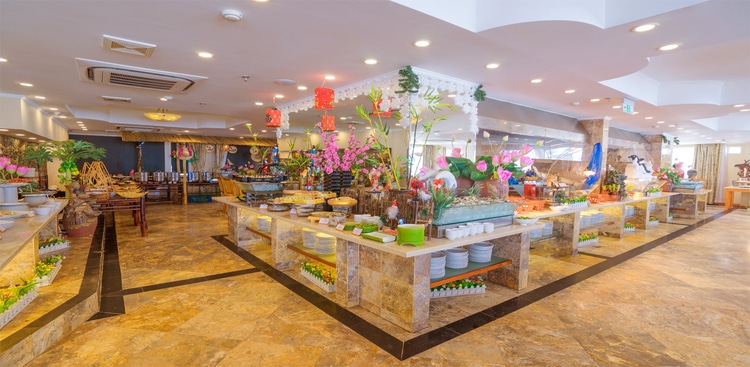 Famous for the perfect combination of European and Asian cuisine, along with the luxurious space on the 18th floor of the most beautiful 4-star hotel in Hai Ba Trung district, Sen Viet Buffet Restaurant becomes an ideal venue for cozy family and company parties. Here, visitors can see the whole view of the small, and busy Minh Khai street while enjoying a creative and eye-catching menu.
With over 160 dishes combining traditional and foreign elite culinary, Sen Viet definitely brings great food experiences for tourists visiting Hanoi. Besides, the restaurant received many good feedbacks from specialty dishes such as well-cooked steaks and fresh seafood pizzas. In addition, the restaurant also offers a number of free seasonal drinks and fruits.
Location: 18th floor, Sahul Hotel, 684 Minh Khai street (Phố Minh Khai), Hai Ba Trung District (Quận Hai Bà Trưng), Hanoi
Tel: 0977 863 276/0988 064 335
Price ranges: 250.000 – 350.000 VND/person
2. Ming Palace Restaurant
If you are fond of Chinese cuisine, Ming Palace Restaurant will definitely be a paradise for you. Visiting Ming Palace, diners will be able to immerse in traditional Chinese culture with a wealth of specialties.
The most attractive feature of the extensive menu is the excellent dim sum – thin dough along with delicious meat filling selected and processed based on the 5-star restaurant standard. Although it is only a side dish of a Chinese meal, you will have lots of choices with steamed, fried or boiled dim sum. In addition, Ming Palace also offers some tasty dishes such as roasted Peking duck with crispy skin and natural sweet from fresh ingredients served with free drink and fruits.
Location: 2sd floor, Pan Pacific Hotel, 1 Thanh Nien street (Phố Thanh Niên), Ba Dinh District (Quận Ba Đình), Hanoi
Tel: 043 823 8888
Price ranges: 150.000 – 550.000 VND/person
3. Promenada Cafe & Buffet Restaurant
Promenada Cafe & Buffet Restaurant is considered one of the buffet restaurants in Hanoi beloved by gourmets all over the country. In addition to the spacious and neatly-arranged space, Promenada truly stands out with a varied menu of unique delicacies coming from the eastern countries. Especially, tourists can comfortably enjoy scrumptious sashimi plates from the land of the rising sun or BBQ meal with the enhancing flavor from the nation of kimchi.
Besides, with professional service from careful raw materials process to satisfy Vietnamese tastes, Promenada Cafe & Buffet Restaurant is a promising place you cannot ignore when traveling to Hanoi.
Location: Hanoi Daewoo Hotel, 360 Kim Ma street (phố Kim Mã), Ba Dinh District (Quận Ba Đình), Hanoi
Tel: 043 831 5000
Price ranges: 300.000 – 1.000.000 VND/person
4. King BBQ Buffet Restaurant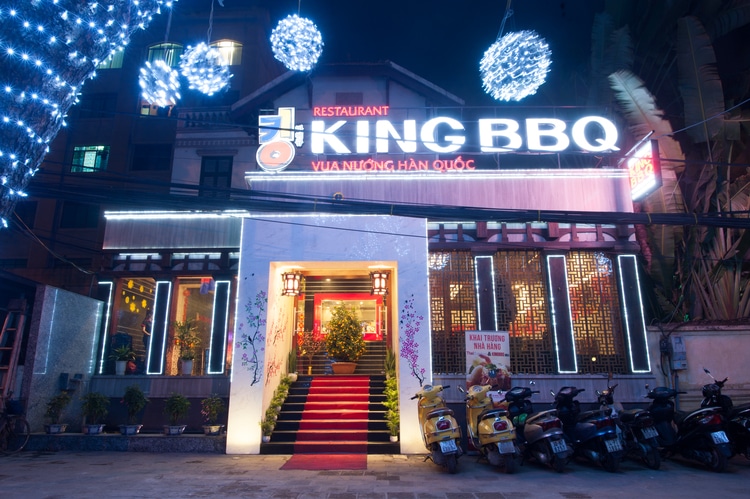 King BBQ – the famous Korean hotpot and grill buffet restaurant chain has now developed more than 15 branches throughout Hanoi. In fact, you can easily recognize King BBQ restaurant in all the busy shopping centers around our city. With esoteric recipes from top Korean chefs, guests will experience over 200 high-quality dishes.
For specific, you are first served grilled meat dishes along with appetizers like kimbap, salad, and some fried food. After being full with attractive barbecue, the staff will replace the charcoal and customers can choose a hotpot with a variety of flavors to continue the meal. Thanks to the diversity and full of fresh ingredients and typical spices of Korea, King BBQ has become a reliable place for tourists to come and taste good hotpot and grill buffet at affordable price.
Location: King BBQ Buffet Hai Ba Trung – 20, Ha Ba Trung street (phố Hai Bà Trưng), Hoan Kiem District (Quận Hoàn Kiếm), Hanoi
Tel: 024 6656 6626
Price ranges: 200.000 – 500.000 VND/person
5. Chef Dzung Buffet Restaurant
The seafood buffet is always one of the great ideas for any culinary lovers when visiting Chef Dzung Buffet Restaurant. Here, you can choose fresh seafood prepared with plenty of appetizers, main dishes, and desserts. Unlike other foods, one of the standards of seafood is to ensure freshness, so Chef Dzung always focuses on the reliable seafood supply with transparent origin from the shipping process to the transfer to a standard tank system.
In addition to the best buffet restaurants in Hanoi above, we highly recommend you give Huong Sen restaurant – a new premier restaurant specializing in buffet in Hanoi.
Above are 5 of the top buffet restaurants in Hanoi that we would like to share with you. Hope you can find yourself a suitable place to enjoy tasty food with the most memorable moments when traveling Hanoi!