Today, the cuisine has become one of the fascinating factors that attract tourists to come and visit Hanoi. In addition to the abundance of Vietnamese cuisine, visitors can also experience many types of cuisine from different countries, including Italian cuisine. If you have a passion for Italian food, please check out the best Italian restaurants in Hanoi on Vina.com right away!
Top 5 Italian Restaurants In Hanoi, Vietnam Worth A Try
1. Mediterraneo Restaurant
Located at the center of Hanoi and with a view to St. Joseph Cathedral Hanoi, Mediterraneo is highly appreciated not only for its excellent menu but also the cozy space.  
On the menu, visitors can try countless famous Italian dishes such as pizza, pasta, and imported wines. In particular, the pizza here receives a lot of compliments from diners because they are baked in a traditional wood-fired oven, making the crust crispier with a layer of fragrant cheese. One plus point comes from a good service attitude from restaurant staff, especially the Italian manager, who works very professionally in every situation.
Location: 23 Nha Tho Street (phố Nhà Thờ), Hoan Kiem District (Quận Hoàn Kiếm), Hanoi
Tel: 024 3826 6288
Price ranges: 100.000 – 330.000 VND/person
2. Mamma Mia Italian Restaurant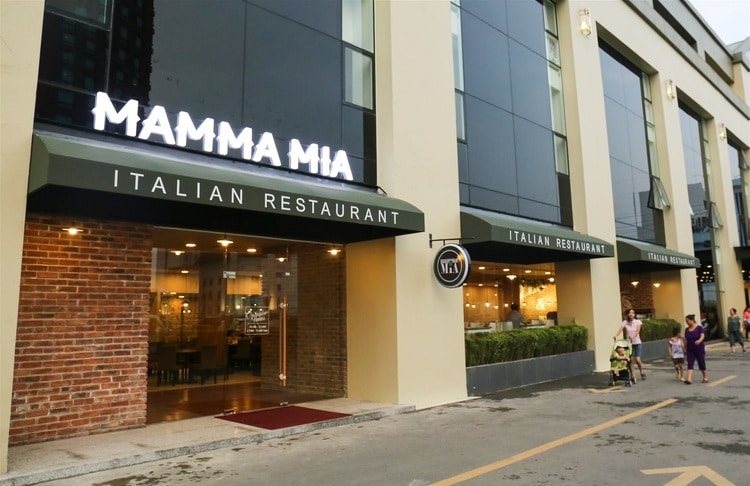 If you are an Italian food fan, The delicious native dishes at Mamma Mia may become one of the great culinary experiences during your visit to Hanoi. Coming to Mamma Mia Italian restaurant, visitors can discover a huge number of Italian dishes prepared by professional chefs, from appetizers, main courses to desserts.
To start a memorable meal, you should try Parmigiana Di Melanzane that has a unique combination of fresh eggplant in tomato sauce and cheese. In addition, a huge 6-flavored pizza with seafood, BBQ grilled chicken, and smoked meat is also one of the famous dishes highly recommended by gourmets when coming to Mamma Mia.
Location: 1st Floor, Thien Son Plaza, 2 Chuong Duong Do street (phố Chương Dương Độ), Hoan Kiem District (Quận Hoàn Kiếm), Hanoi
Tel: 024 3869 3388
Price ranges: 280.000 – 350.000 VND/person
3. Casa Italia Restaurant
Casa Italia is probably a name that is no stranger to sophisticated gourmets in Hanoi. Dubbed as one of the most authentic Italian restaurants in Hanoi at this time, Casa Italia became a familiar place for Hanoi residents and foreign tourists on the weekend days. The restaurant is located on crowded Le Phung Hieu street with a stunning space of ancient villas which attracts a lot of Italian fans to come and enjoy tasty food. 
Overall, the menu is well-prepared with outstanding dishes such as Gazpacho soup, fresh vegetable salad, and delicious pizzas with excellent Italian cheese. In addition, the desserts here are very welcomed, especially the famous tiramisu cake.
Location: 18 Le Phung Hieu street (phố Lê Phụng Hiểu), Trang Tien ward (phường Tràng Tiền), Hoan Kiem District (Quận Hoàn Kiếm), Hanoi
Tel: 0364 574 202
Price ranges: 50.000 – 200.000 VND/person
4. Il Grillo Restaurant
When it comes to Italian cuisine in Hanoi's center, Il Grillo will be an attractive Italian restaurant for you to host family parties. Opened since 1996, Il Grillo has been successful in promoting the abundant Italian cuisine to the locals and foreign tourists when traveling to Hanoi. The restaurant decorated with Italian-style furniture helps the small space become cozy without causing the suffocating feeling for diners. 
The dishes here are considered to make customers "irresistible" with a full and authentic menu including amazing 4 cheese-flavored pizzas, mushroom soup, homemade fresh pasta, and a list of standout desserts. Particularly, you should try ravioli and seafood pasta in a white wine sauce which is considered as two of the best-selling dishes at Il Grillo. Besides, tiramisu and lemon ice cream are a unique combination that enhances the taste for your memorable meal.
Location: 116 Ba Trieu street (phố Bà Triệu), Nguyen Du ward (phường Nguyễn Du), Hai Ba Trung District (Quận Hai Bà Trưng), Hanoi
Tel: 024 3822 7720
Price ranges: 55.000 – 275.000 VND/person
5. Da Paolo Westlake Restaurant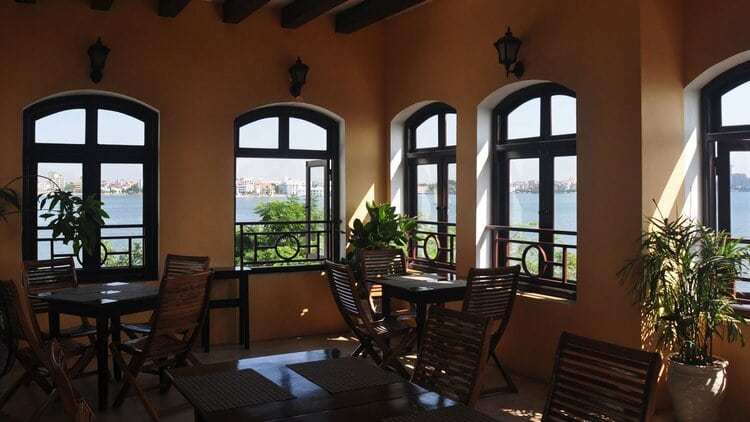 Da Paolo Westlake restaurant is one of the most picturesque places in West Lake, famous for Italian dishes at a reasonable price. Here, you can enjoy authentic Italian food, including tasty pasta and homemade bread served with fresh salads and imported grape wine. 
The pasta menu here is very delicious, especially clam pasta with fresh and sweet clams in the creamy sauce. In addition, Da Paolo is beloved by charcoal-baked pizza with a large size for 2 – 4 servings. The pizza crust is quite thin, baked by charcoal, different from the industrial oven. So, it is very crispy and has a special scorching scent of wheat flour with a natural yellow-brown color.
Location: 32 Quang Khanh Street (Phố Quảng Khánh), Quang An ward (phường Quảng An), Tay Ho District (Quận Tây Hồ), Hanoi
Tel: 024 3718 6317
Price ranges: 200.000 – 385.000 VND/person
Read more: 
These are the 5 best Italian restaurants in Hanoi that Vina.com wants to introduce to you. Hopefully, with this article, you will partly feel the characteristic of the culinary style coming from beautiful Italy. 
Leave comments below this entry to share your dining experience in Hanoi with us!