2. Nem Chua – Sour Meat Pie: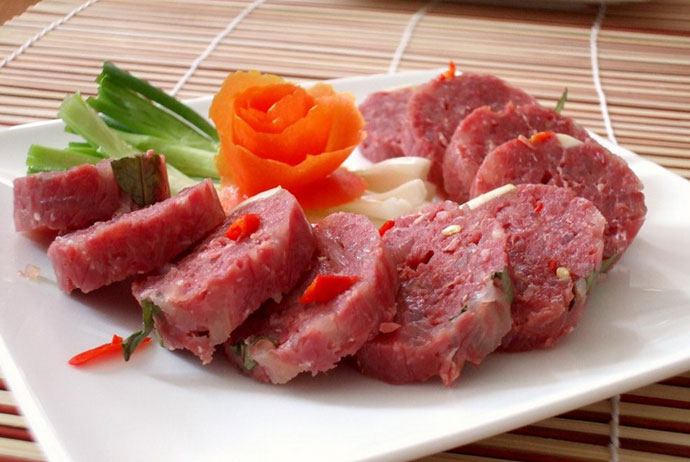 Sour meat pie is an indispensable dish on Tet holiday of the Central family. Sour meat pie is made from pureed fresh pork mixed with pork skin, marinated with spices, pepper, sliced, chilli, and polyscias fruticosa, and fermented for becoming ripe. Many people do not dare eat this dish when they know that sour meat pie is uncooked, and that it is made from 100% raw meat. However, once people try this dish, they will be definitely "addicted" to the light sourness, sweetness, crunchiness, spiciness, and the fragrance blended on their tongue.
Sour meat pie has been changed and come with many variations depending on spaces and time; from the North to the South. Each region has its own style of sour meat pie with specific, different flavors due to the spices used. Northern people prefer the sourness while Central and Southern people usually add sugar, garlic, chilli, and pepper to increase the spiciness and sweetness for the dish.
3. Thit Heo Ngam Mam – Meat Soaked In Fish Sauce: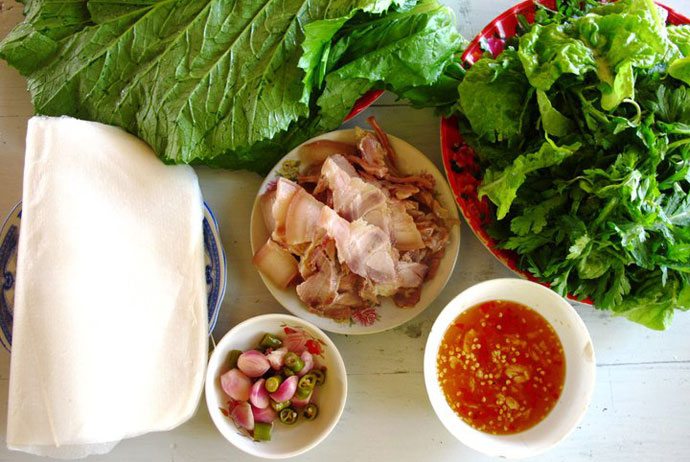 Meat soaked in fish sauce is a rustic yet very tasty, easy-to-make dish. It tastes so charming and it is the traditional dish on Tet holiday of the Central Vietnam. Over centuries and over generations, many Vietnamese families never forget making meat soaked in fish sauce to serve together in New Year days.
On Tet holiday, there are too many dishes to eat which are nutritious, fatty, and rich in flavors, but many Central people still love meat soaked in fish sauce rolled in rice paper with raw veggies, herbs, pickled vegetables, and dipped in sauce mixed with lemon juice, garlic, and chilli. People can consume a large amount of meat soaked in fish sauce without feeling cloyed. The salty taste of the fish sauce, the sweetness of sugar, and the aroma, spiciness of chili, pepper, garlic, and ginger make this dish very delicious and memorable. In fact, this is one of the most popular Vietnamese New Year food dishes which are enjoyed especially in the Central region in Vietnam.
4. Bo Kho Mat Mia – Beef Braised With Molasses: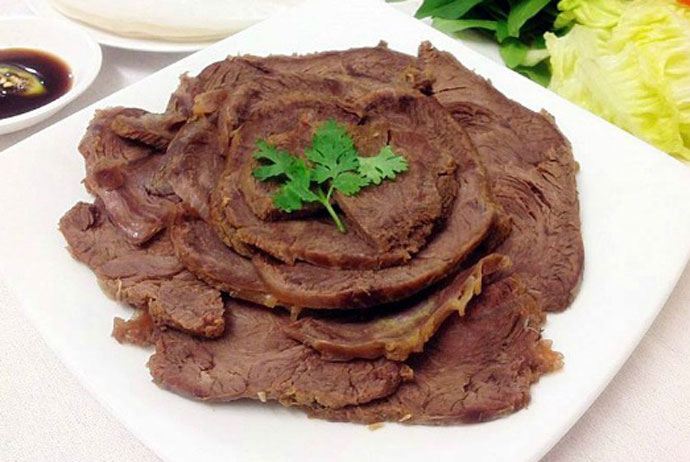 Beef braised with molasses is one of the most favorite dishes of people in the Central Vietnam. This dish has harmonious color with the yellowish brown from the molasses, expressing the emotional life and characteristics of Central people. Beef braised with molasses has the aroma, spiciness of ginger, lemongrass, cinnamon, pepper, and the natural crunchiness and sweetness of the beef blended with the charming, gentle aroma of molasses. This is the perfect combination for one of the favorite Vietnamese New Year food in the Central, which can be also served in normal days or used to invite guests.