Quy Nhon (Quy Nhơn) is the capital city of Binh Dinh (Bình Định) province, and this medium-sized town attracts a large number of visitors and tourists because of the stunning surrounding beaches and breathtaking sightseeing. When you visit Quy Nhon, which activities do you enjoy? Of course, there are many things you can do and attend in Quy Nhon. Participating in Quy Nhon festivals and immersing yourself in the festive atmosphere can help you understand the culture and tradition of Quy Nhon. 
1. Summer Sea Festival 
One of the meaningful festivals in Quy Nhon is the Summer Sea Festival that features many sporting and cultural activities. They include a futsal tournament for children, martial arts contest,  an art exhibition, Binh Dinh Golden Chef Contest, a local tourist guide competition, and a workshop. This workshop is called "Solutions to Attract International Visitors and Improve Service Quality in Binh Dinh." This event aims to build and develop Quy Nhon into a popular attraction for domestic visitors and foreign tourists, reflect the cultural and historical identities, introduce unique tourism products, and promote tourism.
2. Do Gian Festival (lễ hội Đổ Giàn)
Held on the 15th day of the seventh lunar month, Do Gian Festival takes place in An Thai (An Thái) Village, An Nhon (An Nhơn) district, Binh Dinh Province. The event worships Ba – a goddess of the sea. At the festival, you can enjoy the exciting and festive activities such as sacrifice-offering ceremony, praying for happiness, health and good weather, singing competition, and worshiping souls of the dead. Furthermore, you can participate in the do gian (đổ giàn). In this custom, after finishing the sacrifice-offering ceremony, local people throw down the roast pork as the offering.
3. Dong Da Festival (lễ hội Đống Đa)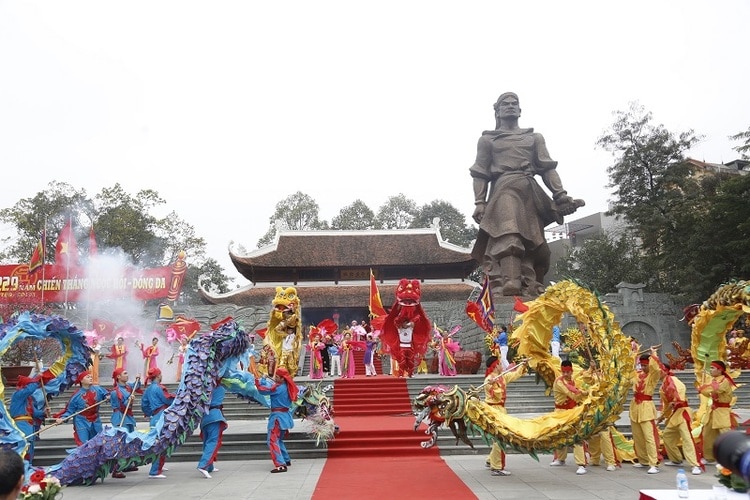 On the 5th day of the first lunar month, Dong Da Festival is celebrated in Phu Phong (Phú Phong), Tay Son (Tây Sơn) District, Binh Dinh. It worships the leaders of Tay Son movement and Emperor Quang Trung (Nguyen Hue) (Quang Trung (Nguyễn Huệ)). Going to Quy Nhon during this festival, you will have a chance to immerse in the festive atmosphere and take part in many activities. They include drumming competition, imitative battle, and performance of martial arts such as di quyen (đi quyền) (Vietnamese Kung Fu), danh con (đánh côn) (playing with fighting ticks) and more.
Festivals Promote Tourism In Quy Nhon
Tourism in Quy Nhon is developing significantly not only because of the diverse terrain and beautiful natural landscapes but also festivals and traditional arts. In recent years, there is a 20% increase in the number of tourists to Quy Nhon city. Thanks to the strengths and potential in tourism, Quy Nhon is hoped to reach 4.67 million visitors in which there will be 720,000 foreigners in 2020. The festivals also contribute to lengthening the average stay up to 3-4 days.
To meet the increasing demand of tourists, Quy Nhon has plans and projects to develop competitive and unique tourism products, including island and sea tourism, eco-tourism, resort, homestay, sightseeing, historical, cultural and gastronomic tourism. 
I have introduced the best festivals to attend in Quy Nhon. I hope that you can find useful information in this article. Any questions can be left in the comment section, and we will answer them as soon as we can. On our website, we have written many articles about Vietnam tourism, activities, and shopping. Visit Vina.com if you want to know more.
By Nga V