Hanoi is a beautiful city that is well-known not only for modern life but also the traditional artistic values such as traditional opera and Cheo (Chèo). Since the opening, the Hanoi Cheo Theatre (Nhà Hát Chèo Hà Nội) located at 15 Nguyen Dinh Chieu (Nguyễn Đình Chiểu) Street, Ha Ba Trung (Hai Bà Trưng) District, Hanoi has played a crucial role in maintaining and promoting the Cheo of Vietnam. If you have a chance to travel to Hanoi city and love the traditional folk art of Vietnam, Hanoi Cheo Theatre is an ideal destination you should visit. 
Hanoi Cheo Theatre – The Place Of Traditional Folk Art In Hanoi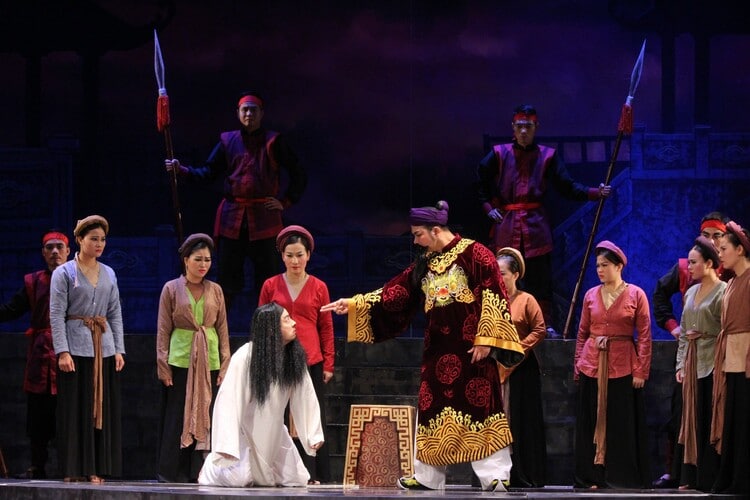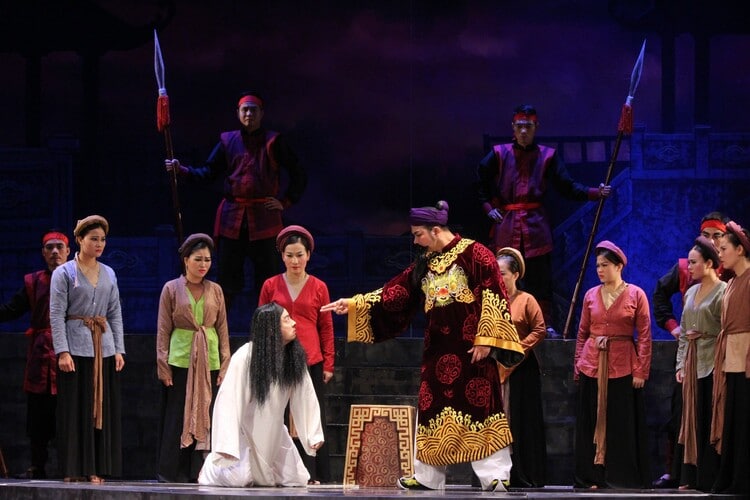 As a unique art form of the Red River Delta in Vietnam, Cheo with the lyrics of emotions and images was popular in the many ancient village festivals of Vietnam. In Cheo performances, folk songs are performed with instrumental music, dances, and pantomime. 
Each performance of Cheo will convey a meaningful or instructive story from poetry, legends, daily life and history in which we know deeply the tales of heroes, chiefs and lovely maidens as well as other characters in the story. Offering the tragedy, romance, and comedy, Cheo brings a mix of emotions for viewers and take them into the world of magic and acrobatic scenes.
Vietnam has 16 Cheo theaters throughout the country and the most popular one in Vietnam is Hanoi Cheo Theatre that has the significant participation of many famous artists and has performed a number of impressive plays like "Luu Binh Duong Le (Lưu Bình Dương Lễ)", "Quan Am Thi Kinh (Quan Âm Thị Kính)", "Tam Cam (Tấm Cám)", "Tu Thuc (Từ Thức)", "Sita", and "Blond Silk". The theatre also shows many restored ancient plays with revised scripts to attract modern audiences.
The unique thing about Hanoi Cheo Theatre is that the mini-stages have brought the audiences closer to the art, giving them the real and sincere experience when watching Cheo. It makes the viewers feel like they lost in Vietnam's ancient legends.
If you have a chance to enjoy this art at Hanoi Cheo theatre, buy a ticket and watch "Quan Am Thi Kinh" – one of the most famous Cheo plays in Vietnam that has left an unforgettable impression on viewers. The story of Quan Am Thi Kinh will help you know about the Vietnamese tradition and Buddhist culture. If you want to enjoy "Quan Am Thi Kinh" show and other performances at Hanoi Cheo Theatre, you have to pay around 100,000 VND for the ticket. 
Besides, many Cheo plays reflect the fantastic meanings and values. Foreign audiences love Cheo performances because they can learn more about local Vietnamese people. To allure not only domestic but also international audiences, the renovation has been made in terms of instruments, Cheo stages, and costumes. Furthermore, some Cheo plays have been performed at school to preserve and promote the values and traditions of this folk art. 
Where To Eat Near Hanoi Cheo Theatre
At Hanoi Cheo Theatre, there is also a restaurant named Cheo Cuisine (Chèo Cuisine) where you can enjoy many Vietnamese delicious dishes cooked in different unique recipes by the hands of experienced chefs. Trying dinner while watching Cheo performances or listening to traditional music will be an unforgettable experience for many guests. 
Alternatively, near Hanoi Cheo Theatre, you can find several good restaurants that serve delicious meals and offer a cozy atmosphere. Here are some suggestions you can consider:
  Su Bia Restaurant (Nhà hàng Sứ Bia): 23 Nguyen Dinh Chieu,

Hai Ba Trung

, Hanoi

  Quan Mon Ngon 79 (Quán Món Ngon 79): 25 Nguyen Dinh Chieu, Hai Ba Trung, Hanoi 

  Pho Bo 21 (Phở Bò 21): 21 Nguyen Dinh Chieu, Hai Ba Trung, Hanoi 

  Khoi Bep Restaurant (Nhà Hàng Khói Bếp): 17 Nguyen Dinh Chieu, Hai Ba Trung, Hanoi 
Where To Stay Near Hanoi Cheo Theatre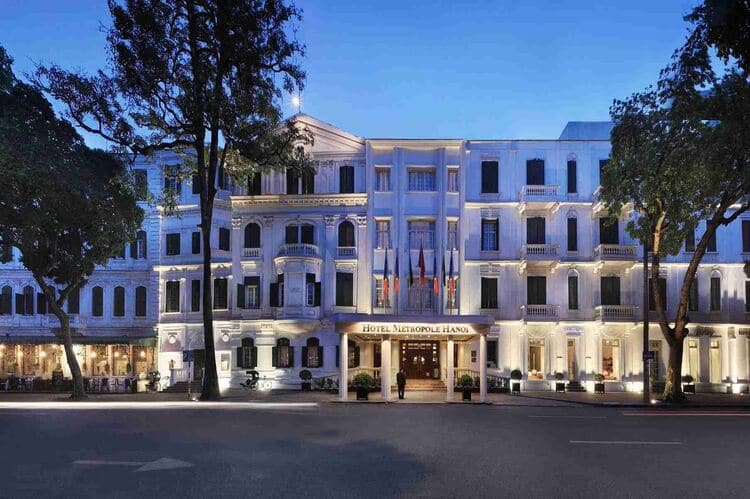 "Which hotels and homestays are near Hanoi Cheo Theatre?" is the common question tourists often ask when they explore Hanoi Cheo Theatre in Vietnam. 
Hanoi is a bustling city with developing tourism services; therefore, it is easy for you to find suitable accommodation. Near Hanoi Cheo Theatre, you can stay overnight at Somerset Grand Hanoi (0.8 km far from Cheo Theatre), Sofitel Legend Metropole Hanoi (0.9 km away from Hanoi Cheo Theatre), Melia Hanoi (0.6 km), Apricot Hotel (1.1 km), Hôtel du Parc Hanoi (0.4 km), and more. 
Depicting the altruistic and harsh life of the commoners, Cheo stories always let the good win the bad and give a happy ending that will satisfy audiences and help them learn the lesson of the moral sense. If you love to explore the cultural tradition of Vietnam, a visit to Hanoi Cheo Theatre will be a must. I guarantee that. Hopefully, you get useful information in this article, and any questions can be left in the comment section. We will answer them as soon as we can. On Vina.com, there are amazing writings about Vietnam's tourism and activities. If you want to travel to this S-shaped country, please do not forget to take a look.
By Nga V