Throughout the long history of the country, Vietnamese paper money has undergone many great changes. This article will help you have a general understanding about currency and exchange rates in Vietnam.
I. About Currency
Indochina Banknotes – The First Paper Money In Vietnam
The first banknote to be circulated in Vietnam was the Indochina coin denomination of 100 francs, issued by the French and circulated from 1885 to 1954. In that currency, there are 3 young women dressed in traditional costumes of Laos, Cambodia and Vietnam.
Uncle Ho Cash After The Revolution Of August 1945
After the Revolution of August 1945, the Democratic Republic of Vietnam was born, the dong was officially printed and circulated to assert the sovereignty of the free country. Starting from that point up to now, Vietnam has changed the currency in both form and material for seven times. Before the State Bank of Vietnam was born, on every money note printed, there were the words "Democratic Republic of Vietnam" in the script language, Chinese characters, and pictures of President Ho Chi Minh.
The back of the money usually printed other images of the agricultural, industry and military class. The numbers were written in Arabic numerals or in Han, Lao, and Cambodian. The Vietnamese at that time always called that money "Uncle Ho cash".
Paper Money Issued By The National Bank Of Vietnam In 1951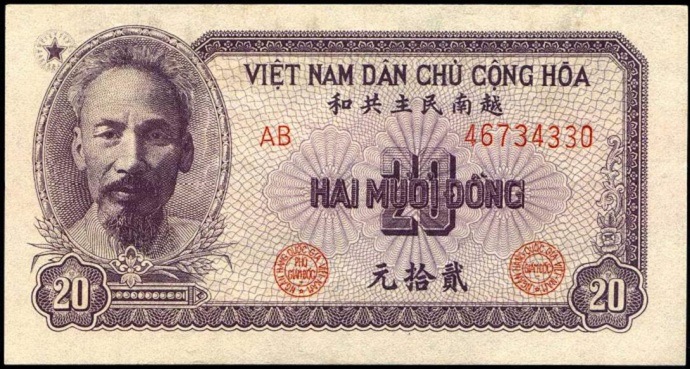 Source: numismondo
On May 6, 1951, President Ho Chi Minh signed Decree No. 15 / SL on establishing the National Bank of Vietnam with the following tasks:
Issuing credit memorandum, treasury management;
Implementing credit policy for production development;
Coordinating with the trade to manage currency and fight currency against French colonialism.
Accordingly, banknotes issued by the National Bank of Vietnam were officially put into circulation. 1 banknote exchanged 10 dong (VND), and included several denominations: 1, 10, 20, 50, 100, 200, 500, 1000, and 5000. The forms of bank money were quite similar to the past and only changed the prints on the back of the same color at each face value.
Vietnamese Dong In 1975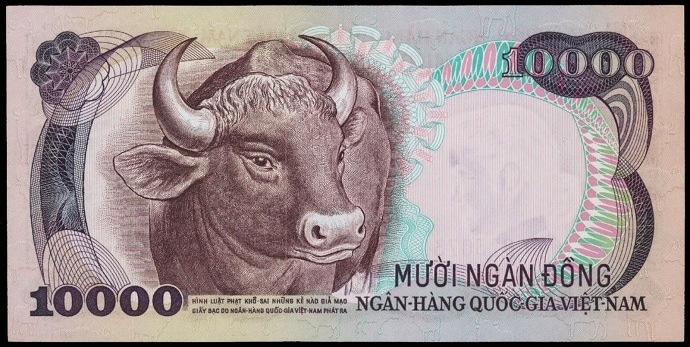 Source: worldbanknotescoins
In the period from 1954 to 1975, Vietnam was divided into two regions: North and South, each with its own currency but still referred to as "Vietnamese Dong". In this period, Vietnam has appeared many organizations specializing in counterfeit money. That is why the inscription "The penalties will be for those who make fake notes issued by the National Bank of Vietnam" was added on the 200 note.
Liberation Cash After 1975
After the unification of the country on 30/4/1975, the money in circulation in southern Vietnam was renamed to "Liberation Cash". In 1978, after the country became stable and unified in terms of finance, the Vietnamese currency continued to change. In the north, the liberation cash can be exchanged for a Vietnamese dong.
Vietnamese Dong In 1985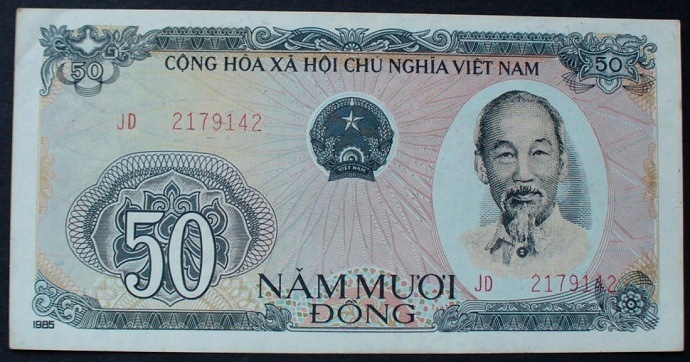 Source: ma-shops
In 1985, with the complexity of the economy and the serious scarcity of cash in payment, the State of Vietnam announced a change in the rate of 10 Vietnamese dongs in exchange for a new currency. This serves the price and wage revolution. National Bank of Vietnam issued the currency of 10, 20, 50 VND.
20th-Century Paper Money
Source: tiengiayvietnam
The 10,000 and 20,000 denominations were printed in 1990, the 50,000 copies were issued on October 15, 1994, and the 100,000 sheets from September 1, 2000.Meanwhile, the coins have a few years to appear on the market but not fit the style of spending money of Vietnamese people, so quickly classified as souvenir items.
The Current Polymer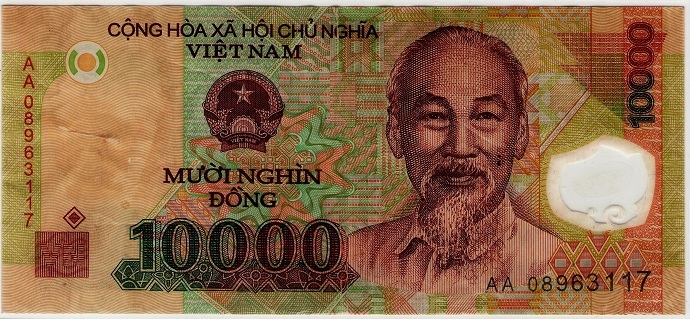 Source: phomuaban
There are currently 23 countries in circulation that print money on polymers. Among them, three countries use the polymer money in their whole monetary systems; some countries use polymer paper for some face value; six countries are currently testing polymer money in the form of souvenir.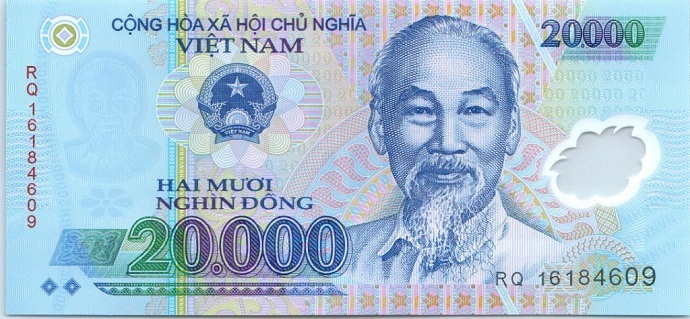 Source: numiscollection
Polymer money in Vietnam was issued by the State Bank of Vietnam in 2003 and is valid for circulation in parallel with other currencies, with the aim of meeting the demand for monetary circulation in terms of face value (additional currency have large denominations), and categories. Polymers have many advantages, such as: difficult to fabricate, durable, waterproof, suitable for use in modern equipment such as ATM, and money counter.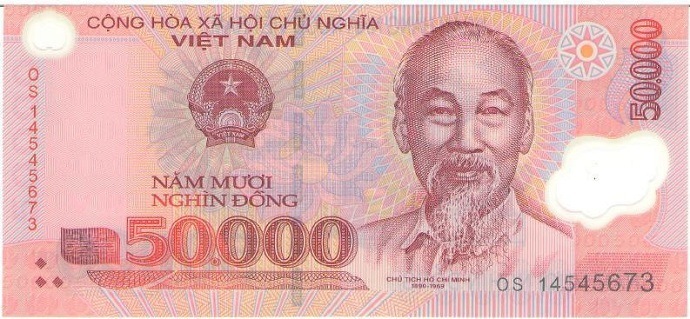 Source: picclick
Since the use of polymer money, beginning on September 1, 2007, 50,000 and 100,000-denominated banknotes have expired and since 1 January 2013 denominated denominations of cotton VND 10,000, VND 20,000 has also ceased to circulate in the territory of Vietnam. Currently, only small paper banknotes of less than VND5,000 (VND1,000, VND2,000, VND5,000) are still valid for circulation in Vietnam.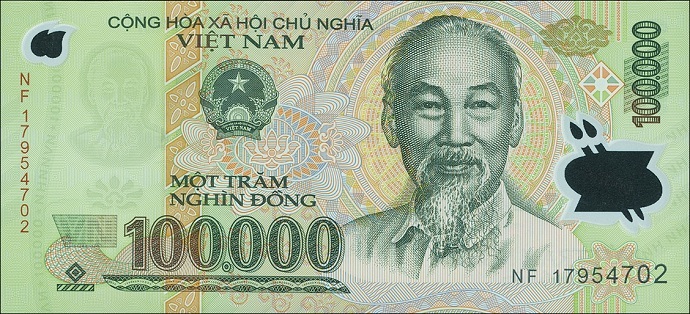 Source: worbes-verlag
Vietnam's polymer currency in recent years has been over-faked, at a higher rate than the world's currency circulation standard. In Vietnam, counterfeit polymer money at 100,000 VND is 169 to 416 sheets, and at 50,000 VND is 106 to 370 sheets.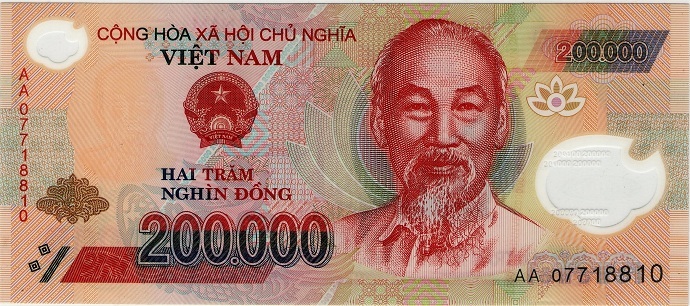 Source: phomuaban
Using the polymer to print money will facilitate the anti-counterfeiting money. According to the Governor of the Bank, even anti-Vietnam sentimental organizations abroad, who spread false rumors about the exchange of money in Vietnam, also admitted that polymer money had very high anti-counterfeiting. The polymer is harder to tear, waterproof, so the durability, longevity of the currency will be longer.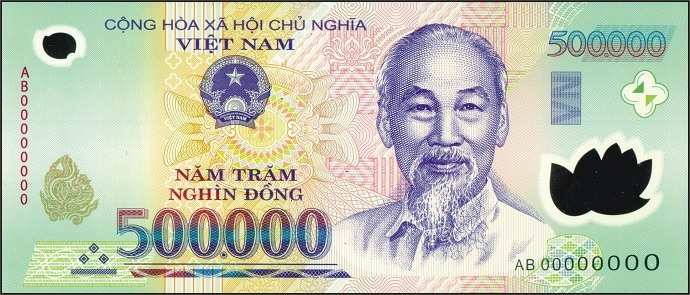 Source: toithichdoc
The Safety Factor Of Polymer Money
In addition to the same security features used in cotton printing paper, polymer substrates also have unique security features that are highly effective in counterfeiting. The followings are common security elements of Vietnamese polymer money:
Portrait of President Ho Chi Minh (1890-1969): Printed in a delicate way. When you lightly rub the money, you can feel the stroke of the print.
Hidden element: In the small window on the upper left of the note is a stylized lotus flower, seen in front of the red light like oil lamps, candles, light bulbs.
Profile of President Ho Chi Minh's shadow: Only seen in front of the light source.
Insurance Coverage: When looking at the money in front of a light source, you see a chain of insurance running along the note with the words "State Bank of Vietnam" repeated and reversed.
II. Exchange Rates
Although there are now many stores accepting credit cards and dollars, you should still have Dong in your wallet. You may have found out and known that Vietnamese street foods are very tasty, and if you want to enjoy them, you need to use Dong. That is just one of the many situations where you should use Dong in Vietnam.
Understanding the exchange rate is the first step in making it easy for you to use your Vietnamese currency. Currently, $ 1.00 USD ≈ 22,000 VND.
Besides the US dollar, many banks in Vietnam still exchange foreign currency:
Australian Dollar: 1 AUD ≈ 17,000 VND
Euro: EUR 1 ≈ 25,000
Canadian Dollar: 1 CAD ≈ 16,000 VND
British Pound: 1 GBP ≈ 29,000
New Zealand Dollars: 1 NZD ≈ 15,000 VND
Singapore Dollar: 1 SGD ≈ 16,000 VND
Taiwanese Dollar: 1 TWD ≈ 500 VND
Swiss Franc: 1 CHF ≈ 22,000 VND
Japanese Yen: 1 JPY ≈ 200 VND
Hong Kong Dollar: 1 HKD ≈ 3,000 VND
Thai: 1 THB ≈ 700 VND
Please note that these values may change over time, so double check every time you want to exchange.
The above is some information about the Vietnamese currency. Hopefully, it has helped you prepare for your trip to Vietnam more smartly. As a result, you will feel more comfortable when using this kind of money during your journey to this beautiful Asian country.