Updated: 08/18/2019
Thanh Ha Pottery Village (Hoi An) (Làng gốm Thanh Hà, Hội An) is one of Hoi An's traditional handicraft villages that is well-known for making pottery for centuries. Nowadays, this craft remains and becomes an appealing thing that attracts not only domestic but also foreign visitors. The village is situated in the Cam Ha (Cẩm Hà) Ward, Quang Nam (Quảng Nam) Province, which is three kilometers away from the Hoi An Ancient Town. So, you can reach the village by scooter, pushbike or taxi if you are in Hoi An.
Thanh Ha Pottery Village – The Traditional Handicraft Village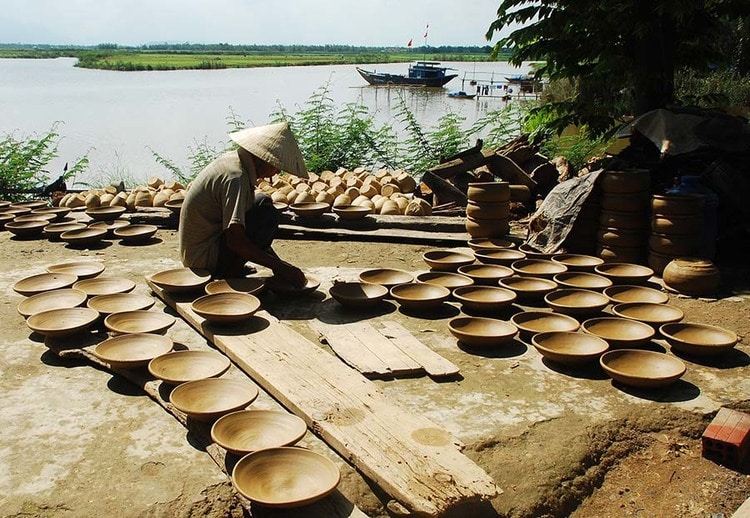 The Thanh Ha Pottery Village in Hoi An has a long history when it formed and developed at the end of the 15th century. Nowadays, the village has become a critical Hoi An port, contributing to the development of Hoi An town. The villagers make products like jars, bowls, animal shapes, pots, in multiforms and decorated with different colors.
Reaching the village, you have to buy a ticket sold at the ticket booth located on the right side of the road. The ticket costs only one dollar for an adult and free for kids, which allows visitors and tourists to wander around the village, visiting some workshops and houses.
In the village, you can see many busy villagers who are making ocarinas and pots. You can enjoy your time watching a while. The villagers also give the pots they make to tourists and visitors with no charge. However, it is kind of you to tip them just one dollar to thank their patience and devotion. These products are not fired; therefore, you can take them back to your home and give your friends and families as special gifts.
It is interesting and enjoyable for you to ride the bike around the village. Parking the bike near the river has no charge.
There is a spectacular terracotta museum inside the village. You can explore, but that requires an additional admission fee. This fee is higher than the entrance admission, but a visit to this museum is an excellent experience you should not miss. This museum holds valuable documentation resources of traditional pottery in both Vietnam and SouthEast Asia.
The village is loaded with workshops and homes that are designed modern or ancient style.  The village is often affected by the floods, so to make the house safety, any buildings are built over about 2 meters from the surface.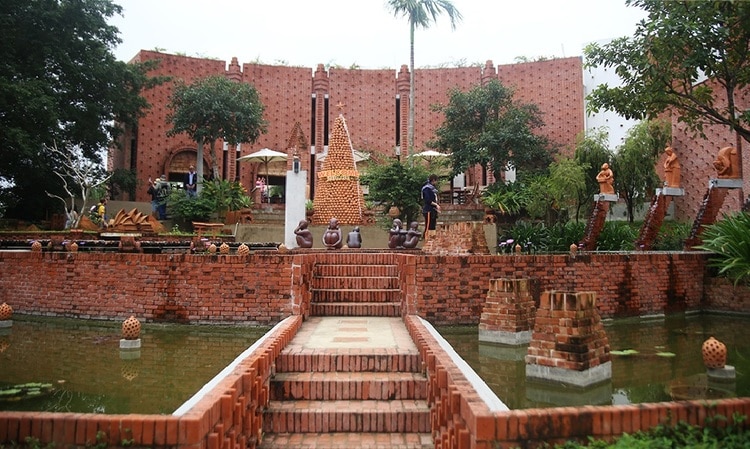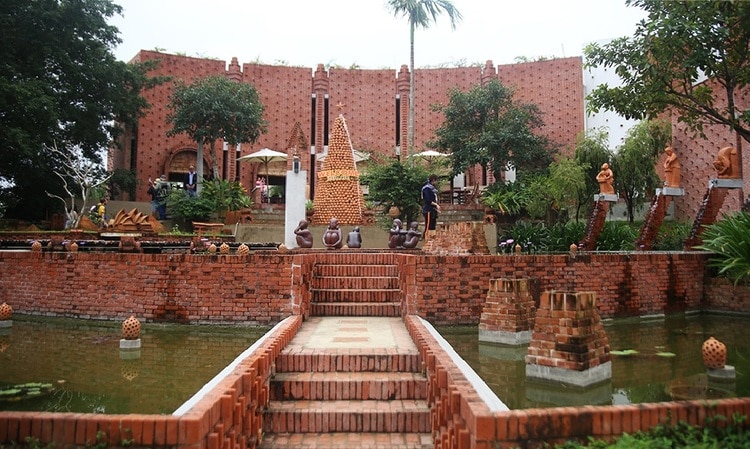 Do not expect to see the water buffalo or paddy fields when you visit the village. The villagers live mainly on pottery making. The river is used to ship pottery products and raw materials.
Some houses use the electric potters' wheels while others use human sources. In places making pottery by hand or foot, the villagers will allow you to try making the pottery, learning useful lessons and understanding about the traditional culture of Thanh Ha Pottery Village.
You can play with clay, painting the pottery with the cost of only 50,000 VND. Or you can ask villagers to make your pottery product with 30,000 VND as a fee. That is an exciting activity and a memorable experience for kids.
Furthermore, do not forget to drop by the workshop named "Chu Ho Le Van Xe." (Chủ Hộ Lê Văn Xê). In this place, you can see a woman standing to knead a lump of clay and using her foot to kick the wheel head while another woman forms the pot on the wheel-head. If you do not know how it is, visiting this workshop will give you the answer.
Thanh Ha Village has experienced different changes over time, foreign competition, and economic difficulty, but the villagers always want to try their best to preserve and prosper the traditional profession. With the unique techniques and skills in making pottery, Thanh Ha Village is definitely the worth-visit attraction in Hoi An. I hope that you will find useful information in this article. Any questions can be left in the comment section, and we will answer them as soon as we can. On Vina.com, we have amazing articles about Vietnam tourism and activities. If you are interested, feel free to take a look.