Southern Folk Cake Festival is not only one of the traditional festivals of Southern Vietnam but also the must-see meaningful event you should participate if you have a chance to visit Can Tho. 
Held on February 2nd in Mekong Delta city, CanTho (Cần Thơ), the Southern Folk Cake Festival has the aim of introducing and promoting the traditional cake processed from the rice of Mekong Delta and Can Tho. Furthermore, it also honors the Southern cuisine culture and the traditional culture of making folk cakes in Can Tho. The festival is a fantastic playground for not only Vietnamese people but also international tourists to exchange their culture. Also, with the participation of Khmer, Kinh, Hoa, and Cham (Chăm) people, the festival shows the solidarity of these ethnic groups.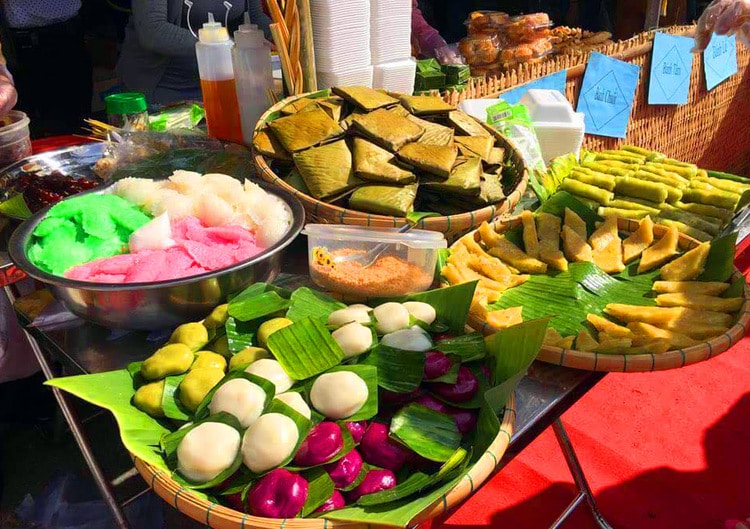 Rice is always an essential part of the local people's life in Southern Vietnam in particular and the S-shaped country in general. The traditional culture of growing rice dates back in the 10th century B.C in North Vietnam. However, the areas surrounding the Mekong River have the right conditions and a favorable environment for the rice plants to grow and prosper. So it is a reason why the Mekong Delta is seen as the rice fields of Vietnam, and this area plays an essential role in supplying the rice for the nation. The rice expresses the meaningful images of Vietnamese farmers working hard on the field to making delicious rice that always appears in the meals and tables of Vietnamese people.
Thanks to the abundance of rice and local fresh products like coconuts, cassava, or bananas in the Mekong Delta, the local people have created many special delicious cakes. These cakes are colorful, vibrant, delicious with full of flavor, and they also reflect the Mekong Delta. 
In Southern Folk Cake Festival in Can Tho, there are over 200 booths that display and sell nearly 100 types of traditional southern cakes. They include banh tam khoai mi (bánh tằm khoai mì) – a string cake processed from cassava flour and served with toasted sesame and coconut milk, banh pia (bánh pía) – a flaky special food of Soc Trang (Sóc Trăng) made from salted duck eggs and green bean, banh chuoi hap nuoc dua (bánh chuối hấp nước dừa) – a banana cake steamed and cooked with coconut water, banh trang nuong (bánh tráng nướng) – Vietnamese pizza processed from rice paper, etc. 
Participating in the festival, you try not only different delicious folk cakes but also enjoy many exciting activities.
For example, you can see the Southern folk cake making competition with 64 types of traditional Vietnamese cakes. The content is held to honor cake artisans, preserving the traditional culture of making cakes, learning skills, and helping visitors know more about cuisine culture.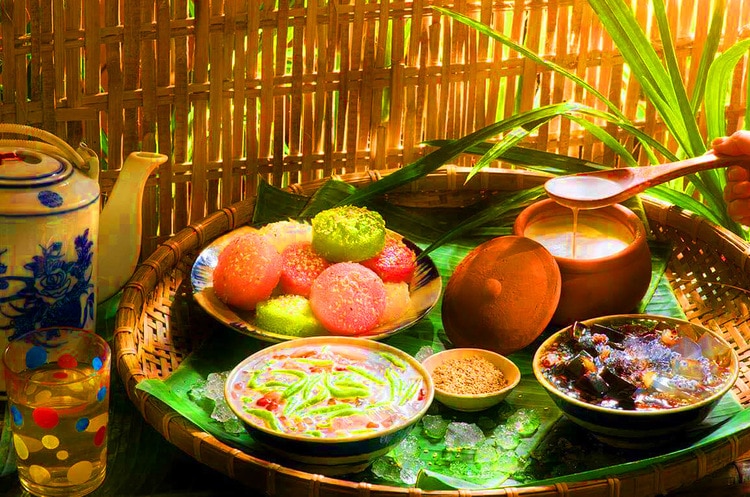 Also in this festival, cake makers will show visitors how they make different types of cakes such as banh tam (bánh tằm), banh phong tom (bánh phồng tôm), banh bo com ruou (bánh bò cơm rượu), banh gan (bánh gan), and banh tet la cam (bánh tét lá cẩm). Visitors can take part in the process of making cakes, using specialized tools. 
Moreover, children can also join in some contests and games that help them learn how to make cakes and know more about the traditional culture of southern Vietnam.
There are also some Southern cultural art performances such as Southern folk songs, comedy skits, conical hat dance and performances of the monochord.
With the unique values and meanings of Southern Folk Cake Festival, many activities are being organized to attract the investment, develop the culture of folk cakes and spread the image of Southern Vietnam and Can Tho across the world. I hope that you will find useful information in this article. If you want to ask any questions, please feel free to leave them below, and we will answer them as soon as we can. On Vina.com, we have numerous articles written about Vietnam's attraction and tourism. Take a look if you are interested.
By Nga Vu