Assume that you are going to have a birthday while being on your trip in Hanoi. And you need to celebrate it on said day, but don't know which restaurants for birthdays in Hanoi to choose from. Indeed, your birthday should be all about you being fabulous and having fun. So why do you have to get stressed about finding the best places that could accommodate all your guests?
Fortunately, we have made things so much easier by rounding up the best restaurants to celebrate your birthday in Hanoi, Vietnam. Let's check out on Vina.com!
Top 5 Ideal Restaurants For Birthdays In Hanoi, Vietnam
1. Black Jack's Restaurant 
Black Jack's restaurants should be your go-to place to host your party in Hanoi. Located in Hanoi Old Quarter and very close to Hoan Kiem Lake, the restaurant is of American style, mainly offers western foods, despite there are also Asian options in the menu. The food is great while the atmosphere is on point.
The menu includes Chicken schnitzel, BBQ chicken fillet, fish and chips, pork sausage, salmon steak, rib eye steak, steak and ribs, green garden salad, tuna salad, onion rings, etc.
In case you want to choose Vietnam style food for your birthday dinner, it is highly recommended. Local dishes like Bun cha along with sweet and sour prawns are beautifully presented and delicious that you should not miss. Service is great and the price is very reasonable.
Address: 47 Hang Be Street (phố Hàng Bè), Hang Bac ward (Hàng Bạc), Hoan Kiem district (Hoàn Kiếm), Hanoi
Tel: +84 4 3935 0137
2. Green Tangerine
The restaurant is situated in a beautiful colonial building and its food is brilliantly executed. Considered one of the best restaurants in Hanoi, Green Tangerine is an oasis of calm located in the center of Hanoi. This romantically quiet corner is an innovative Franco Vietnam fine dining restaurant which is the leading of its type, thereby becoming a well-respected in the gastronomy circle of the capital Vietnam.
Designed with both indoor and outdoor dining areas, Green Tangerine could accommodate different functions, including birthday parties. Its interior decorations and design is an impressive inspiration to customers.
Endeavoring to exceed the expectations of guests with creative recipes and beyond-limit food's presentation, the restaurant surely delivers the most satisfying and unique experience to guests in the most comprehensive way. Some options in the menu you can consider for a memorable birthday dining are Bouillabaisse fish and seafood soup, beef cheek stew in the Provencal style, etc., not to mention an exclusive wine collection. Indeed, this should definitely be added to your checklist of ideal restaurants for a birthday treat in Hanoi.
Address: 48 Hang Be street (phố Hàng Bè), Hang Bac ward (Hàng Bạc), Hoan Kiem district (Hoàn Kiếm), Hanoi
Tel: +84 24 3825 1286
Also read: 25 Best Hanoi Activities Tourists Should Know – Travel Fun
3. La Badiane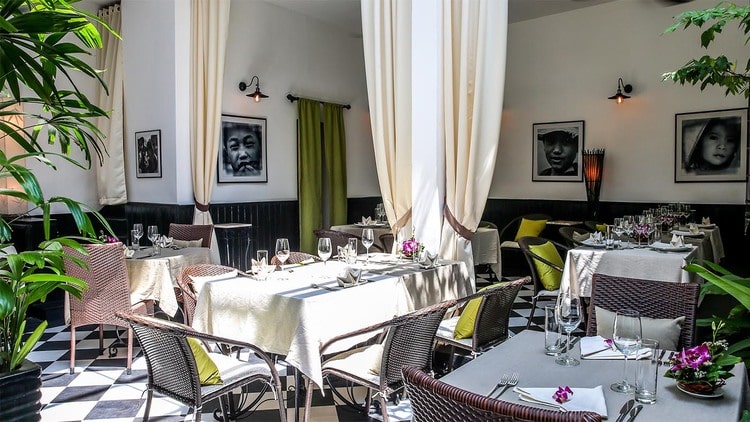 The restaurant is of fusion style. Located in Hoan Kiem district, La Badiane is an award-winning dining place that combines traditional French cuisine with Vietnamese flavors. The reason why this restaurant is one of the best restaurants for birthdays in Hanoi is that its upper level has a couple of elegant dining rooms suitable for guests to celebrate special meals with friends and family. The ground floor is a more relaxed yet sophisticated setting.
La Badiane has some signature dishes, like foie gras (which is served with blackcurrant liquor and figs, sliced stewed apple and roasted almonds), pesto and balsamic sauce, etc. It is highly recommended to enjoy the beef carpaccio with lime dressing and French fries, and seafood lasagna served with veggies.
Address: 10 Nam Ngu street (phố Nam Ngư), Cua Nam ward (Phường Cửa Nam), Hoan Kiem district (Quận Hoàn Kiếm), Hanoi
Tel: +84 43 942 4509
4. Maison Hoang Cau (Nhà Hàng Mai Sơn Hoàng Cầu)
Maison Hoang Cau is a fairly luxurious restaurant nestled near Hanoi city center. It is bright, modern and inviting. Despite Maison Hoang Cau serves dinner, it is also recommended for that birthday fun. Two most suitable words describing Mai Son Hoang Cau can only be classy and spacious. With 2-storey design, the restaurant is an ideal place for celebrating big birthday parties, conferences, year-end parties, and wedding parties thanks to its large space, cozy and magnificent scenery, and European-class royal furniture.
The menu of Mai Son Hoang Cau is diversifying with special dishes suitable for romantic dates, cozy parties and family meals. Can you think of a better place to have your birthday dinner in Hanoi? I can't!
Address: 36A Bán Đảo Hoàng Cầu (Hoang Cau Peninsula), O Cho Dua ward (phường Ô Chợ Dừa), Dong Da district (Quận Đống Đa), Hà Nội
Tel: +84 899 349 797
5. JW Café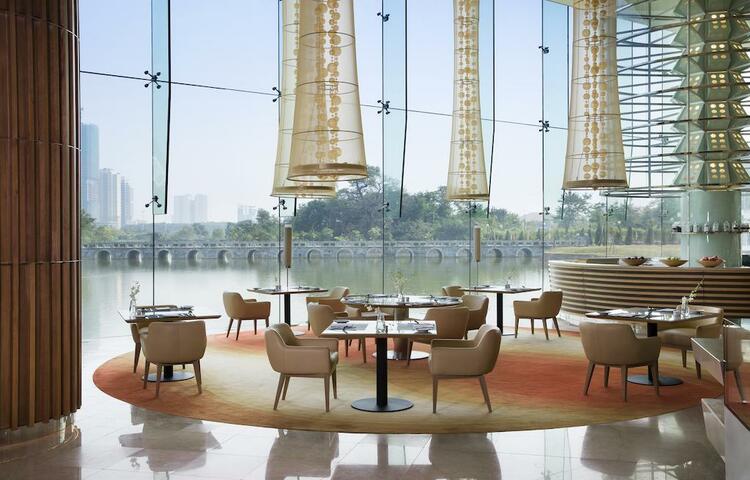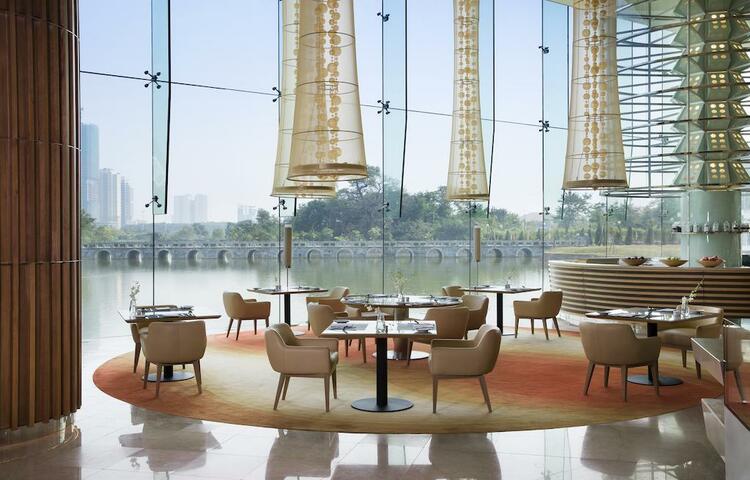 Belonged to JW Marriot Hanoi, JW Café is known for its amazing buffet-style offerings. They are made with natural and fresh produce gathering from across Vietnam. Situated within South Tu Liem District, the restaurant is just about 30 minutes of driving from Hoan Kiem Lake. Though it is rather far from the city center, it is still worth your ride since its surrounding area is a quiet and nice setting with beautiful lake views and a Buddhist temple right in the middle of the lake.
As one of the top restaurants in Hanoi, JW café provides guests with a sumptuous buffet serving international dishes, Vietnamese food, fresh seafood, excellent BBQ and sweet treats. More interesting, your taste buds will also be satisfied with cuisines from Japan, Korean, China, and the Mediterranean. The entire menu is diversifying, so it is great for groups that want to try a little bit of everything on just one menu. Just simply take a moment and indulge your birthday with the classy food in an elegant surrounding with beautiful lake view from JW Café.
Location: 8 Do Duc Duc Street (phố Đỗ Đức Dục), South Tu Liem District (Quận Nam Từ Liêm), Hanoi
Tel: +84 43 833 5588
Read more:
So which restaurant for birthdays in Hanoi seems to attract you the most? Which one do you choose? Share your ideas with us by dropping a common below this post!