Updated: 08/22/2019
Nha Trang Sea Festival in Nha Trang City, Khanh Hoa (Khánh Hòa) Province is held every two years and lasts for a week in around June when the summer comes. This dynamic and colorful event honors the charming beauty of Nha Trang City which is known as the city of romantic and beautiful beaches. In 2003, Nha Trang organized the first sea festival as the city is in the list of the Most Beautiful Bays in the World Club. Nha Trang Sea Festival is the stunning cultural activity that draws the attention of domestic and international visitors.
Nha Trang Sea Festival – The Stunning Event In Nha Trang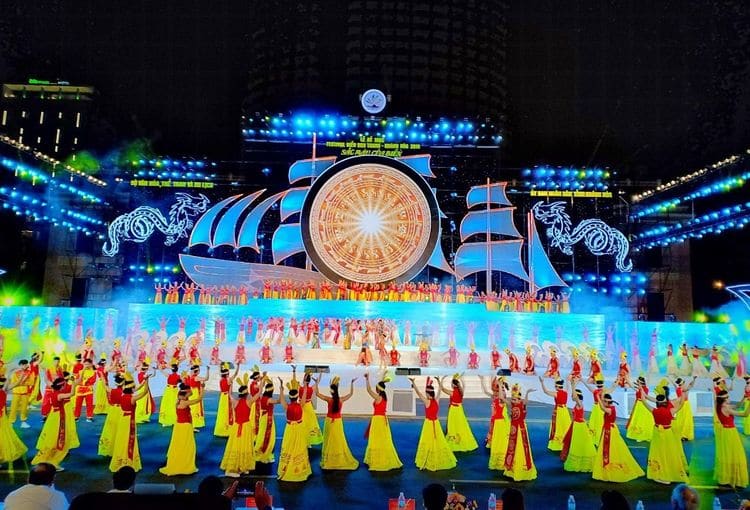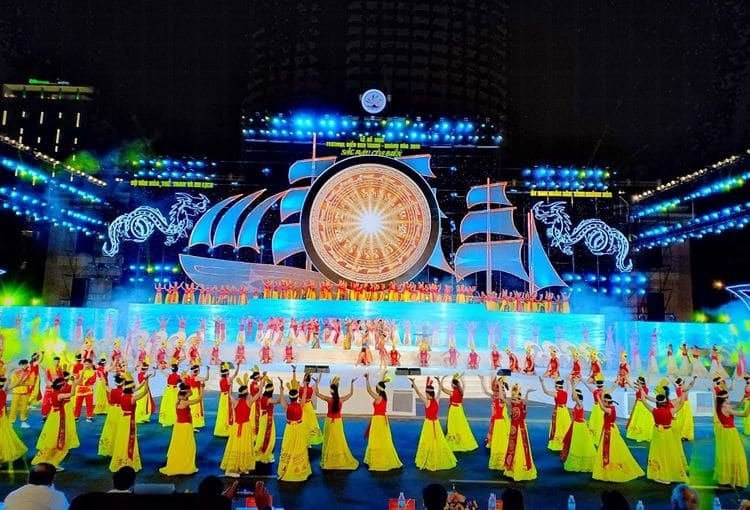 If visiting Nha Trang at the time of Nha Trang Sea Festival, tourists and visitors can immerse themselves in the exciting and bustling atmosphere. Held at 2-4 Square, seafront parks, Po Nagar Tower, Noi Islet (Hòn Nội), Dong Tam (Đồng Tâm) Island, Nha Trang Sea Festival is a great opportunity for tourists to learn more about Vietnam culture and beauty as you can take part in many special events like Khmer Culture Exhibition, Truong Sa Picture Exhibition, event of releasing lanterns on Cai River (Sông Cái), festival of art kite flying, Fish Worshipping Festival and human chess.
Nha Trang Sea Festival is held every two years in around June, giving the beach city the colorful and exciting atmosphere. This festival honors the natural beauty of this beach city as Nha Trang has the untouched and peaceful beaches. Since long time ago, Nha Trang has been the ideal destination for tourists and visitors with a cool climate and comfortable conditions. Nha Trang beach is charming, gentle and romantic, which creates a unique beauty for this city and gives tourists great inspirations.
During the Nha Trang Sea Festival, there are more than 20 activities of culture, tourism, and sports. This festival also has programs on artistic and cultural exchange with many activities of information, sports, commerce, and education. The Nha Trang Sea Festival is a chance to boost the Nha Trang tourism and spread the natural beauty of this beach city to the world.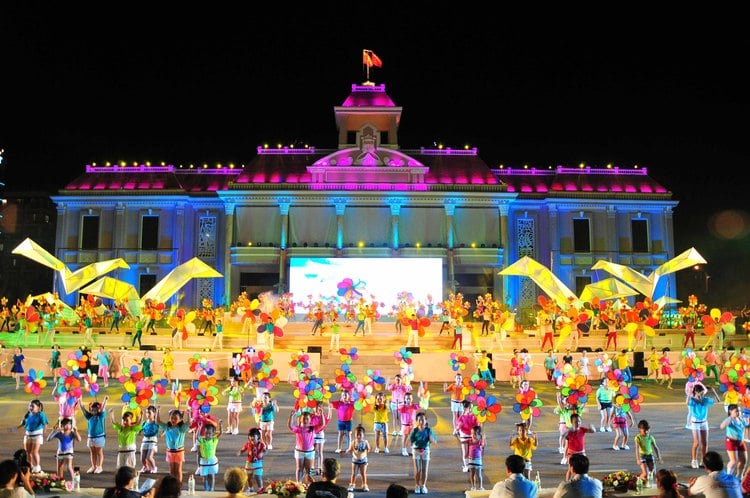 Visiting the Nha Trang Sea Festival, tourists and visitors can have a chance to take part in many interesting and lively activities of art, culture, and sports. Furthermore, local international travelers can also learn more about Nha Trang's culture. It is great to take part in a variety of sea sports and activities like water motor riding, Sepak Takraw and volleyball that appeal a lot of tourists. Moreover, you should not miss the activities like chess contest, Cham culture exhibition, colorful street parades, marine cuisine, night excursions, and night fishing. Nha Trang is the richest city of coral in Vietnam; therefore, diving in Hon Mun (Hòn Mun) sea and admiring the beauty of coral are must-try experience during Nha Trang Sea Festival.
The Nha Trang Sea Festival is an occasion responsibility and love of Vietnamese people are raised in protecting and preserving the beauty of their homeland and islands. Nha Trang Sea Festival is a unique and outstanding event in Nha Trang that is drawing the attention and participation of both local residents and international tourists. I hope that this article will give you useful information that makes you satisfied. Any questions you want to ask can be left below and we will answer them as soon as we can. If you are planning to travel to Nha Trang, our articles on Vina.com will give you useful tips and techniques.