Updated: 08/22/2019
Nha Trang is a famous tourist destination that attracts a large number of tourists and visitors from many parts of Vietnam and in the world. Besides the beautiful beaches and picturesque landscape, various water parks also contribute to the growth of Nha Trang tourism. Some water parks in Nha Trang are built in a specific area while others may be set within the complexes or resorts. The common thing about these water parks is that they have modern facilities and a wide array of exciting games. Visiting a water park is the must-try activity if you have a chance to visit Nha Trang. In this article, I would like to introduce to you the Phu Dong Water Park (Công Viên Nước Phù Đổng), a beautiful small water park located in the center of Nha Trang. The park with beautiful scenery and exciting activities has become a paradise for someone looking for fun and relaxation.
When Is The Best Time To Visit Phu Dong Water Park 
The temperature in Nha Trang is quite warm and pleasant from January to August; therefore, you can choose any time between these months to enjoy your vacation in Nha Trang and trip to Phu Dong Water Park. However, the ideal time would be from February to April because, at that time, the water is warm, the average temperature is around 25 degrees Celsius, not too hot or too cold and water is blue at its lowest. So, you can dive into the ocean and admire the coral reefs that will be beautiful and stunning.
Phu Dong Water Park – An Attractive Entertainment Destination In Nha Trang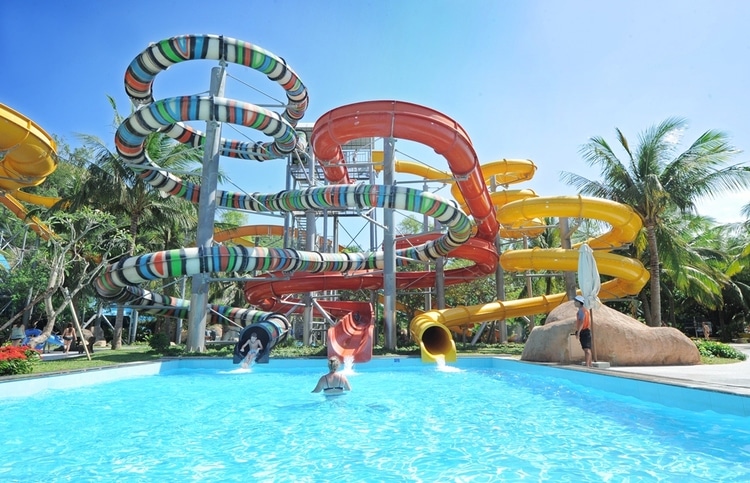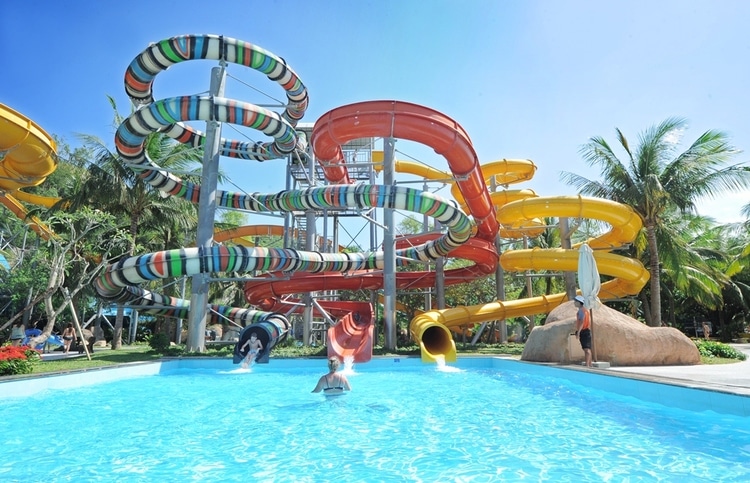 Situated in the heart of Nha Trang City, near a beautiful and clean beach, Phu Dong Water Park in Nha Trang is the famous relaxing and fun destination for Nha Trang residents and tourists.
Covering the area of 2 hectares, Phu Dong Water Park with the green coconut palms surrounding provides great experiences, excitement, and fun for visitors and tourists. Children will enjoy the park as there are a water park, thrilling games, and children's play area. Adults also love it because of the restaurants, souvenir shops, scuba diving, and bathing areas.
Visiting this Nha Trang water park, you will have a chance to participate in many interesting games such as roller coaster, continuous ball house, flying fortress, ferris wheel, civic electric cars, video games, virtual world. The games in Phu Dong Water Park have different design and height or age limited; therefore, no matter how old your children are or whether you play these games, you can find suitable ones. For example, you can let your children play safe games while it is excellent for you to experience the thrilling and adventurous games that are designed only for adults and someone tall or old enough.
To enjoy these interesting games, you have to pay about 5,000 VND to 20,000 VND, depending on the game you want to play.
In addition to the activities and games you play alone, Phu Dong Water Park also has a variety of games you can take part in with your friends and family like a flying fortress, ferris wheel, roller coaster, etc. Nothing is greater than sitting in the ferris wheel that spin and hover in the air. The roller coaster that goes up and down continuously will give you the extremely exciting feeling.
In Phu Dong Water Park, a waterslide area is also a place you should come. Here you can find many well-designed water slide games such as swinging lakes, wave-creating lakes, lazy rivers, jumping bridges, twisting slides, children's lakes, and double buoy slide troughs. Sliding in the curves, swinging the rope and jumping the bridge will be an exciting and fun experience that appeals not only adults but also children. However, while these games are safe for adults to play, children should be careful. Make sure that they are old and tall enough to play these games. Even when you let them play, it is essential to keep an eye on them.
The water ski area also attracts adults and children to join in. Paying only 20,000 VND, you can swim, jump into the water, which is relaxing and challenging activity in Phu Dong Water Park.
After a full day of playing and discovering the park, you should enjoy a romantic and peaceful space in a café. Phu Dong 1 or Phu Dong 1 café serves delicious drinks and gives tourists a quiet evening.
Where To Eat Near Phu Dong Water Park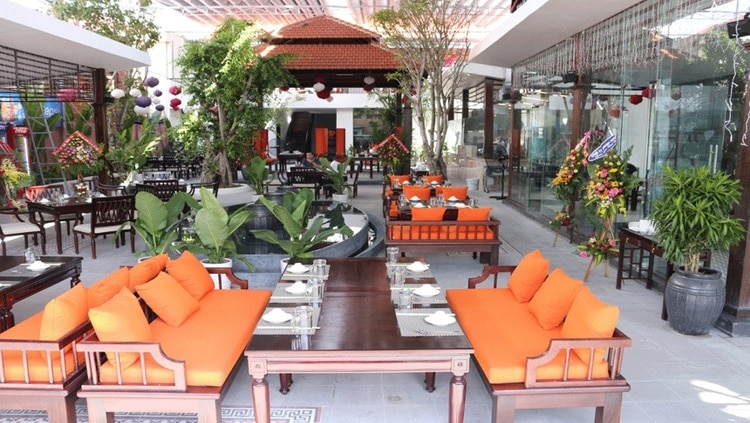 Phu Dong Water Park is located in the city center of Nha Trang, so you can easily find the restaurants and food stalls near here to enjoy a good meal.
Where To Stay Near Phu Dong Water Park 
After playing and enjoying a lot of games in Phu Dong Water Park, you can stay at the hotel near Phu Dong Water Park. The great recommendations are Lammy Hotel, Majestic Star Hotel, Oliver, Tai Loc Hotel, Thien Ma Hotel, etc.
As you can see, your trip to Nha Trang won't complete without Phu Dong Park. With the best facilities, exciting games and high-quality services, this Nha Trang water park gives you unforgettable and impressive experiences. If you are planning to travel to Nha Trang, you should visit this entertainment place. I guarantee that it won't make you disappointed. I hope that you will find useful information in this article. Any questions can be left below, and we will answer them as soon as we can. We have many informative articles about Vietnam's attractions and activities on my website Vina.com. Read more if you want.