Updated: 08/22/2019
Khoang Xanh – Suoi Tien Resort is about 50km the West of the center of Hanoi, Vietnam. It is located in the Ba Vi National Park complex and covered by mountains and majestic nature. Khoang Xanh – Suoi Tien Resort was built in the heart of Ba Vi Mountain Range, surrounded by mountain, forests, and natural landscapes. Khoang Xanh – Suoi Tien Resort has an area of ​​more than 200 hectares and diverse ecological structure such as stream – waterfall – forest, along with entertainment areas built on a large scale. With the advantage of cool climate all year round, Khoang Xanh – Suoi Tien Resort is considered as a paradise of entertainment with many interesting and attractive points for tourists. It has many facilities such as hotels, healthcare resorts, etc.
I. What Is The Best Time To Visit?
Khoang Xanh – Suoi Tien Resort opens every day. The best time to visit is on the hot summer days with abundant water that creates the majestic beauty of the waterfalls. The cool water and fresh air will also dispel the heat of the summer.
You will buy an entrance fee at its gate. The cost is VND 150,000/adult. Children, who are under 1.2 m, will pay for VND 100,000/child (over 1.2 m counted as adult tickets).
II. What Are Activities For Tourists To Do?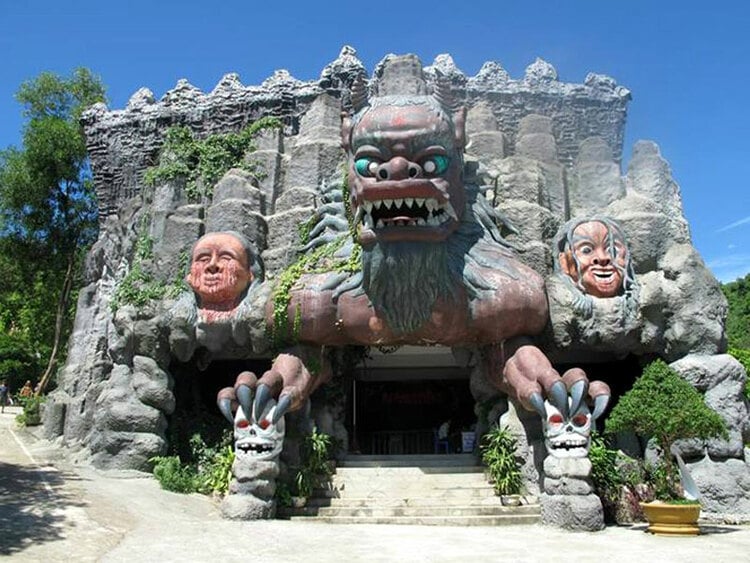 You need to spend about a day to discover all the Khoang Xanh – Suoi Tien Resort in Ba Vi. Therefore, it is very suitable for a picnic or a weekend vacation. When coming here, tourists will have a chance to experience many interesting activities in Khoang Xanh – Suoi Tien Resort.
1. Waterfall System Of The Resort
The Creator has given this place an incredibly beautiful waterfall system, especially in the rainy season. Because these waterfalls are not too strong, they are quite safe and suitable for young children. You can also swim at the foot of some waterfalls such as Mo Waterfall (thác Mơ), Mam Xoi Waterfall (thác Mâm Xôi), and Hoa Lan Waterfall (thác Hòa Lan). Tien stream (suối Tiên) flows in the center of Tan Mountain (núi Tản) that increases its wild and majestic appearance. It helps you dispel the tiredness and relax with nature.
2. Dinosaur Valley
A dinosaur forest with artificial models of many dinosaurs, this is regarded as a miniature version of the Jurassic Park, with a sound system like the roaring of dinosaurs. This is a favorite destination for children because they will be watched the model of dinosaurs and heard the story of science and history of dinosaurs. Due to the surrounding nature, it makes the dinosaur valley alive and interesting.
3. The Game Feels Strong
One of the adventure games that you should explore in Khoang Xanh -Suoi Tien Resort in Ba Vi is the mysterious Palace. It creates the mysterious world of hell with many challenges and horror effects. Although it is very interesting, this is not a game for faint-hearts. The comet Ferris wheel, Max Air, or speed slide in the pool is also impressive adventure games here. You will have relaxing moments when participating in these games.
4. Pool
One thing not to be missed when coming here is the hot mineral spring in Khoang Xanh – Suoi Tien Resort. Natural hot mineral resources are utilized from hot mineral springs; it is very good for your health. It is considered as the largest indoor heated swimming pool in Vietnam.
The wave pool is an attraction for many tourists and a favorite place for children. The water in the pool comes from the mountains, and it is constantly replaced. This is a good ideal place for entertaining on summer days. Since the lake is not so deep, it is suitable for both adults and children to swim.
5. Resort Service
A hot mineral mud bath is designed to relax with quiet, melodious music. This combination of hot, natural herbal mineral mud makes it look like a natural spa. In addition, you can enjoy massage services here.
III. What To Eat?
You should enjoy specialties of Ba Vi in a quiet space, which will bring an unforgettable impression to tourists when traveling to Khoang Xanh – Suoi Tien Resort. The resort has some restaurants with a menu of fruits and vegetables provided by Muong ethnic people. The dishes made from the pork will also help customers have really new experiences.
IV. Where To Stay?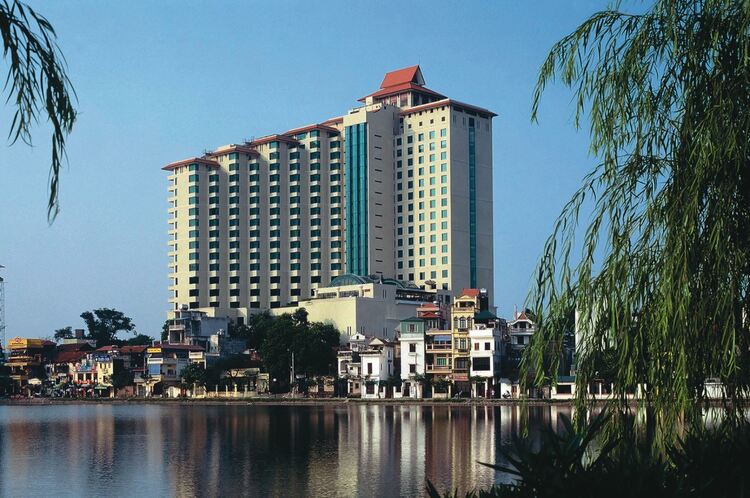 Khoang Xanh – Suoi Tien Resort has 155 bedrooms and a meeting room, all of which are served for eating, sleeping, sightseeing, and entertainment of customers. The price of a room begins at $43/night.
If you just want to have fun here for a day, you can return to your hotel in the center of Hanoi. We will suggest some hotels for you including:
Melia Hanoi Hotel: 44, Lý Thuong Kiet Street, Hoan Kiem District, Hanoi. The price of a room starts at $175/

Sheraton Hanoi Hotel: Nghi Tam Street, Tay Ho District, Hanoi. The price of a room starts at $160/

Hanoi Hilton Opera: 1, Le Thanh Tong Street, Hoan Kiem District, Hanoi. The price of a room begins at $169/night.

Hanoi Sofitel Plaza: 1, Thanh Nien Street, Tay Ho District, Hanoi. The price of a room begins at $315/night.
V. Extra Tips:
Prepare swimwear to play water games of Khoang Xanh Suoi Tien Resort

You can eat at restaurants in this resort or bring prepared food to save your budget

You should book a hotel room in advance if you plan to stay overnight to avoid out of the room.
Read more:
Khoang Xanh – Suoi Tien Resort is really impressive with mountains, forests, and landscapes in nature. It is definitely a great place for you to relax and immerse yourself in nature, and dispel hot summer days. We hope that you find useful information after reading this post. If you have any question, you can be left in the comment box below. We will answer as soon as we can. To get more about Vietnam travel, check our Vina homepage.