Updated: 08/22/2019
Bao Son Paradise Park is an entertainment park which is located on Le Trong Tan Street, An Khanh Commune, Hoai Duc District, Hanoi city, Vietnam. With a total area of 20 ha, Bao Son Paradise Park is considered as the biggest an entertainment and tourism complex in the North of Vietnam. It is opened in September 2008 to create a space for entertainment and relaxation for people. The park is a combination of modern and traditionality. It is divided into 4 main areas including traditional craft villages of Vietnam, an ancient quarter of Hanoi, an ecotourism area, and a culinary section. The park yearly attracts many tourists to visit and explore.
I. What Is The Best Time To Visit?
You can visit Bao Son Paradise Park every day.
You will buy an entrance fee. On weekdays, the cost of the ticket is from VND 150,000 to VND 200,000/person. On holidays and weekend, the price is from VND 220,000 to VND 270,000/person.
II. What Are Activities For Tourists To Do?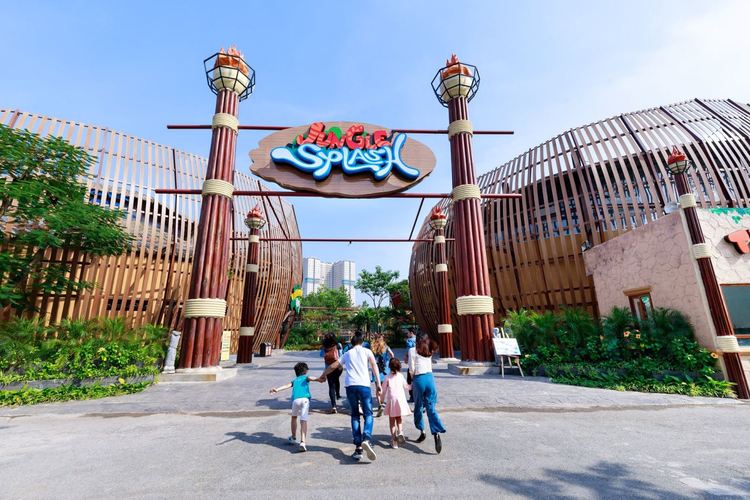 When visiting Bao Son Paradise Park, tourists will have a chance to participate in the interesting activities and discover the amusement park, aquarium, zoo, and pool. You will have wonderful experiences in 4 main areas.
1. The Traditional Craft Villages Of Viet Nam
Bao Son Paradise Park is a combination of traditional and modern beauty. The ancient villages cover a total area of 10,000 square meters with the appearance of 15 famous traditional villages of Vietnam. The houses exist from the late 19th century to the early 20th century with the features of Vietnamese villages such as banyan trees, wells, and communal houses. All of them help visitors enjoy a peaceful and tranquil space and stay away from the hustle and bustle of the city. In addition, it displays handicraft products of Vietnam's traditional villages including Van Phuc silk village, Phu Lang Pottery Village, Bronze Casting Village, brocade of Thai People, Gemstone Painting village. In this area, there are many folk performances to introduce the traditional culture of Vietnam to foreign visitors.
2. The Ancient Quarters Of Hanoi
The ancient town has a total area of 5,000 square meters with daily activities of Hanoi people at the beginning of the 20th century. There are more than 20 shops which are designed in an ancient style with red roof tiles. Each shop sells different items such as clothing, watches, arts, beverages, and food which show the lifestyle of old Hanoi people.
3. Ecotourism Area
The largest area in Bao Son Paradise Park is the ecotourism area with a total area of 10,000 square meters. The area includes aquarium which has diverse sea creatures with more than 2,000 species from all over the world. The aquarium of Bao Son Park is an ideal place for people who want to discover the ocean. With the unique architecture, the aquarium attracts a lot of people to visit. The aquarium area is constructed in a modern model that brings for tourists an unforgettable experience. This area has a royal garden with 500 varieties of rare and precious orchids of Vietnam and some countries in Southeast Asia. Next to the royal garden is a museum where displays a collection of butterflies and flowers from other countries in the world.
The Vietnamese version of Disneyland also attracts both domestic and international tourists by games. There are a lot of exciting games for visitors to explore such as Ferris wheel, discovery spacecraft area, swimming pool, and 3D cinema. If you visit Bao Son Paradise Park on Saturday and Sunday, you will have a chance to see the performances of dolphins and seals. It has a modern and multifunctional complex with a total area of 3,000 square meters. The performance area includes a large stage and a viewing area containing more than 7,000 people.
4. Culinary Section
With a total area of 5,000 square meters, the culinary section supplies a lot of traditional Vietnamese foods, Asian and European foods. There are 31 food stories which sell the specialty dishes of 3 regions of Vietnam such as Pho (noodles), Cha Ca Hanoi (Hanoi-Style Grilled Fish), and Banh Tom (Crisp Shrimp Pastry).
III. What To Eat?
After experiencing the games in the Bao Son Paradise Park, you can enjoy foods in the culinary section in the park. If you do not want to eat the dishes in the park, you can enjoy a number of Hanoi restaurants and food stalls in the center of Hanoi.
IV. Where To Stay?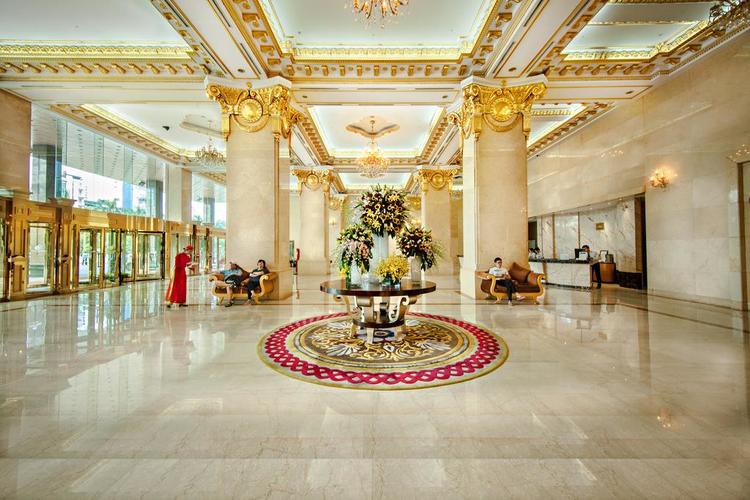 Because the Bao Son Paradise Park is near the center of Hanoi, so there are many hotels for you to choose from. We will give some suggestions include:
O'Gallery Majestic Hotel & Spa: 38A, Tran Phu Street, Ba Dinh District, Hanoi. The price of a room begins at $92/night.

JW Marriott Hotel Hanoi: No 8, Do Duc Duc Street, Me Tri Ward, Tu Liem District, Hanoi. The price of a room begins at $209/night.

Crowne Plaza West Hanoi: 36, Le Duc Tho Street, My Dinh Ward, Tu Liem District, Hanoi. The price of a room begins at $86/ night.

Grand Plaza Hanoi Hotel: 117, Tran Duy Hung Street, Hanoi. The price of a room begins at $100/night.

InterContinental Hanoi Landmark72: Pham Hung Road, Tu Liem District, Hanoi. The price of a room begins at $143/ night.
Other suggestions include Ping Hotel, T&M Luxury Hanoi Hotel, Dlmos Hanoi Hotel, V-INN Studio Apartment, Glory Hotel, etc.
We hope you will find useful information in this article and have a nice trip to the Bao Son Paradise Park. If you have any exciting experiences, you can leave in the comment box below. Check our Vina homepage, and you will have more information about Vietnam travel.