India is a country strongly influenced by religion, so the Indian culinary culture is always filled with many values of colorful Islamic flavors. That attracts fans who are passionate about discovering new cuisine. To find new experiences of authentic Indian flavor, Vina.com share with you the list of the best Indian restaurants in Hanoi, Vietnam!
The 5 Most Impressive Indian Restaurants In Hanoi, Vietnam
1. Namaste Restaurant
"Namaste" means "hello" in India, giving the guests a feeling of hospitality and comfort when visiting the Namaste restaurant. The first impression comes from a fairly simple space with large rooms full of the smell of authentic Indian spices.
The menu is extremely abundant with nearly 300 delicious dishes of both South India and North India. In particular, you must try the famous Indian curry dish served with soft and fragrant naan bread in garlic butter and cheese. Besides, North Indian food is much easier to eat with less spicy, and less intense ingredients while South Indian dishes have a stronger flavor. Therefore, you should consult the restaurant staff before ordering food.
Location: 46 Tho Nhuom street (phố Thợ Nhuộm), Hoan Kiem District (Quận Hoàn Kiếm), Hanoi
Tel: 024 3935 2401
Price ranges: 100.000 – 330.000 VND/person
2. Spices Taste Of India Restaurant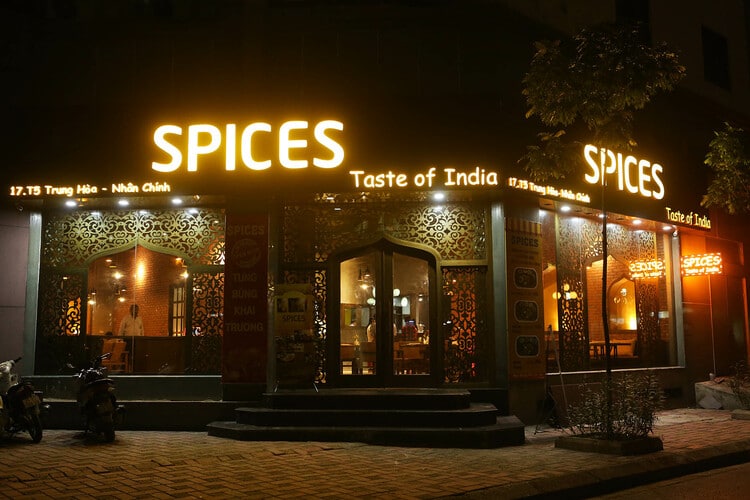 The Spices is one of the Indian restaurants in Hanoi, Vietnam with beautiful, eye-catching designs inspired by traditional Indian-style decorations. Coming to the Spices, you will immediately immerse yourself into an Indian street food restaurant with simple and rustic style dishes at affordable prices. Fried chicken is considered the soul dish of the restaurant with tender and moist chicken in a mildly spicy sauce or sour sauce. Also, Spices serves a list of fresh fruit juices without adding water to preserve the natural scent of the fruit.
Location: 17 T5, Hoang Dao Thuy street (phố Hoàng Đạo Thúy), Trung Hoa Nhan Chinh ward (Phường Trung Hòa Nhân Chính), Thanh Xuan District (Quận Thanh Xuân), Hanoi
Tel: 024 6251 1555
Price ranges: 100.000 – 500.000 VND/person
3. Khazaana 1992 Restaurant
Located on the Duong Thanh street, Khazaana 1992 becomes an ideal place for fans of Indian cuisine to visit and enjoy delicacies. By the Indian culture, the restaurant serves no dish related to beef and pork, while focusing only on chicken, lamb, and seafood.
The menu features a chicken curry and lamb curry in a mild and spicy flavor, served with crispy bread and mint sauce. In addition, grilled chicken dishes and cheese naan bread are also highly recommended with a typical Indian flavor. For drinks, latte can be an exciting option for diners who want to enjoy an Indian style meal.
Location: 34 Duong Thanh street (phố Đường Thành), Hang Bong ward (phường Hàng Bông), Hoan Kiem District (Quận Hoàn Kiếm), Hanoi
Tel: 098 912 9440
Price ranges: 80.000 – 165.000 VND/person
4. India Palace Restaurant
As the elegant luxury name, India Palace is designed in a cozy style and adorned by the meditation music along with extremely attractive dishes. On the menu, India Palace features a list of traditional Indian dishes, including curry, naan bread, salad, and appetizers.
In addition to chicken tikka (grilled chicken tenderloin in a tandoor oven), mutton Chettinad (spicy lamb stewed with Chettinad masala) is highly recommended with the abundant tastes of the famous lamb's meat from South Asia.
Location: 78 Xuan Dieu street (phố Xuân Diệu), Tay Ho District (Quận Tây Hồ), Hanoi
Tel: 043 719 5995
Price ranges: 50,000 – 110,000 VND / person
5. Dalcheeni Restaurant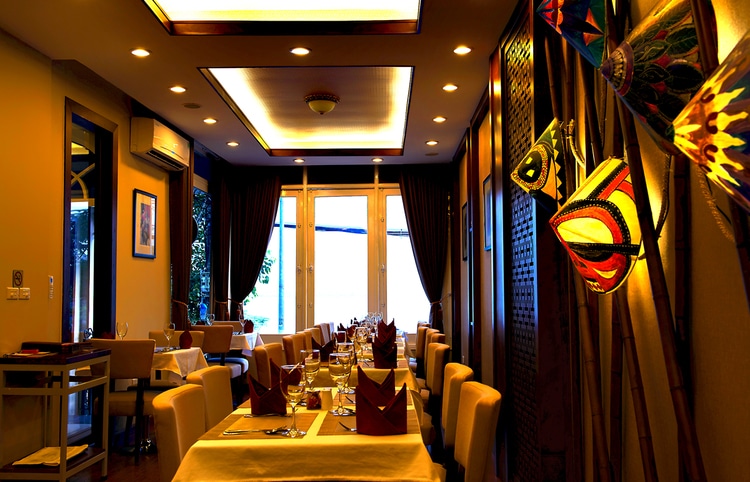 With more than 100 well-prepared outstanding dishes of ingredients imported from India, Dalcheeni promises to bring gourmets the most interesting experiences with Indian cuisine. Dalcheeni's outstanding menu must mention to galaouti kabab, considered as "best choice" kebab with the quintessential flavors of saffron, Indian butter, Kashmir chili, and smoked cloves.
Moreover, curry dishes in the restaurant are extremely attractive due to the flavors of dairy and typical Indian spices. Coming to Dalcheeni, diners can also try vegetarian dishes from both northern and southern India, including great desserts and drinks.
Location: 100 Xuan Dieu street (phố Xuân Diệu), Quang An ward (phường Quảng An), Tay Ho District (Quận Tây Hồ), Hanoi
Tel: 024 3266 8453
Price ranges: 300.000 – 700.000 VND/person
Indian cuisines are quite new to Hanoi people compared to other cuisines. However, if you have ever visited one of the Indian restaurants in Hanoi, the uniqueness and taste of Indian food will surely surprise you. Share your amazing culinary experiences by leaving a comment on Vina.com right now.