Chinese cuisine is highly influential not only in Asian countries but worldwide. Chinese cuisine is very unique and extremely delicate, bearing the distinct characteristics of each area such as Shandong, Guangdong, Sichuan, Hunan, Fujian, etc. In recent years, Chinese dishes have become famous in many Asian countries including Vietnam. Here are the top 5 delicious Chinese restaurants in Hanoi that Vina.com suggests below for a sumptuous party with friends and family!
Top 5 Chinese Restaurants in Hanoi to Enjoy When Traveling
These Chinese restaurants in Hanoi should be on your bucket list:
1. Zhong Hua Chinese Restaurant
The first impression when visiting Zhong Hua Chinese Restaurant is a 5-star luxury space with the classic imprint of a refined Chinese cuisine. Secondly, this restaurant serves extremely special food with famous dimsum buffet  with over 20 different types. At the beginning of the meal, you can enjoy some interesting appetizers such as hot soup and dumplings.
The most delicious is the main dishes made from fresh lobster and hotpot. The broth of delicious hotpot from seafood and fresh beef. Besides, you can order crispy roasted meat and famous Peking duck with spicy and sweet sauce. Notably, the restaurant usually has a discount program for the buffet on the 8th of every month.
Location: 2nd floor, Nikko Hotel, 84 Tran Nhan Tong street (Phố Trần Nhân Tông), Nguyen Du Ward (phường Nguyễn Du), Hai Ba Trung District (Quận Hai Bà Trưng), Hanoi
Tel: 024 3822 3535
Price ranges: 100.000 – 500.000 VND/person
2. Long Dinh Restaurant (Nhà Hàng Long Đình)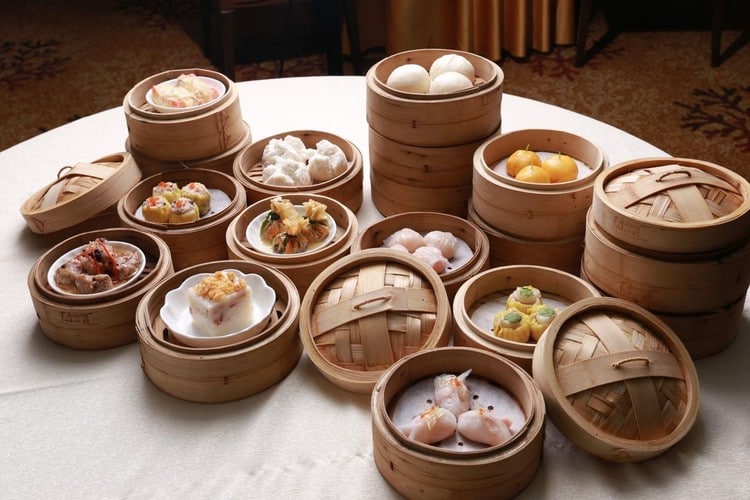 Prominent with the unique cultural space of a miniature and sophisticated Hong Kong corner with carefully selected Chinese-style furniture, Long Dinh deserves to be one of the most ideal places for family and friend parties on holidays and weekends.
The first thing when referring to Long Dinh, diners often think of the menu with more than 100 stunning dimsums. Dimsum here is made from a thin layer of outer powder with a filling of various meat types such as shrimp, fish, chicken, beef alongside many different flavors. In addition, you can also taste some other Chinese specialties such as "Buddha jumps over the Wall" soup, crispy roasted chicken or fried crab meatball with a unique marinated recipe from the talented Chinese chef.
Location: 64B Quan Su street (phố Quán Sứ), Hoan Kiem District (Quận Hoàn Kiếm), Hanoi
Tel: 024 394 29166 – 024 394 29168
Price ranges: 350.000 – 800.000 VND/person
3. Hai Cang Restaurant (Nhà Hàng Hải Cảng)
Located on a high floor while having a classy design surrounded by large glass doors with the view of the bustling Hai Ba Trung street, Hai Cang restaurant offers many Chinese regional cuisines at affordable prices. With over 20 years of experience, the chef of the restaurant always surprised customers when admiring their works of art through a various Chinese menu. The outstanding dishes of Hai Cang that you need to taste at least once are roasted goose, fried vermicelli and dimsum. Besides, diners will be able to enjoy melodious piano music on every Saturday evening to enhance the flavor to memorable parties.
Location: 12th Floor, Sun City Building, 13 Hai Ba Trung (phố Hai Bà Trưng), Trang Tien Ward (Phường Tràng Tiền), Hoan Kiem District (Quận Hoàn Kiếm), Hanoi
Tel: 024 3824 9988
Price ranges: 300.000 – 500.000 VND/person
4. Den Long Do Restaurant (Nhà Hàng Đèn Lồng Đỏ)
Den Long Do (Red pattern) is one of the delicious Chinese restaurants that travelers should visit when traveling Hanoi. In fact, the restaurant's menu is not too diverse, but the dishes are highly rated by diners. When coming here, you should try the roasted duck, steamed dumplings, and spicy Mapo tofu.
In addition, the dishes are often cooked slightly salty so we recommend diners to order rice to help enhance the standard flavor of these Chinese style delicacies. For side dishes, you can taste the mushroom soup with the excellent broth and spicy chicken leg salad.
Location: 19, Nguyen Cong Hoan street (phố Nguyễn Công Hoan), Ba Dinh District (Quận Ba Đình), Hanoi
Tel: 024 3771 1598
Price ranges: 100.000 – 180.000 VND/person
5. Tunglok Heen Restaurant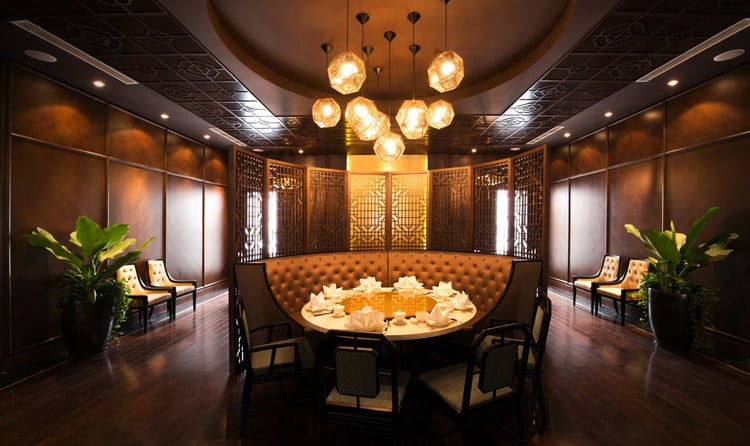 Located on the 36th floor of Lotte Lieu Giai Building, Tunglok Heen is a really beautiful, luxurious and quiet space for hosting any cozy parties. About the food, all the dishes are great at the price of a 5-star classy restaurant. Some special dishes such as shrimp dumplings with fresh shrimp, chicken feet with awesome abalone sauce are so steamed so gourmets can taste them quite gently. Furthermore, you should also order a warm herb teapot to stimulate digestion and enjoy more food.
One more highlight comes from the attentive service style of the staffs in Tunglok Heen Restaurant. Specifically, food is served continuously so they are always very hot and fresh. Furthermore, we recommend booking a table early if you want to sit at the table near to the windows and observe the beautiful view from the high side.
Location: 36th floor, Lotte Center, 54 Lieu Giai street (phố Liễu Giai), Ba Dinh District (Quận Ba Đình), Hanoi
Tel: 024 3657 3888
Price ranges: 200.000 – 1.000.000 VND/person
So, Vina.com has introduced to you top 5 highly recommended Chinese restaurants in Hanoi. Hopefully, visitors can choose for yourselves the best address to enjoy Chinese cuisine right away! If you have more interesting experiences about cuisine and travel in Hanoi, leave a comment on our website immediately.
Read more: