In fact, breakfast is considered the most important meal of the day. It not only gives you the energy to start a new day but also brings many health benefits, such as improving your memory, having a lower BMI, etc. If you are extremely busy to prepare yourself for breakfast, don't skip it! Let's take some quick and healthy choices from a great list of breakfast restaurants in Hanoi suggested by Vina.com!
5 Remarkable Breakfast Restaurants In Hanoi, Vietnam
1. Pho Bat Dan Restaurant – 49 Bat Dan
When it comes to breakfast dishes in Hanoi, visitors can't help but mention to Pho – one of the signature dishes in traditional Vietnamese cuisine. Indeed, Pho is a famous dish spreading all over the world, but you should try visiting Pho 49 Bat Dan restaurant to experience the most typical flavor of this dish. With a history of more than 70 years, Pho 49 Bat Dan is a familiar place for locals and foreign tourists to visit and enjoy a traditional bowl of pho. Pho 49 Bat Dan is still preserving the traditional flavor with the clear and fragrant broth prepared by the secret recipe that has been passed down from generation to generation. The broth, when added the chewy noodles, soft beef slices, and fresh vegetables, create a bowl of pho with a delicious taste to welcome a new day.
Location: 49 Bat Dan, Cua Dong, Hoan Kiem District, Hanoi
Tel: 024 6683 3535
Price ranges: 45.000 – 50.000 VND/person
2. Mien Luon Dong Thinh Restaurant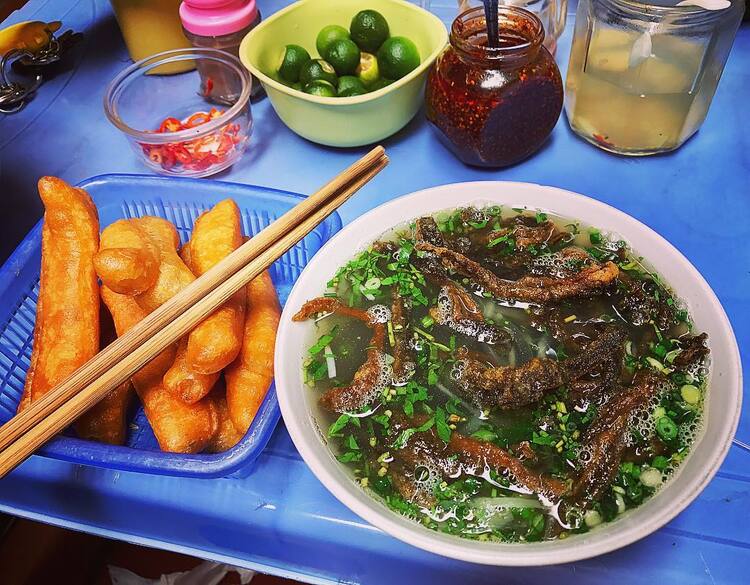 Located at 87 Hang Dieu, Dong Thinh restaurant can be one of the perfect choices of diners who are big fans of eel vermicelli in Hanoi. As the name of the restaurant, eel vermicelli is the best dish of Dong Thinh with crispy deep-fried eels and nutritious broth, which can wake up every guests' senses right from the first enjoy. To get this delicious dish, the chefs were extremely skillful in processing and soaking eel in a handmade marinade sauce before frying until eel turns into a beautiful brown-golden color. In addition, you can also try another breakfast option with the exciting name "dry eel vermicelli", served with laksa leaves, fried shallots, bean sprouts, and tasty sauce.
Location: 87 Hang Dieu, Cua Dong, Hoan Kiem District, Hanoi
Tel: 024 3826 7943
Price ranges: 50.000 – 60.000 VND/person
3. O Xuan Restaurant
Breakfast foods in Hanoi are really diverse with many typical cuisines from other regions across the country. Thus, O Xuan restaurant becomes no stranger to Hanoians and foreign tourists who want to enjoy the culinary elite Hue. O Xuan's menu focuses on recreating an authentic flavor of Hue-style beef vermicelli soup with large-sized noodles, soft beef slices, stewed pig's trotters, pork blood pudding, and bamboo shoots. In addition, diners can order some other delicacies such as banh beo (bánh bèo), bot loc cakes (bánh bột lọc), and Hue lemongrass skewers.
Location: 163 Xa Dan, Nam Dong, Dong Da District, Hanoi
Tel: 024 8586 8788
Price ranges: 55.000 – 65.000 VND/person
4. RuNam Bistro Restaurant
In addition to the Vietnamese restaurants serving traditional breakfasts, diners can also taste nutritious European breakfast in RuNam Bistro – one of the high-class restaurants in Hanoi, Vietnam. The first impression when visiting RuNam comes from a classy space with meticulous decor suitable for the luxurious breakfast with your family and friends on the weekends. The menu for breakfast in RuNam is quite diverse from full English breakfasts to Vietnamese breakfast style such as pho, noodles, and bread. Besides, the list of various dessert pastries and drinks is also received a lot of compliments from customers.
Location: 13 Pho Nha Tho, Hang Trong, Hoan Kiem District, Hanoi
Tel: 024 39 286 697
Price ranges: 88.000 – 418.000 VND/person
5. Angel In US Coffee Restaurant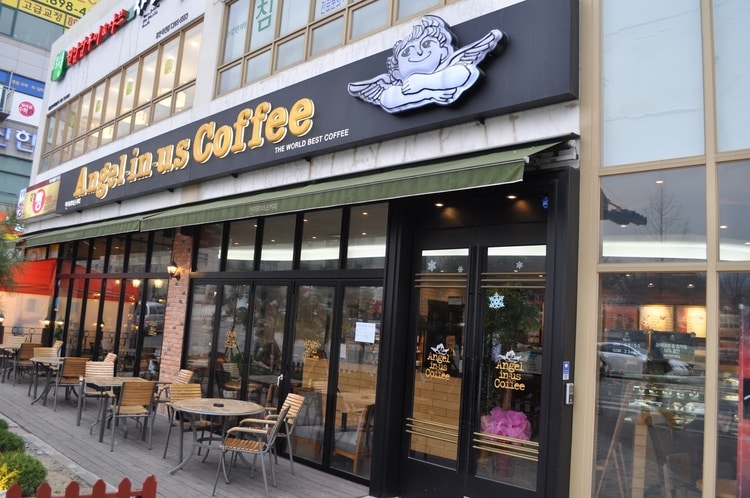 Coming to Ba Dinh district, you can visit the Angel In US Coffee restaurant to try European breakfasts with a cup of fine coffee at an affordable price. The best-selling breakfast item of this restaurant is an omelet, served with bacon, grilled sausages, and bagels. In addition, crepes with fresh fruits and European pastries are also highly recommended for diners when visiting Angel In US Coffee.
Location: 1st floor, Lotte Center, 54 Lieu Giai, Ba Dinh District, Hanoi 
Tel: 0246 687 1710
Price ranges: 100.000 – 120.000 VND/person
With the top 5 best breakfast restaurants in Hanoi Vina.com just shared above, hope that you will have an excellent breakfast to have an energetic day. 
Drop your comments at our website to share the culinary experience in Hanoi capital right now!