It can be said that Hue royal cuisine is the pinnacle of Vietnamese dining art because of its quintessence, sophistication, with full of charm. From the precious royal dishes to the rustic folk dishes, true or even simple vegetarian dishes, whatever the style, Hue cuisine always reaches 3 standards: nutritious, aromatic, and cheap. If you still have not had a chance to visit Hue, Vina will introduce to you about Hue special dishes with top famous Hue style restaurants in Hanoi, Vietnam today!
Top 5 Famous Hue Style Restaurants In Hanoi, Vietnam
We would like to introduce to you 5 of the most famous Hue style restaurants in Hanoi with typical Hue cuisine:
1. Net Hue Restaurant (Nhà Hàng Nét Huế)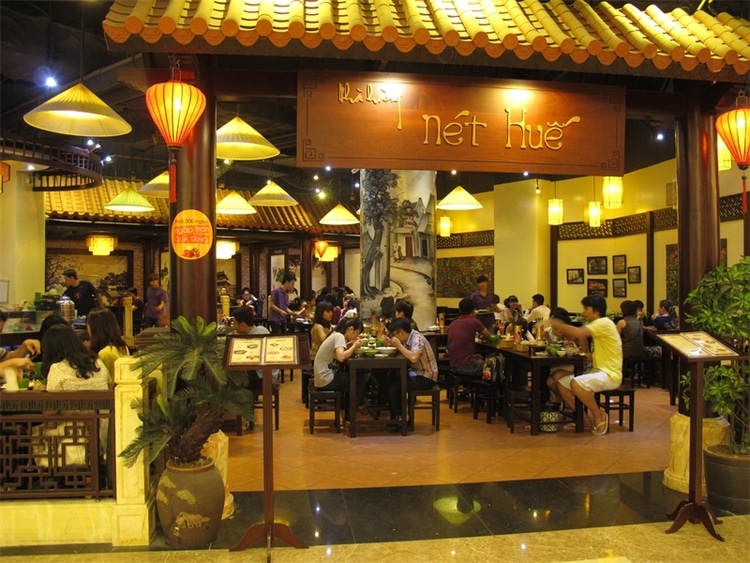 Located in the bustling Lac Trung Street, Net Hue Restaurant continues to promote the strength inherited from the style of Hue specialties. Come to Net Hue, visitors will be immensely overwhelmed by the varied and rich menu, featuring Hue beef hotpot, Hue lemongrass skewer, and Hue-style beef vermicelli soup.
Hue-style beef vermicelli soup is famous here with the nutritious broth served with fresh vegetables, chili peppers flavored by old Hue culinary. Along with Hue main dishes above, you can also enjoy more side dishes such as baby clam rice, water fern cake, as well as sticky rice dumpling on a pancake and Hue sweet soup at affordable prices.
Location: 57 Lac Trung street (phố Lạc Trung), Vinh Tuy, Hai Ba Trung District, Hanoi
Tel: 19009077
Price ranges: 30.000 – 100.000 VND/person
2. Mon Hue Restaurant (Nhà Hàng Món Huế)
Famous brand named Mon Hue is a chain of on-site restaurants, providing a typical Hue cuisine. Coming to Mon Hue Restaurant, diners can experience a complete meal from appetizers to main dishes and desserts, even light snacks including top best Hue dumplings (tapioca dumpling, flat rice dumpling, steamed rice sheets, so on), baby clam rice, rice steamed in lotus leaf, and Hue-style beef vermicelli soup which are processed based on traditional secret recipes.
The outstanding strength is in terms of taste, food safety with the direct food supply, helping Mon Hue Restaurant create an abundant menu for more than 60 different delicacies at affordable prices, satisfying different tastes of every customer.
Location: 130 Nguyen Khanh Toan street (phố Nguyễn Khánh Toàn), Quan Hoa ward (phường Quan Hoa), Cau Giay District (Quận Cầu Giấy), Hanoi
Tel: 024 7106 6603
Price ranges: 50.000 -250.000 VND/person
3. Madame Lan Restaurant
Madame Lan is always one of Hue's famous restaurants with an old Hue flavor. The special Hue-style beef vermicelli soup here is very big serving with fragrant and natural sweet broth, served with pork leg meat, fresh vegetables, and pork blood pudding. Moreover, diners can order delicious rice noodles with grilled pork or Hue lemongrass skewer along with the amazing secret sauce.
Besides, Madame Lan also serves some tasty dumplings such as water fern cake with fresh shrimp floss, or tapioca dumpling alongside the great balance in all flavors. For dessert, customers can taste fresh creams of chocolate, green tea, even durian or some sweet soups of Hue.
Location: 301 To Hieu street (Phố Tô Hiệu), Cau Giay District (Quận Cầu Giấy), Hanoi
Tel: 024 3756 1133
Price ranges: 35.000 – 150.000 VND/person
4. Ngu Uyen Restaurant (Nhà Hàng Ngự Uyển)
If you are a Hue cuisine's fan, you should take note one of the top high-quality Hue style restaurants in Hanoi with a very "Hue style" name – Ngu Uyen. This is a restaurant serving a lot of typical specialties from Hue with a quite low price compared to other restaurants in Hanoi.
Regarding the decoration style, Ngu Uyen is highly appreciated for the design of the bright wall background with lotus petals to create a relaxed and comfortable feeling for diners. Hue-style beef vermicelli soup here receives a lot of compliments from customers, especially when combining with the Hue spicy chili sauce. Moreover, the sweet grapefruit soup is also highly praised as an outstanding dessert in Ngu Uyen's menu.
Location: 5 Kim Dong street (Phố Kim Đồng), Giap Bat Ward (Phường Giáp Bát), Hoang Mai District (Quận Hoàng Mai), Hanoi
Tel: 04 2246 7888
Price ranges: 35.000 – 100.000 VND/person
5. Hue Restaurant (Nhà Hàng Huế)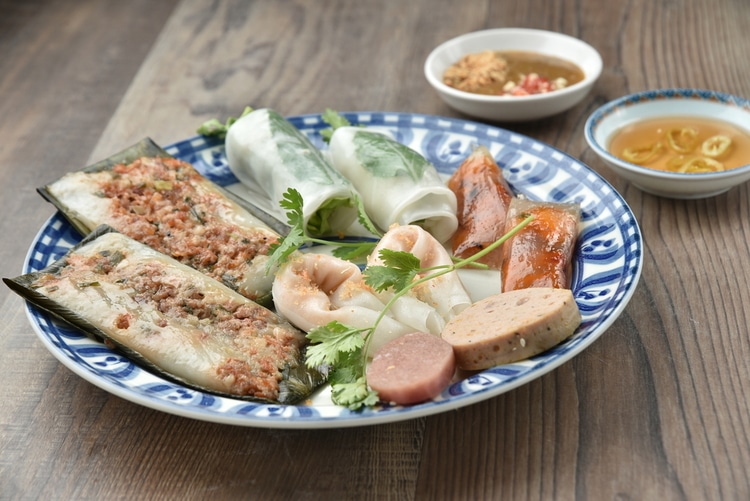 The first impression when visiting Hue restaurant is that it is a very beautiful and spacious space, with pure Vietnamese style, from decor to make wood material as the main theme to the patterns on the wall as well as the color of the dishes. In addition to Hue cuisine, the restaurant also serves many other traditional Vietnamese dishes and Japanese dishes with the rich and distinctive flavors.
Famous food in Hue's menu maybe Hue lemongrass skewer served with a special thickened sauce. Besides, noodle dishes such as Quang style noodle soup (Mì Quảng), Hue-style beef vermicelli soup, and crab soup cakes make the guests deeply impressed with the rich broth, especially the crab soup with the fresh crab flavor.
Location: 1/36 Dao Tan street (Phố Đào Tấn), Ba Dinh District (Quận Ba Đình), Hanoi
Tel: 024 3760 6516
Price ranges: 100.000 – 300.000 VND/person
Read more:
Above are some of our suggestions for the best Hue style restaurants in Hanoi. Hopefully, the sharing of Vina.com can help you satisfy your interests and love with Hue cuisine. Feel free to navigate our website for more information about the excellent restaurants in Hanoi.