Tourists come to Halong Bay (Vịnh Hạ Long) not only because of exploring the popular scenic spots but also experiencing the shopping and entertainment activities at the trade centers. One of the must-seeing shopping centers in Halong Bay is Vincom Center Halong, the first products of Vingroup in Quang Ninh (Quảng Ninh). Vincom Center Halong – Shopping Mall project started in November 2013. Since the official opening on October 19, 2014, this shopping center attracts both domestic and international visitors.
Vincom Center Halong: The Modern Luxurious Shopping Mall In Halong Bay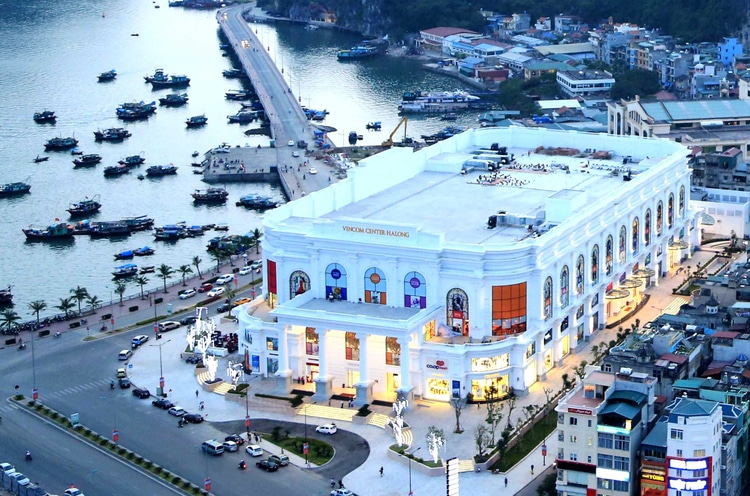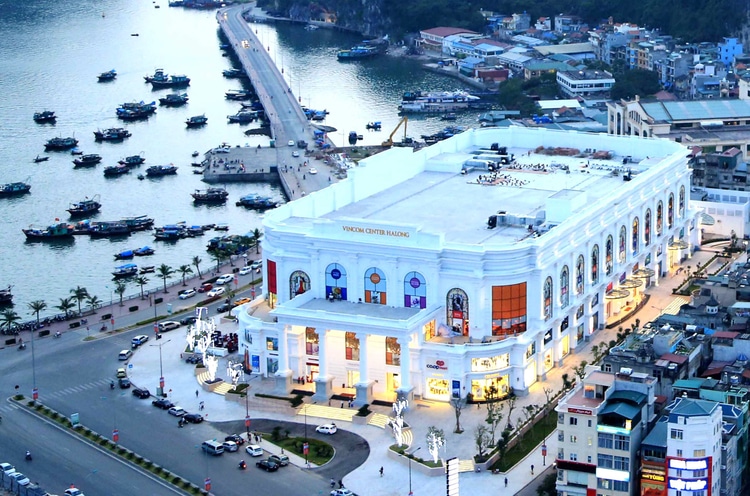 Situated at Cot Dong Ho (Cột Đồng Hồ) Area, Bach Dang (Bạch Đằng) Ward, Halong City, this mega shopping mall was built to contribute to the development and attractiveness of Halong tourism. After only 10 months of construction, the Vincom Center Halong was completed in 1014 and is expected to mark the remarkable changes to the local shopping experiences in this city. Vincom Center Halong is not only a modern shopping mall but also a wonderful entertainment attraction that catches up the new trends and meets the international standards.
With the European luxury royal architecture, Vincom Center Halong features 1 base and 4 floors with more than 36,000 sqm in a total floor area. The center is seen as a wonderful paradise of shopping where you can find many famous brands for fashion, cosmetics, perfumes and accessories here including Lee, Giordano, Elise, G2000, Eash, Ak Club, Easy Spirit, Valentino Creations, Kelly Bui, Tissot, CK, Narsis, PNJ, Rayban, Lare Boss, PNJ, BATA, TNG, GenViet Jeans, Blue Exchange, etc. Customers go shopping in this place and find their favorite items with high quality.
Furthermore, the Saigon Supermarket Co.opmart setting within the center has a scale of over 3,500 sqm, offering thousands of attractive and diverse products that serve all the essential demands of consumers.
One of the outstanding features of the Vincom Center Halong is a natural ice rink which is the first ice rink built in Northeast Vietnam. This ice rink with 830 sqm has a capacity of 100 people. You can play ice-skating even when Vietnam does not have snow. Furthermore, the VinKE is the world games of Vietnam with a scale of more than 3,300 sqm with hundreds of modern games. In the vocational area, children can have a chance to play and become a singer, doctor, and model as they want.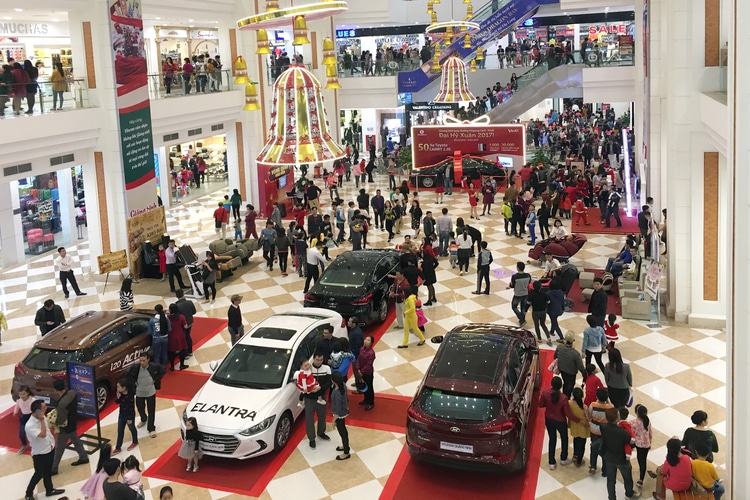 Besides being a shopping mall and entertainment center designed in modern style, this center also owns a colorful food fair when you can experience with all the senses of hearing, smelling and tasting. The center has dozens of well-known restaurants like Cogi House, Master Beef, Lotteria, Thai BBQ, Kodo Café & Fastfood, Food To Go, etc with full flavors from Vietnamese, Korea, Chian, Thailand, Australia, and European cuisine. You can taste the delicious pastries, ice cream, snack, and drinks.
Currently, Vingroup has several Vincom Centers in Hanoi (Hà Nội) and Ho Chi Minh City (Hồ Chí Minh). The group expects that the Vincom Center Construction which until this moment is the largest commercial shopping center in Quang Ninh will continue to mark the significant development of the chains of Vincom Centers in many provinces and cities in Vietnam. As a tourism complex, the Vincom Center Halong features many tourism services such as upscale shopping center, health and educational area for children, skating rink, food fair, the game world, and cinema area. This center is proving that it is a worth visit attraction in Halong Bay that you should not ignore. Do you find this article in Vina.com useful and informative? Have you visited the Vincom Center Halong? You should feel free to let us hear your voice by leaving your comment below.