Like other beautiful and big cities of Vietnam, Nha Trang also has a great option of local markets for visitors and travelers to explore. Among these, the tour to Nha Trang will be a pity if you forget a Nha Trang Night Market located in the city center. In Nha Trang Night Market, shopping and strolling at night has become one of the interesting and favorite activities for tourists who travel to Nha Trang. Furthermore, this night market is not only an ideal shopping place of merch and souvenirs but also helps you understand more about the local culture and nightlife of Nha Trang City. In this article, I would like to introduce some information about Nha Trang Night Market. Take your time and explore this wonderful place!
Nha Trang Night Market In Vietnam: A Worthy Place To Visit
Nha Trang Market in Vietnam is located in the center of Nha Trang. Currently, it has 4 different zones:
Walking Street and Night Market are at 46 Tran Phu (Trần Phú) Street

Nha Trang Market is between Tran Quang Khai (Trần Quang Khải) Street and Tue Tinh (Tuệ Tĩnh) Street

Yasaka 9 Market is located on Tran Phu Street

Tropicana Shopping is at the yard of Hai Yen Hotel (Khách sạn Hải Yến)
Among these 4 zones, Nha Trang Night Market and Walking Street are the most crowded and busiest with full of locals and visitors during every nighttime.
What Is The Opening Time Of Nha Trang Night Market
Opening and starting operation before Tet Holiday (Lễ Tết) in 2010, Nha Trang Night Market was built and developed to serve the demand for night activities, shopping, or night dining of both tourists and locals. Now, this night market has drawn a huge number of visitors.
This Nha Trang Night Market opens from 7pm until midnight every night. During this time, this market is always busy and crowded.
What To Do At Nha Trang Night Market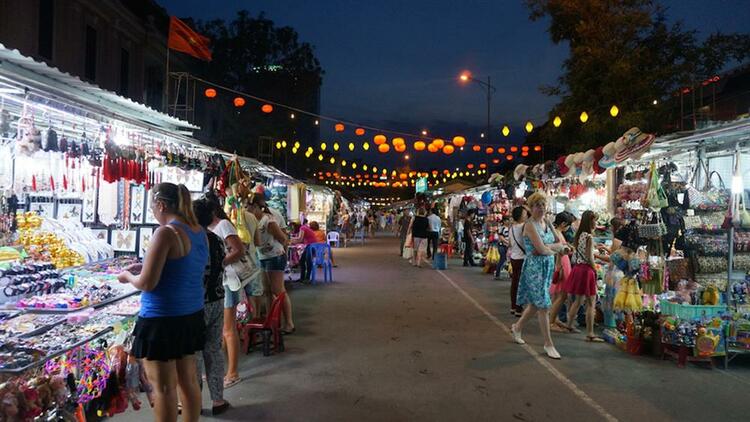 Taking the Nha Trang tour and exploring several attractive sites and beautiful beaches in Nha Trang, you should not forget to go shopping and experience the night market in this city. This market features 50 booths that include 16 cuisine stalls. Visiting here, you will be astonished at the variety abundance of dishes and items with a huge selection for brands, labels, styles, and prices. Furthermore, the walking street with 140 meters long is also the must-visit site for tourists. In the evening, this walking street looks beautiful and wonderful with the decoration of Vietnam village scene, banana trees, chariots, bamboo ridges hanging over the canal, and many shimmering lights.
In Nha Trang Night Market, you can find many interesting items such as souvenirs, clothing, street foods, and handicrafts, etc. This market has a lot of kinds of popular souvenirs for you to buy and give someone you love and care for. Art handicrafts, pearls, and photography or postcards of Nha Trang City are the most common gifts you can see in this market. Besides, you can also purchase some products with very cheap costs such as ceramics, lacquerware, embroidery, pottery, silk, scarves, and garment at any souvenirs store or gift shop.
Like other markets in Vietnam, clothing is also the common item sold in Nha Trang Night Market. In the market, clothing often comes with different style, material, and cost. It is easy for tourists to pick something with not good quality at a low price or something at a cheaper cost than the original one. Therefore, one tip for you is to smile and bargain for the best product and the best price. However, in this market, there is no place for you to try on clothing, which is not convenient to find the best clothing that suits you. But if you are lucky, you can choose some clothes with trendy design and acceptable price.
At Nha Trang Night Market, tasting street food is a must-to-do thing for tourists and visitors who take the Nha Trang tour. You won't find anywhere besides this market that sells abundant of specialty and delicious local food of Nha Trang with affordable prices.
If you have a chance to visit this market, you should try Nha Trang Night Market food such as rice vermicelli with fish or jellyfish, Banh Can (Bánh Căn), grilled pork roll, and some seafood types like the snail, shrimp, crab, fresh fish, etc.
Hotel Near Nha Trang Night Market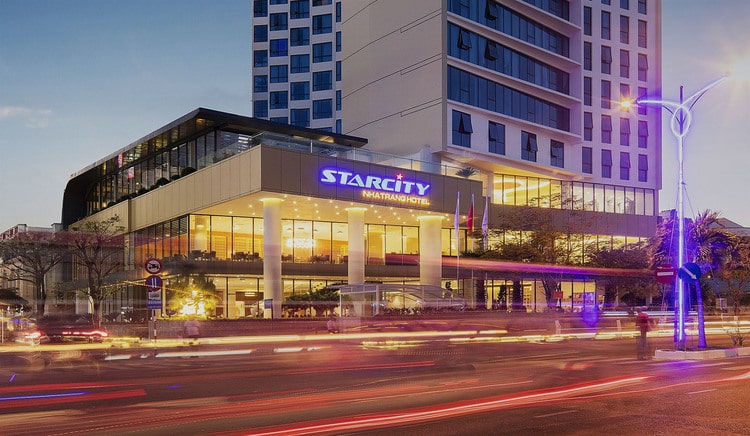 Located in the city center, Nha Trang Night Market is near many hotels and resorts as well as other accommodations of Nha Trang. Therefore, it is easy and convenient for you to find the best accommodation near Nha Trang Night Market.
Here are a few names of hotels and resorts that are the most common choices of tourists and visitors who come to Nha Trang and want to stay near Nha Trang Night Market.
Liberty Central Nha Trang (0.3 miles away): This 4-star hotel has free breakfast, an outdoor pool, and a restaurant. Tourists like this hotel for its bar and its services.

InterContinental Nha Trang (0.3 miles away): This 5–star hotel offers full access to an outdoor pool and a restaurant with free WiFi. It attracts a lot of tourists and visitors not because of the room size but also overall value.

Novotel Nha Trang (0.1 miles away): Besides a children's pool and an outdoor pool, Novotel Nha Trang features a fitness center, a sauna, and a restaurant. Visitors like its comfortable rooms and delicious breakfast.
Other good options include Maple Hotel & Apartment (0.1 miles away), Citadines Bayfront Nha Trang (0.2 miles away), StarCity Nha Trang (0.4 miles away), Alana Nha Trang Beach Hotel (0.4 miles away), etc.
Nha Trang Night Market is really the best attraction for tourists and travelers who want to experience the local culture and take part in the nightlife activities in this city. I hope that you can find useful information in this article. Any questions can be left in the comment section, and Vina will answer them as soon as we can.