Updated: 08/22/2019
Sapa is a beautiful destination that attracts a large number of tourists and visitors thanks to its amazing, pristine and poetic beauty, delicious dishes and untouched terraced fields. If you travel to Sapa, of course, you want to visit all the attractions and popular spots in this town. However, do not forget to enjoy some impressive festivals here that are typical features for this mountainous town and help you understand the cultures and activities of people living in Sapa. One of the must-enjoy festivals in Sapa is Gau Tao Festival (Lễ hội Gầu Tào) which is a traditional event of the H'mong people. This festival has been well preserved by  H'mong groups in Bac Ha (Bắc Hà), Muong Khuong (Mường Khương), and Si Ma Cai. Gau Tao Festival is now drawing the attention and participation of both local residents and international tourists.
The Role And Meaning Of Gau Tao Festival 
As one of some traditional festivals remained until now by H'mong groups, Gau Tao Festival means "recreation place" in H'mong language. Gau Tao Festival is also called San San or Hoa Son Festival (Lễ hội Hoa Sơn).
Gau Tao Festival is organized because of the H'mong's belief that when a family goes to the hill named Gau Tao to pray the ancestors, they will have more children or healthy children as they want.
The festival is celebrated in spring and families standing in a row can take a turn to grow "neu" tree (cây nêu) and pray for the luck in the festival. Gau Tao Festival indicates the life of a family. The sunken area of Gau Tao hill represents the bad luck of the family in the past while the higher areas are considered as good luck and prosperity in the future.
How To Prepare Gau Tao Festival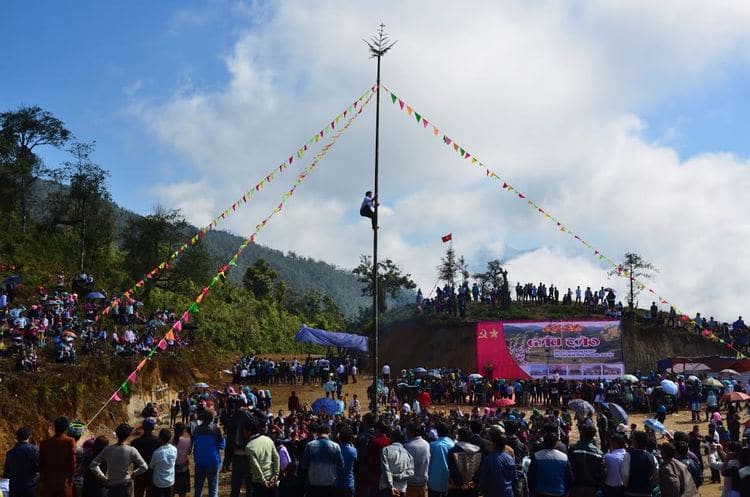 Although Gau Tao Festival is organized in January of the lunar calendar, preparation should be done since November of the previous year. 2 rituals of cutting down and planting "neu" tree have to be prepared soon.
Before the event takes place, people will vote the family head of the festival who has to prepare a tray of food before cutting down a bamboo and plant "neu" tree. After that, the sorcerer will tell the gods the main purpose of the festival and choose a good bamboo tree to conduct the festival.
This bamboo needs to be straight with the same sized internodes and in good condition. It must be 10m high without flowers. Moreover, the most important condition for the chosen bamboo is its top needs to face towards the east. When the villagers find the best bamboo that adapts all needed conditions, the Gau Tao Festival can be celebrated that year. Villagers will tell every people that news and they spend time on training to win the games held in the festival.
When Is The Festival Held?
Gau Tao Festival is celebrated from 1st to 15th  January of the lunar calendar. This festival is normally organized for 3 consecutive years and in each year, the festival will last for 3 consecutive days. However, if in 3 years the villages organize the festival just only one time, this festival will be held in 9 consecutive days.
How Is The Festival Held?
The Gau Tao Festival is held at Festive Hill. To begin the festival, a person who is good at singing in the family head will sing a song as a wish for the prosperity, health, and luck of the whole family. And then all people will participate in the dances and singing.
Three families who are representatives of the festival with the same connexion or parentage with each other will go up Gau Tao hill and then do the ritual of praying god for more children, healthy children, good business and prosperity. After that, there is the ceremony of thanking the gods takes place.
Participants Of The Festival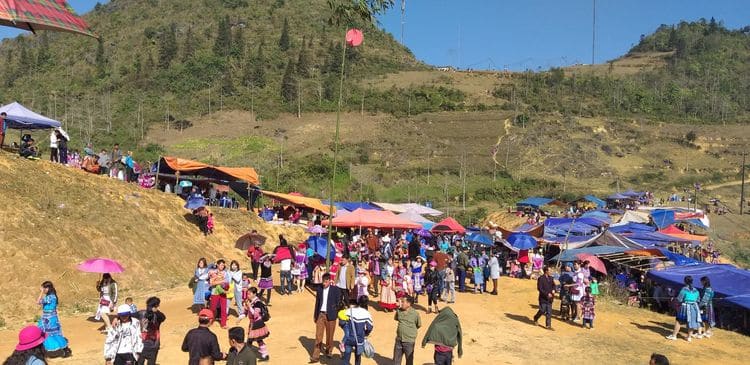 Participants of the Gau Tao Festival are H'mong people from several provinces in the North-west like Yen Bai (Yên Bái), Ha Giang (Hà Giang), Lai Chau (Lai Châu), etc. Furthermore, Gau Tao Festival also attracts a lot of tourists. Coming to Sapa at this festival, tourists can have a chance to learn the culture of H'mong people and take part in many interesting folk games such as khen dancing, pillar climbing, hoi singing, stick pushing, etc.
Thanks to the cultural, historical, and scientific values, In December 2012, Gau Tao Festival in Sapa was recognized by the Ministry of Culture, Sports and Tourism as a natural intangible culture heritage.
See more;
As Gau Tao Festival of H'mong people shows the spiritual and cultural values of ethnic groups, this festival has become a tourism product in Sapa town. Gau Tao Festival is worth a visit if you love to know about the ethnic minority identity and culture regions. I hope that you are satisfied with the information in this article. Do you have any questions to ask? If yes, please raise your voice by leaving your comment below and we will answer them as soon as we can. If you are interested in our article and find it informative, you can find more in Vina.com.