Updated: 08/12/2019
The best part about living and traveling in Hanoi – the capital of Vietnam is the wide array of food options coming from around the world. Though in Hanoi, Muslim-friendly restaurants are not as thriving as their neighbors in Southeast Asia, discovering and venturing the halal side of this city is absolutely part of the big adventure in the city.
An interesting thing about Halal restaurants is that they are often thought as 24-hour ones for cheap eats. Check out on Vina.com to see top 5 most delicious halal restaurants in Hanoi, Vietnam to start your adventure!
Top 5 Most Delicious Halal Restaurants In Hanoi To Check Out
1. d'Lions Restaurant
Located on the hustle and bustle Le Duan Street, d'Lions restaurant has a modern, cozy design and a view of Hanoi Railway Station. Thanks to its position, gourmets can escape the hustle and bustle of Hanoi daily life.
Coming to d'Lions, not only do you have a chance to enjoy cuisines of Singapore and Malaysia like grilled beef, grilled fish with mango-fish sauce, fried spring rolls and frog porridge, but you are also able to enjoy Halal food exclusively for Muslims. The dishes are processed in compliance with strict rules of Muslim's food processing. Besides, a plus of the restaurant is its professional, high quality services, including take-aways and delivery, and friendly staff.
Address: Ground & 8th floor of Cosiana Hotel 92 Le Duan street (phố Lê Duẩn), Hanoi, Vietnam
Tel: +84 4394 11208
2. Dalcheeni Restaurant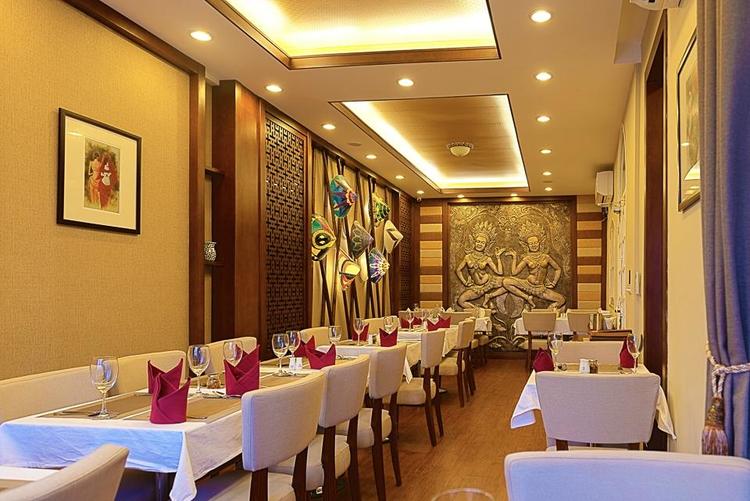 Literally, "Dalcheeni" is a spice known as cinnamon in some parts of the world. In this 92 seat full service fine dining eatery, gourmets can find authentic royal Indian specialties, like Indian Kababs and curries provided by royal chronicles. The culinary journey at the restaurant begins with dishes cooked with the technique inherited by the Mauryan Dynasty (300BC) and optimized over many centuries – Clay oven and Charcoal fire.
On the menu, there is a variety of dishes making it irresistible, namely Dal Shorbedar, Tamatar Tulsi Shorba, Allahabadi Samosa, Hara Kabab, Murgh Ke Parche, Shammi Kabab, Paneer Tikka, etc. With delicious food, professional services and suitable price, I bet that you will not just stop with one visit, but you will come back for more when savoring the delicacies in Dalcheeni.
Address: 100 Xuan Dieu Street (phố Xuân Diệu), Tay Ho district (quận Tây Hồ), Hanoi Tel: (+84) 43 266 8453
3. Red House Restaurant
Red House is a chain of restaurants located in Ho Chi Minh and Hanoi and specialized in Singaporean cuisine, especially seafood. The reason why it is listed one of best halal restaurants in Hanoi is its abundance of dishes which are reckoned "national foods" of Singapore, like Chilli Crab, Frog Congee, Black Pepper Crab, and other typically Singaporean specialties. As a bonus, a payload of food here is prepared by Singaporean chefs with skillful cooking techniques and all ingredients are of high standard.
So if you are looking for a good hold-in-the-wall which delivers unique, delightful dining experiences, Red House is a good place to go.
Address:  6A Ham Long street (phố Hàm Long), Hoan Kiem District (quận Hoàn Kiếm), Hanoi
Tel: 04.39449812 / 04.39449813
4. Grill & Gravy Halal Restaurant
It will be a shortcoming if Halal food fans skip trying great dishes in Grill & Gravy. This restaurant is definitely worth checking out when you are in Vietnam's capital thanks to mouth-watering food and unparalleled services. Situated in the heart of downtown Hanoi, Grill & Gravy is one of best multi-cuisine restaurants that serves gourmets Indian, Middle-Eastern and Chinese dishes without having to travel thousands of miles to savor.
Since everything the restaurant has to offer is 100% halal, you will never be disappointed with its food. It does not matter if it is chicken tikka masala, Rogan josh, or chicken shahi korma, spending a day at Grill & Gravy is such a great opportunity to experience the real Muslim cuisine in Hanoi.
Address: No. 65, Hang Bun, Quan Thanh, Ba Dinh, Hanoi.
Tel: (+84) 24 3512 3666
5. Nan N Kabab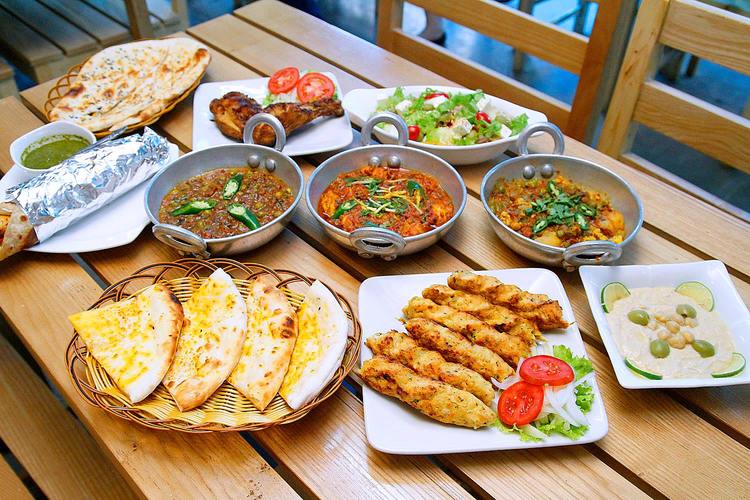 Let your taste buds discover the realm in Afghani, Pakistan and Middle Eastern flavors with Nan N Kebab. This authentic halal style restaurant will get the most bangs for your buck with real halal food. Thanks to the surrounding green trees and vines, this restaurant impresses diners with a comfortable ambiance.
The menu here is rather simple, with mainly grilled kebab and baked naan, which are popular among the Muslim as well as expat community and will surely satisfy your cravings to the last bite.  Other exotic options are charcoal grilled barbecue, freshly baked Nan bread, meat Karahi, hot and cold appetizers, hot and cold beverages and a wide array of selections from Ala Carte Menu. What is more; the competitive prices makes Nan N Kabab the city's favorite place for tourists to stop by while being in Hanoi.
Address: 49 Xuan Dieu Street (phố Xuân Diệu), Tay Ho district (quận Tây Hồ), Hanoi
Tel: (+84) 24 62583580
Read also:
Are you in the mood for a fancy halal meal while you are out in Hanoi, Vietnam? Look no further than our checklist of top 5 best halal restaurants in Hanoi that will cater for those who love a halal diet.
Leave your words below to let us know what you think about this checklist!