Ha Giang (Hà Giang) is an ideal destination where you can stay away from the noise, complication, and bustle of a crowded modern city. It is the place where you can find the feeling of natural harmony, relaxation, and tranquility. In this highland region, you can immerse yourself in nature and experience the challenges in strange places. There are many must-visit attractions in Ha Giang, but the most awesome place would be Dong Van Stone Plateau (Cao nguyên đá Đồng Văn). It is a global karst geopark in Ha Giang province. Not only did it become the first geological park in Vietnam, but also it is included in the list of 77 geoparks in the world. Located on an altitude of 1,000 m – 1,600 m, the park belongs to 4 districts of Dong Van (Đồng Văn), Meo Vac (Mèo Vạc), Yen Minh (Yên Minh), and Quan Ba (Quản Bạ). It is said that most of the karst formations in Geological Park in Dong Van Plateau are formed by nature. 
When Is The Best Time To Visit Dong Van Stone Plateau 
Ha Giang has two seasons: the dry season (lasting from November to April), rainy season (lasting from May to October). The average temperature of this highland region is around 24-28 degrees Celsius. In winter, the temperature will drop significantly to -5 degrees Celsius. Therefore, the spring is an ideal time for tourists and visitors to visit Ha Giang in general and Dong Van Stone Plateau in particular. If you travel to Ha Giang during this time, you will have a great chance to enjoy many beautiful landscapes such as pink peach flowers and yellow flowers in blossom, dark green rocks, mossy tiled of stilt houses and blue skies. 
Basic Information Of Dong Van Stone Plateau – The Karst Geopark In Ha Giang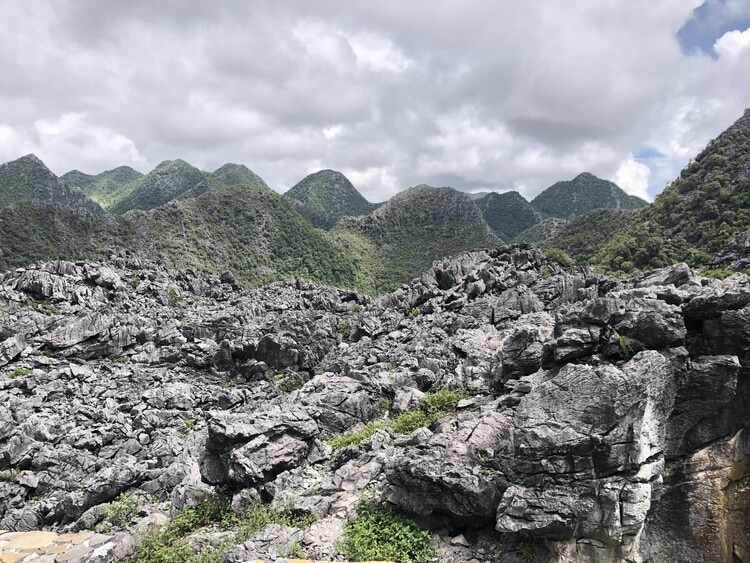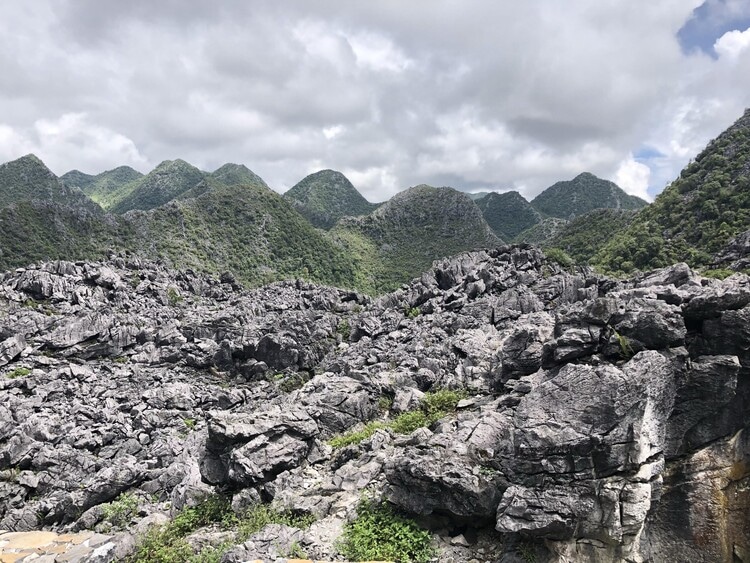 Situated in Ha Giang Province, Dong Van Stone Plateau is one of 77 geoparks in the world, the first geopark in Vietnam and the second geopark recognized in Southeast Asia. 
The park covers the broad scale of four districts of Dong Van, Meo Vac, Quang Ba, and Yen Minh with the square area of more than 2,300 km2. There are about 250,000 residents of 20 distinctive ethnics living in the area. It is said that 80 percent of the park is limestone and stone. 
In terms of natural resources, Dong Van has 40 locations with unique values that are found out by the geologists. 
Dong Van has fossils dating back 400 million to 600 million years ago. 
Geological Value Of Dong Van Stone Plateau 
The Vietnam Institute Of Geosciences and Natural Resources have conducted a survey and found out that Dong Van Stone Plateau in Ha Giang has 13 fossil geological formations, including Lut Xia, Chang Pung, Si Ka, Mia Le (Mia Lé), Bac Bun (Bắc Bun), Toc Tat (Tốc Tát), Si Phai, Bac Son (Bắc Sơn), Lung Nam (Lũng Nậm), Hong Ngai (Hồng Ngài), Song Hien (Sông Hiến), Dong Dang (Đồng Đăng) and Lan Pang (Lân Pảng). Among these, the oldest one is Chang Pung that has 540 million years old.
Furthermore, 19 paleontology groups are also discovered in the park including Brachiopoda, Tetrracoralla, Tabbulata, Trilobita, Stromatoporoidea, Polyranchiaspis liaojiaoshanensis, Tentacculies, Foraminifera, Pelecypoda, Conodonta, Cephalopoda, Gastropoda, Crinoidea, Bryozoans, Ancient Crustacean, Sclerotesta, Spirulina, Hydrilla verticillata, and Chitinozoa. By searching and studying the paleontology groups, scientists have discovered the complete development history of Dong Van Karst Plateau, northeast Vietnam, and southern China.
Geomorphology Value Of Dong Van Stone Plateau 
Besides geological value, Dong Van Stone Plateau is also rich in geomorphology values with a lot of rock forests and rock gardens in the area. For example, it is interesting to visit Khau Vai Rock Garden (Meo Vac) in the park as you can challenge the peaks of rocks and enjoy the beauty of different kinds of flowers. Furthermore, Lung Pu Rock Garden (Vườn đá Lũng Pù) (Meo Vac) is also a must-see spot where you can be astonished multiple rocks with cute and strange animal shapes like dragon and tiger. The outstanding characteristic of Van Chai Rock Garden (vườn đá Vần Chải) (Dong Van) is rows of round flagstones looking like the black sea that rest on the peaceful beach. 
Furthermore, talking about the geomorphology value of this park, we can not forget to mention the endless ranges of mountains forming pyramids. If you visit Dong Van Stone Plateau, you should explore a system of grottos and caves found in this park. These grottos and caves like Rong Cave (Hang Rồng) in Sang Tung (Sảng Tủng) (Dong Van), En Grotto in Van Chai (Vần Chải) (Dong Van), Kho My Cave (Hang Khố Mỷ) in Tung Vai (Tùng Vài) (Quan Ba) give us the proof of the history and evolution of karst formations.
Ecological Value Of Dong Van Stone Plateau 
Dong Van Plateau is well-known for its diverse and unique mountainous geo-system. Here you can find many floral species like Taxus Wallichiana Zucc, Burretiodendron hsienmu, Amentotaxus hatuyenensis, Podocarpus pilgeri Foxw, Cephalotaxus hainanensis, Cupressus funebris, etc. 
Furthermore, there are more than 40 species of orchids in the park. Scientists have found more than 50 species of birds, wild animals and reptiles here like Capriconcerns sumatresis, Sus cristatus, Rhinopithecus avunculus, Garrulax canorus, etc. 
Cultural Value Of Dong Van Stone Plateau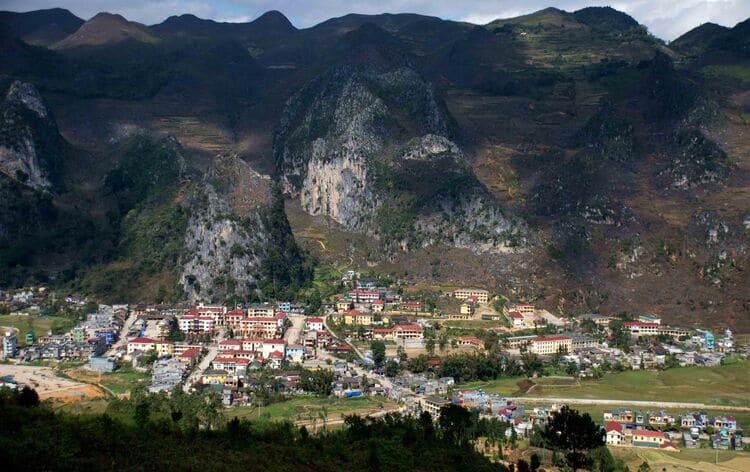 In Dong Van Karst Plateau, 17 ethnic minority groups like Lo Lo (Lô Lô), Dao, Mong (Mông), Nung (Tùng), Tay (Tày) live here, bringing various unique cultural and spiritual values. Visiting this karst park, we will know how ethnic groups use the cultivation method in mountain sides or small rock caves. Ethnic groups use rocks to hold water, build houses, and develop the land. A trip to Dong Van Karst Plateau will give you an enjoyable experience as you can enjoy and come to rock gardens, golden rice fields, and green cornfields. 
Furthermore, in the park, people also found the critical evidence of prehistoric men living on the rocky plateau as many tone stools dating back 10,000 to 30,000 years ago were discovered. The Vietnam Institute of Archaeology also found about 200 farming tools of prehistoric people. 
So, visiting Dong Van Stone Plateau, you can not only enjoy a fascinating landscape but also learn about this history of historical relics found here. 
There are many highland markets in the park such as Dong Van, Pho Bang (Phố Bảng), Sa Phin, Lung Cu (Lũng Cú), etc. So, in this global karst park, you can buy many traditional products like jewelry, linen, brocade, and more to give your friends, family, and the loved one back home. 
If you are lucky, you can visit the park during the festivals. It is a chance for you to join in the festive atmosphere and take part in many exciting activities.
Where To Eat In Dong Van Stone Plateau 
Dong Van Stone Plateau has some markets that open in Dong Van, Meo Vac, etc. So, you can come and enjoy delicious dishes like steamed ground corn, cornbread, color cooked glutinous rice, Meo colza, chicken, bamboo shoots, dried beef, smoked sausages, smoked bacon, thang co, corn liquor, etc.
Where To Stay Near Dong Van Stone Plateau 
When you visit Dong Van Stone Plateau and want to stay overnight, you can ask the locals for help. They are friendly, honest, and willing to give you a room to relax and sleep at an affordable price. It is a chance for you to make friends with local people, learn more about the culture of Ha Giang, and participate in their daily activities. That will be a great unforgettable experience when you visit Ha Giang in general and Dong Van Stone Plateau in particular.  Furthermore, you can stay overnight in the forests. 
Besides, a master plan to make Dong Van Stone Plateau into a national tourist center by 2030 has been proved. According to the developer and investors, the project will exploit the potential in tourism o Dong Van Stone Plateau, develop and improve technique facilities including entertainment, accommodation area, information center, service, and commercial systems. Also, it constructs 2,600 rooms that are hoped to increase to 9,000 rooms by 2030. That is the good news for someone who wants to explore the park and relax comfortably. 
Things To Keep In Mind Before Visiting The Karst Plateau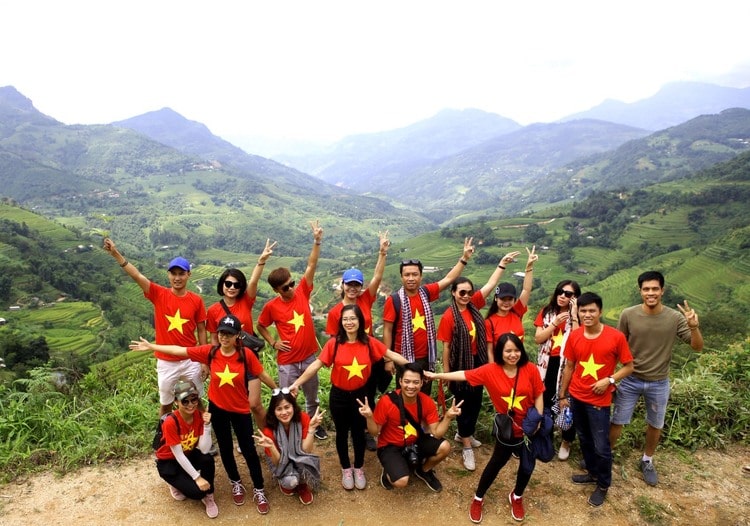 If you want to explore Dong Van Stone Plateau, you should keep in mind these following tips and techniques:
Wear the tidy, comfortable clothes such as sneakers or lightweight shoes with low sole, warm clothing, and soft stockings 

Install the apps like Google Map System, using Viettel, Vina and Mobi network 

Bring the neat baggage 

Prepare some needed personal medicines for common diseases mainly caused by cold weather 

Bring cash as it is difficult to find ATMs in the town center 

If you want to have a picnic in the forest, ensure you bring picnic tents, food, water, a multifunctional cooker, etc. 

Always make sure seniors and children are safe when your car stops suddenly 

Must not trespass the caves, grottos, and surroundings 
Dong Van Karst Plateau is attracting more and more tourists and visitors. It is expected that the number of visitors going to the Dong Van Stone Plateau will reach 800,000 in 2020 and 950,000 in 2025. Exploring Plateau is an excellent opportunity for you to open your mind in beautiful places. Leaving the site, I guarantee that you will miss it and want to come back one day. I hope that this article gave you useful information that makes you satisfied. For any questions about the content of the article or experiences you want to share, please feel free to leave them below. On Vina.com, we have written many useful articles about Vietnam's tourism and activities. If you are planning a fantastic trip here, please do not forget to get some helpful suggestions on our website.
By Nga V