Ha Giang (Hà Giang) has many must-try attractions for tourists and visitors. You may hear a lot about Khau Vai Love Market (Chợ tình Khâu Vai) located in Meo Vac (Mèo Vạc) District, Khau Vai (Khâu Vai) Commune, the northernmost province of Ha Giang. However, not all people are lucky to enjoy the festival held in this love market. Ha Giang's Khau Vai Love Market Festival is celebrated on lunar March 26th and 27th with the contribution and participation of locals and ethnic groups living here such as Nung (Nùng), Giay (Giáy), and Muong (Mường). During this festival, you can explore the food and drink culture, folk games and traditional song performances and see a variety of products such as ethnic jewelry, costumes, art publications and musical instruments displayed at the market. Joining in the Khau Vai Love Market Festival will give you unforgettable experiences and emotions of love and life. 
The Legendary Of Khau Vai Love Market Festival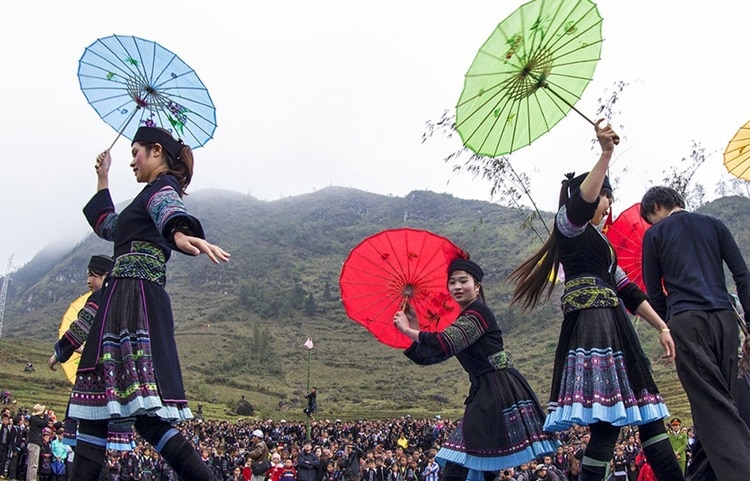 The power and beauty of love are reflected in the colorful market. According to a legendary, behind the Khau Vai Love Market Festival in Ha Giang is a sad story of love. A long time ago, a couple from different tribes loved each other, but the girl's tribe forbade their marriage. Later on, the forbidding soon became a violent conflict between two tribes, causing blood and damage for both. 
To stop the conflict and the bloody battles, the couple had to fall apart in sorrow. However, they promised each other to meet once a year on March 26th of the lunar calendar in Khau Vai Market. Since then, this festival is organized annually with the hope that ex-couples can come and meet each other in this market. Although a century has gone, the ethnic groups still keep the festival and make it become one of the famous annual events of the year with a humanity meaning. 
It is a reason why the market area has two temples: Ong and Ba (Mr and Mrs) temples are places to worship the miserable body and girl.
Every year, on lunar March 26th and 27th, a large number of couples of all ages come to the market. Furthermore, people who want to look for their partners also go to on that day. Khau Vai Love Market becomes not only a dating place for couples and people who want to find true love but also a place for cultural exchange. 
Which Activities Take Place During Khau Vai Love Market Festival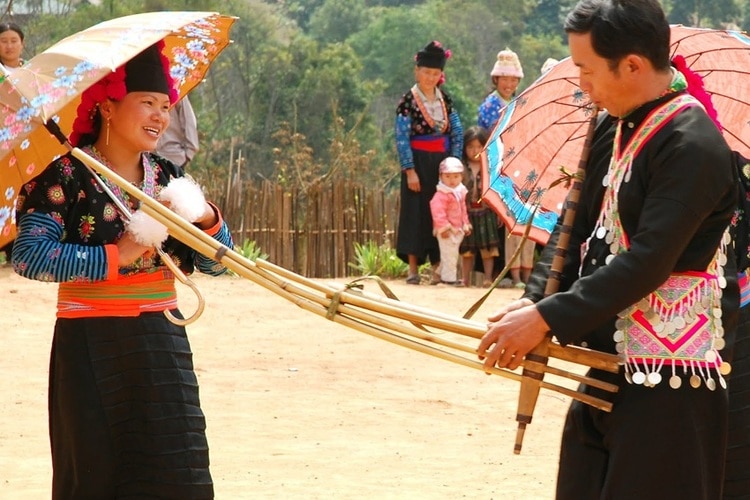 The ceremony of praying to the Buddha is held on the first day of the market session. On this day, participants wear their best clothes and go to the sanctuary where the ceremony takes place. They will pray and chant for a life of happiness and luck. 
On the second day of the festival, there is a ceremony of offering boiled rice. In the early morning and at noon, the rice is cooked by Khmer families and delivered to the Buddhist monks at the pagoda. After that, they make the sandy mountain with the hope of luck and happiness. The mountain will have eight directions, and one direction is in the middle. That reflects the universe and aspiration of people for rain.
On the third day of the Khau Vai Love Market Festival, locals hold the ceremony of the Buddha's statues in the afternoon. They burn the incense and use the clean scented water to wash the Buddha's statues. It is how people show their gratitude and tribute to the Buddha. Furthermore, during the traditional festival, you can take part in dance performances, games and enjoy special local foods. 
 With the unique meaning of love, the Khau Vai Love Market Festival has appealed both domestic locals and foreign visitors. Visiting the market during this traditional festival, you will have a great chance to enjoy many exciting activities, try some Ha Giang specialties and even special souvenirs such as jewelry, ethnic costumes and musical instruments for your friends and families back home. I hope that you can find useful information in this article. Any questions you want to ask can be left in the comment section, and we will answer them as soon as we can. If you are interested in our article, please find more informative ones on Vina.com that will give you useful suggestions, especially if you are planning to travel to Vietnam.  
By Nga V