Updated: 11/22/2019
Hanoi Old Quarter Night Market is located on 3 streets of Hanoi Old Quarter including Hang Dao, Hang Ngang, Hang Duong. The market is about 3 km in length, and it starts at the beginning of Hang Dao Street and ends at Dong Xuan Market gate. The Night Market has more than 3000 booths selling different types of items such as food, clothes, accessories, souvenirs, crafts, etc. Visitors can go shopping and enjoy delicious street foods.  Every weekend, the market attracts a large number of domestic and international tourists to visit. Hanoi Old Quarter Night Market is a must-see attraction for tourists when traveling to Hanoi on weekend days.
What The Best Time To Visit?
Hanoi Old Quarter Night Market only opens on the weekend. It takes place every Friday, Saturday, and Sunday at night from 7pm to 11pm.
You can freely travel at the Night Market without paying for entrance fees.
What Are Activities For Tourists To Do?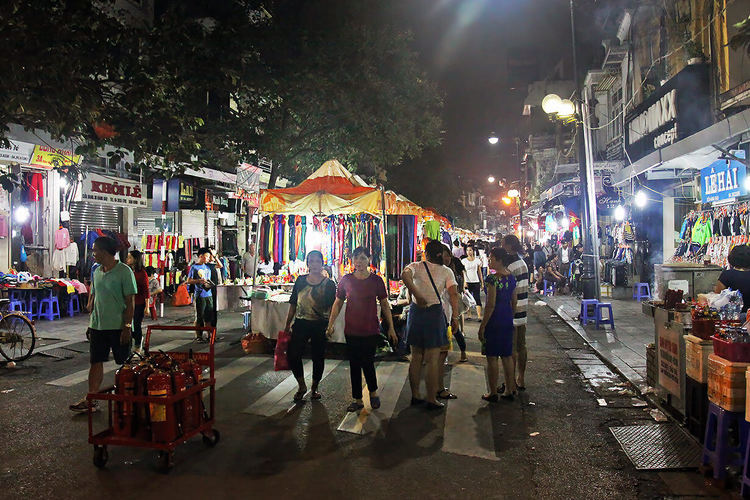 Visiting Hanoi Old Quarter Night Market, you will have a chance to explore the traditional culture of the Vietnamese market. You can also participate in many exciting activities in the market such as going shopping, enjoying Vietnamese traditional music and folk music, and sightseeing. On the night market days, there are no any kinds of vehicles which are permitted movement. Therefore, tourists can freely walk on the Night Market and enjoy music around it.
1. Go Shopping
There are a lot of stalls which sell different items in the market. The main goods are clothes, shoes, accessories; they are quite beautiful and suitable for everyone. Besides, many handicrafts which are made from silk, wood, and bamboo have eye-catching colors. You can find some famous items such as Bat Trang Pottery and Ha Dong Silk with various sizes and designs. The price of goods in the market is quite low, so you can buy as much as you want without worrying about the cost.
2. Watch Musical Performances
On every Saturday, the Hanoi Old Quarter Night Market is more prominent with art performances including contemporary music, folk music, or Vietnam Opera. These performances always attract many tourists to watch. Because the shows take place on the weekend, they are quite crowded with people to see. You should go there early to select the best view of the performances.
3. Booze Near The Night Market
If you do not want to eat street food in the Hanoi Old Quarter Night Market, you can come to Ta Hien Street. This street is also called Western Street; it is considered as a modern street. In this street, you can enjoy musical performances with the famous US-UK songs and Vietnamese songs. When visiting Ta Hien Street, you will see young people sitting in plastic chairs, drinking ice tea, eating street food, and chatting. Drinking ice tea while chatting with friends is a traditional culture of Vietnamese people. If you have a chance to travel to Hanoi, you should not miss this unique culture of Vietnam. Moreover, Ta Hien Street is famous for fresh beer; you should enjoy a fresh beer for $3. Although it is the lowest price in all around Asia, the flavor of the beer is quite delicious.
What To Eat?
After going shopping, you can enjoy delicious street food along the way. The dishes come from 3 regions of Vietnam; they crease the unique cuisine for Hanoi capital. Some famous traditional foods of Hanoi are Noodle (Pho), sweet soup, porridge, sticky rice, Trang Tien ice cream, and Vietnamese bread.  Grilled food which is made from pork, beef, and seafood brings the special flavor of Hanoi. They have price about VND 15,000 to VND 20,000/ stick. You should try sweet and sour fruits of Vietnam that are peeled; they are very fresh and many beautiful colors. You can see traditional snacks of Vietnam such as taffy, boiled corn and sweet potato, grilled corn, and grilled sweet potato. The prices of these foods are quite reasonable. Another famous food of Hanoi is O Mai (Ô Mai) which is salted dry fruit. It is very delicious, so you can buy to give to your friends.
In addition to severing traditional Vietnamese food, Hanoi Old Quarter Night Market also has famous street food from other countries in Asia such as Chinese Hot Pot, Ice cream rolls of Thailand, or Korean food.
Where To Stay?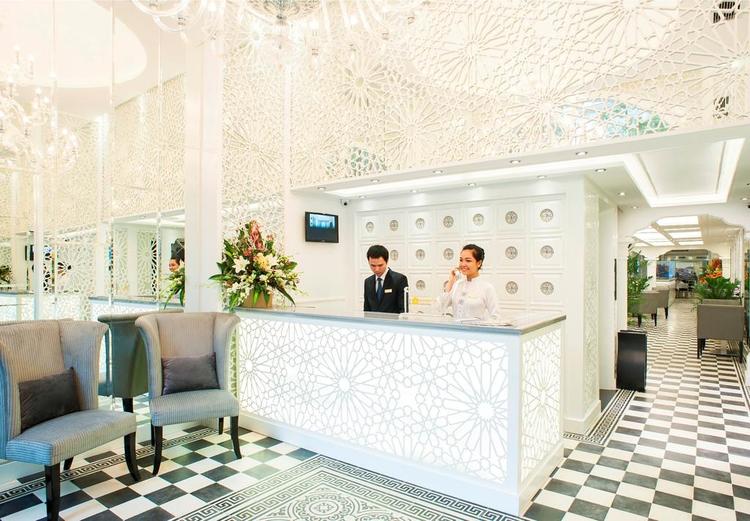 Near The Hanoi Old Quarter Night Market, there are a lot of hotels for you to choose from. We recommend some hotels for you including:
Hanoi Old Town Hotel: 95 Hang Chieu Street, Hoan Kiem District, Hanoi. The price of a room begins at $29/night.

Church Boutique Hotel: 21 Hang Ca Street, Hoan Kiem District, Hanoi. The price of a room begins at $85/night.

Hanoi La Storia Hotel: 45 Hang Bo Street, Hoan Kiem District, Hanoi. The price of a room begins at $52 night.

Golden Rooster Hotel and Spa: 17B Hang Ga Street, Hoan Kiem District, Hanoi. The price of a room begins at $52/night.

Hanoi Luxury House & Travel: 12 Alley, Gam Cau Street, Dong Xuan Ward, Hoan Kiem District, Hanoi. The price of a room begins at $86/night.
Other suggestions include Hanoi Old Quarter Backpacker, Babylon Garden Inn, Hanoi Evergreen Hotel, A25 Hotel, etc.
Extra Tips:
If you come to the Hanoi Old Quarter Night Market by motorbike, you must park outside the market. Because, after 7 pm, there are no vehicles which are permitted to move inside the market.

The market is very crowded; so, you should keep your pocket carefully to avoid bagging

Bargain with the items you purchase in the market, this helps you avoid being tricked at a high price.
Read more:
Travel to The Hanoi Old Quarter Night Market one day to discover the custom and culture of Vietnamese people. You can enjoy delicious food and buy handicraft souvenirs of Vietnam. You will have a useful and meaningful tour of visiting. If you have any questions, let's leave in the comment box below, we will answer them as soon as possible. To know more information about other attractive destinations of Vietnam travel, check our Vina homepage.