Located in the heart of Hanoi (Hà Nội) capital city, Trang Tien Plaza Hanoi is a high-end shopping center and also an iconic landmark of Hanoi. Offering luxury services and a wide range of products, this 21,000 sqm shopping center has attracted many concerns of not only Hanoi people but also tourists cross the world. Nowadays, Trang Tien Plaza which is continuously developing and improving their services, quality and products becomes a great shopping destination and meeting place for everyone.
Trang Tien Plaza – The First High-End Shopping Center In Hanoi
Location: 24 Trang Tien (Tràng Tiền), Hoan Kiem (Hoàn Kiếm) District, Hanoi
Opening Hours: 9.30 am – 9.30 pm (from Monday to Friday), 9.30 am – 10 pm (Weekends and public holidays)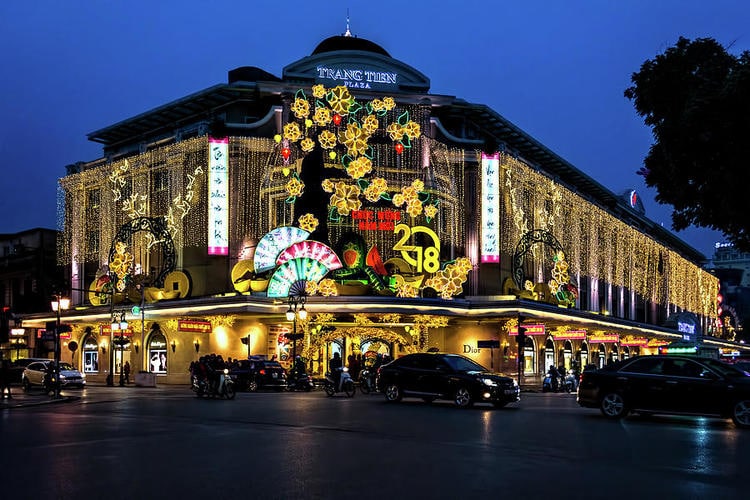 It is surprising to know that Trang Tien Plaza is the first high-end shopping center located in the heart of Hanoi city. This building started the construction on April 30, 2000 and finished after 18 months. In 2013, Trang Tien Plaza was renovated. Trang Tien Plaza is one of the oldest shopping centers in Hanoi before there are a lot of supermarkets, shopping centers and shopping malls appearing. It takes 5 to 10 minutes for you to walk from the Old Quarter to this shopping center. Thanks to the beautiful architecture and rich history, Trang Tien Plaza is one of the iconic symbols of Hanoi city.
Trang Tien Plaza shows the elegant culture of Hanoi and has the unique beautiful architecture with the inner side built and decorated in European style with white and yellow as the main colors. Every ornamental element in this shopping center is meticulous and sophistical, representing both modern and antique French style.
The 21,000 sqm Trang Tien Plaza features 6 floors and its space is used for retail shops, offices, food outlets, and coffee. In Trang Tien Plaza, you can find a huge selection of goods and products with various popular domestic and international authentic brands. Visiting this shopping center, you will see the stores of Dior, Louis Vuitton, BVLGARI, Zegna and other some desirable brands. As you can see, Trang Tien Plaza is a wonderful stop destination that will satisfy every shopaholic. If you are looking for luxurious items and international well-known brands of sporty items, fashion clothes, perfumes, cosmetics, food, jewelry, etc, Trang Tien Plaza will be your wonderful paradise. Every store and selling corner is decorated in different style and opulent design, creating interesting shopping experiences and feeling for clients.
Nothing is greater than immerse yourself in the world of famous brands over the world such as Diesel, Dior, CK Underwear, Victoria Secret, Roberto Paul, Vans, Converse, etc. After shopping, it is recommended going to the fifth floor where you can find many prestigious restaurants such as Charcoal (BBQ), Dunkin Donuts, Wrap & Roll, Loteria and Lion City restaurant.
If you want to buy the products of the high-ranking brands, you should go to the first floor and the middle-class brands are located on the third and fourth floor. The brands such as Just Cavalli, Banana Republic, CK Underwear, Diesel, Roberto Cavalli, Guess, Paul and Shark, Victoria Secret, Furla, Wacoal, Triumph, Converse, Beyond (Cosmetic), Ecco, Vans, Converse, Nautia, Timberland and Polo World are attracting a large number of shopaholics and visitors.
Six floors of Trang Tien Plaza sells different specializing items. In the shopping center, you can easily find the instruction that gives you the guide.
First floor: Fashion and apparel

Second floor: Mobile phone and fashion outlets

Third floor: Household equipment

Fourth floor: A supermarket and several grocery retailers

Fifth floor: Offices and restaurants

Sixth floor: Offices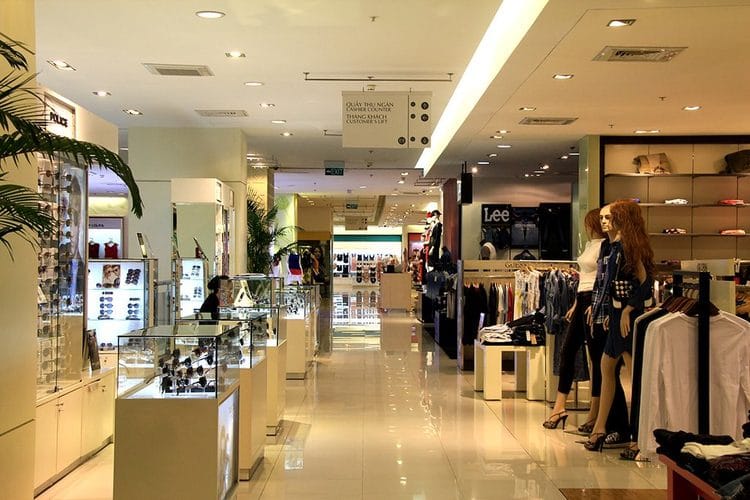 If you are lucky, you will explore Trang Tien Plaza at the time of promotion sales which are available during the year and get the great 15% – 50% discount, voucher, and other interesting gifts.
Read more:
Trang Tien Plaza Shopping Mall is a favorite shopping destination for not only the upper class but also everyone. With the rich history, architectural values and good quality, Trang Tien Plaza Hanoi has been asserted as one of the best shopping malls in Vietnam and a must-stop destination if you have a chance to visit Hanoi. Hopefully, you get useful information after reading this article. For any questions and contributions, you can visit Vina.com and let us know. We will respond to you as soon as possible.