The Peace Park (Hoa Binh Park) in Hanoi appeared as a green oasis and a symbol of peace in the bustling capital city of Vietnam. Let's check out the complete travel guide to Hoa Binh Park (Công viên Hòa Bình).
I – Why Should You Go To This Place 
1. Hoa Binh Park – Symbolic Architecture
This green space of Hanoi is famous for the symbols. For example, at the northern gate of the park, there is a model of Lac bird (chim Lạc) heading towards the highway. This model combines with the lake to form the English word "No War", which is the unique feature of Hoa Binh.
Entering the south and east gates of the park, you will be astonished at the symbol of flying pigeons. Furthermore, if you have a chance to visit Hoa Binh Park, you will never forget the Statue of Peace with the height of 30 m representing the image of a mother carrying a child on her shoulder and a flock of pigeons flying behind.
This statue is placed in the south in a harmonious way with greenery gardens in the west, east, north, and center.
However, Hoa Binh Park in Hanoi attracts tourists and visitors not only because of the unique symbolic architecture but also the exciting highlight and fantastic things.
2. Hoa Binh Park – The Ideal Recreational Space For Everyone
Thanks to the spacious playing space, 5-hectare lake, a Statue of Peace, shady areas for relaxing and wandering, public parking spot and other convenient facilities, Hoa Binh park with an area of more than 20 ha is an ideal tourist destination for everyone. 
Hoa Binh Park also features picturesque romantic landscapes created by the greenery space, a beautiful lake, and a small bridge.
Visiting the park in the early morning is an excellent opportunity for you to understand the local life of Hanoi people who go to the park for running, jogging or meditating.
Skateboarding is the common activity you can see not only the young but also the elder and children play in the park. Observing how skillfully a small child or an older person plays this sport will make you surprised.
II – What To Know About Hoa Binh Park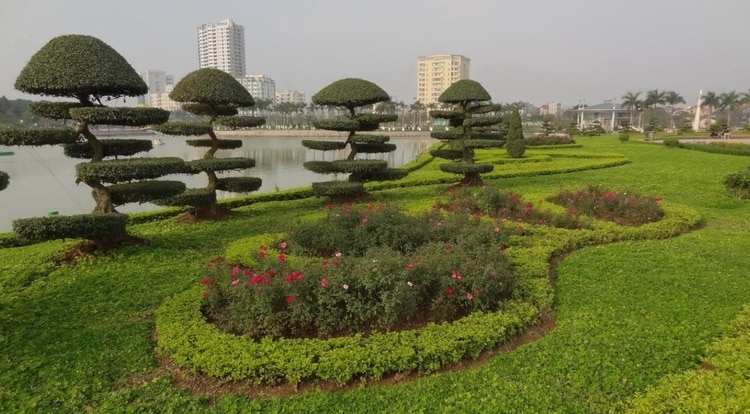 1. History
Hoa Binh Park's construction was completed on October 8, 2010, on the occasion of marking the 1000th anniversary of Thang Long (Thăng Long). Opening to the public since October 9, 2010, Hoa Binh Park has attracted numerous domestic and international visitors.
2. Address 
Hoa Binh Park is located on Pham Van Dong (Phạm Văn Đồng) Street, Xuan Dinh (Xuân Đỉnh) Ward, Bac Tu Liem (Bắc Từ Liêm) District, Hanoi.
3. When To Visit 
There is no bad time for you to visit Hoa Binh Park. However, the temperature and weather during the cold months will cause some difficulties for your trip. 
Furthermore, if you do not like the heat, avoid coming between June and August. This is because they are the hottest months in Hanoi with temperatures reaching 40 degrees Celsius. 
4. Activities 

On weekends, students and young people often rush to the park to enjoy the spacious greenery space and take part in many active activities like skateboarding, badminton playing, dancing, and more. Thanks to the picturesque landscapes, you can take photos. 
Hoa Binh Park in the morning is the meeting place for people who love exercising and wandering in the park.
In the late afternoon or evening, you can hire the roller skates with the affordable price at the gate to enjoy the rollerblade.
5. How To Get Around 
You can get to and around Hoa Binh Park by your vehicles. Students like to travel by bus because it is cheap and convenient. 
If you want to go by bus, you can catch the bus 35B, 35A, 27, 28, 07 and 14. 
III – Where To Eat And Stay Near Hoa Binh Park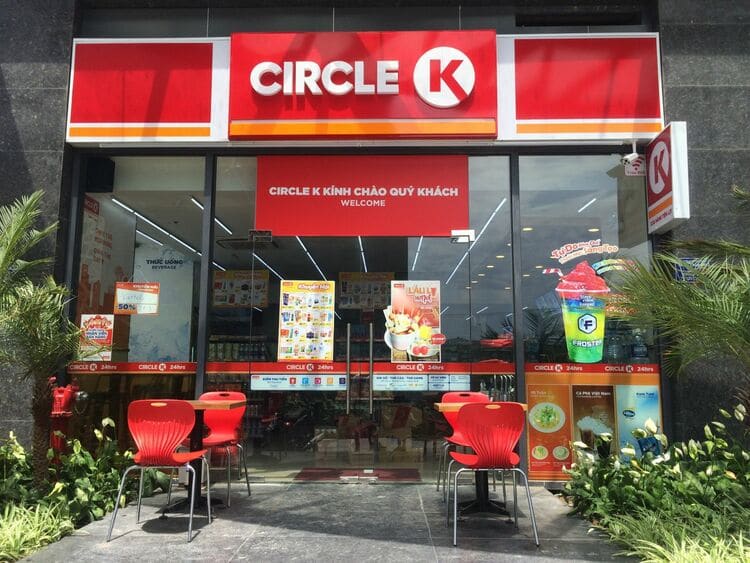 1. Eating Spots
Hoa Binh Park lies in the convenient location of Hanoi that is a crowded area; therefore, it is easy for you to find the right restaurant to eat near the park. Here are some suggestions near this spot you can look for:
Lotteria – Metro Pham Van Dong

Banh mi 1 phut (Bánh mì 1 phút) – 366 Pham Van Dong

De Nui Ninh Binh (Dê Núi Ninh Bình) – 10, Lane 422 Pham Van Dong

Circle K – 3 Pham Van Dong
2. Accommodation 
The tourism in Hanoi is developing well with numerous hotels and homestays that opens to welcome and serve tourists from all over the world. Therefore, traveling to Hanoi city, you can find the best accommodation to stay overnight easily.
Here are some suggestions you should not ignore:
Cau Giay Serviced Apartment Hoang Quoc Viet (Cầu Giấy Serviced Apartment Hoàng Quốc Việt) : 7, Lane 24/3, Hoang Quoc Viet, Bac Tu Liem District

Tam Thanh Homestay – 20, Alley 27, Lane 106, Hoang Quoc Viet, Bac Tu Liem District

Yen Homestay – 106, Alley 39, Hoang Quoc Viet, Bac Tu Liem District

Huong Sen Hotel 3 – Alley 205/207, Xuan Dinh, Xuan Dinh Ward, Bac Tu Liem District
IV. Pros And Cons When Visiting Hoa Binh Park 
1. Pros 
The park has many entertainments for children and the young 

The square is larger than other parks in Hanoi 

Tourists do not need to pay any entrance fee 
2. Cons
The road coming to the park is construction, so it is quite dirty 
Hoa Binh Park in Vietnam is a fantastic place for relaxing, playing, and entertaining if you have a chance to visit Hanoi. That is all the information about the park. I hope that you will feel useful and satisfied. Any questions can be left in the comment section, and we will answer them as soon as we can. If you are interested in our article, you can find more informative and detailed writings on Vina.com.