Updated: 08/24/2019
Detrang Farm is a friendly educational model based on the first Working Farm in Vietnam, located in Ke Moi Village, Tan Linh Commune, Ba Vi District, Hanoi. With a planning area of only 12 hectares, it is located at the foot of Ba Vi Mountain and about 50 km from the center of Hanoi.
Detrang Farm has become a model of the first Garden – Pond – Farm in Vietnam. It helps tourists learn about the culture, and experience the life of Vietnamese village with the familiar work and farming tools. When you come here, you will not only feel close to nature but also discover many unique recreational activities that you cannot find in any big city. It converges the traditional beauty of culture in the Northern Delta region of Vietnam. Detrang Farm has a cool climate that creates favorable condition for the development of breeding – agriculture – forestry.
Detrang Farm educational farm was built from the love of agriculture. Detrang Farm has come into operation based on the modern agricultural model – the first Working Farm model in Vietnam.
The farm divided into 4 playing areas, 6 functional areas, and 1 residential area for the workers of the farm. If you want to have a vacation with your family or friends, you can rent an overnight room here. Although there are not as many luxurious services as other resorts and hotels, Detrang Farm gives you a new space in the old village.
What Is The Best Time To Visit?
Detrang Farm opens every day and every time.
You will buy an entrance fee at its gate. The cost is VND 120,000/ person; this price applies for guests being taller than 0.8 m. On holiday, the cost is VND 170,000/ person.
Fares include playing games and entrance tickets: VND 170,000 / person (including hiring MC); If a group has 9 people or more, each person will pay VND 136,000; children under 0.8m will be free.
The cost of some games in Detrang Far:
– The fare for camel riding, ostrich riding VND 50,000/ turn, small horse riding VND 50,000/ turn, big horse riding VND 75,000/turn.
– Double bicycle rental VND 40,000/30 minutes. You need to deposit VND 200,000 or your ID card.
– The cost of bringing food is about VND 10,000/person or VND 500,000/group.
– The rental price of fishing rod and bait is VND 50, 000.
– Swimming pool for adults is VND 40,000 and for children is VND 30,000.
What Are Activities For Tourists To Do?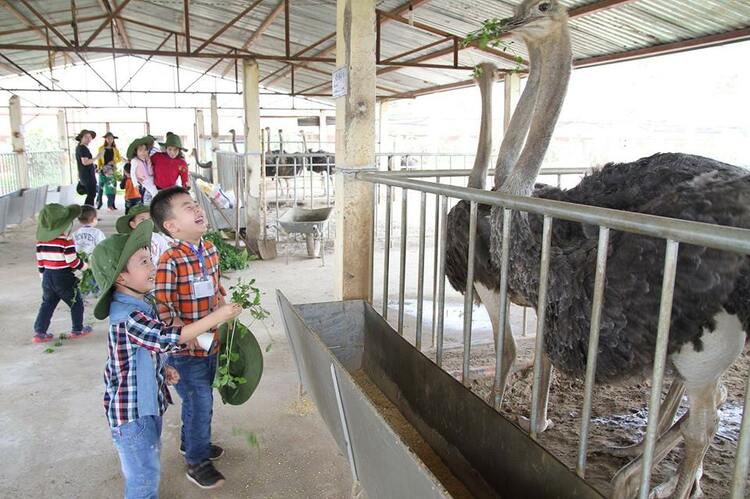 The picnic area at Detrang Farm has many fun activities with lots of exciting community games. Especially, when you come to Detrang Farm, you will have an opportunity to experience the space of the Northern village of Vietnam and participate in agricultural production activities such as feeding Goat and Ostrich, growing vegetables, and picking agricultural food. You can also join some Vietnamese folk games including blindfolded and caught goats, dap nieu (Đập Niêu), Danh Du (Đánh Đu), etc.
Other activities which you can experience, are riding Hose, Ostrich, Camel. In addition, visitors can participate in some interesting activities such as camping, grilling fish, cooking rice, and organizing outdoor courses. This will be a meaningful trip for you at the Detrang Farm. When visiting here, you can comfortably walk on the green grass, watch the peaceful river, and enjoy the cool breeze under the shade of trees. It provides a green space for you to relax, entertain, and forget the hustle and bustle of the city.
What To Eat?
At Detrang Farm educational farm, visitors can enjoy extremely delicious specialties which ensure good food hygiene and safety. These dishes are made from fresh products of the farm such as pork meat, clean vegetables, and fruits. You can try eating fresh goat milk with plenty of nutrition and cheese made by the farm's own factory. The Goat Farm also serves buffet with more than 20 different dishes. The buffet prices are VND 160,000/adult, VND 100,000/child, and free for children under 0.8 m. The food of the White Goat farm is almost self-made, so it ensures food hygiene and safety. If you want to bring food to the farm, you will have to pay a service fee. We recommend that you should not bring food.
Enjoying chicken dishes at Ga Ngon restaurant is also a good suggestion. The restaurant is located right on Highway 32, next to welcome gate of Phuc Tho District, Ba Vi tourist areas. It is designed as an eco-restaurant for leisure travel; you will be fascinated by the scenery around the restaurant.
Where To Stay?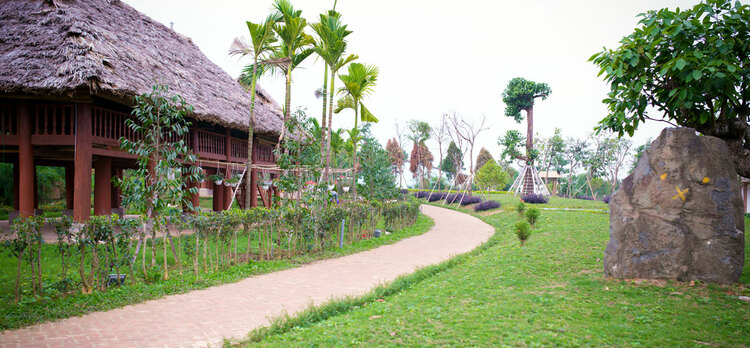 On Detrang Farm, there are two types of rest for you to choose from including stilt houses or villas. The cost of a room will be free of charge for babies under 0.8m; if the number in one room is exceeded, the fee will be VND 150,000/person for the daytime, VND 200,000/person for overnight. You can return to your hotel in the center of Hanoi, so you can spend only one day experiencing all the activities on the farm. We will give you some suggestions about hotels if you travel to Hanoi, Vietnam:
Hanoi Hilton Opera: 1, Le Thanh Tong Street, Hoan Kiem District, Hanoi. The price of a room begins at $169/night.

Hanoi Sofitel Plaza: 1, Thanh Nien Street, Tay Ho District, Hanoi. The price of a room begins at $315/night.

Melia Hanoi Hotel: 44, Lý Thuong Kiet Street, Hoan Kiem District, Hanoi. The price of a room starts at $175 / night.

Sheraton Hanoi Hotel: Nghi Tam Street, Tay Ho District, Hanoi. The price of a room starts at $160/night.
Read more:
Do you think useful information? If you have any interesting experience at Detrang Farm in Hanoi, you can share them with us in the comment box below. To get more knowledge about travel Vietnam, visit our site.