Updated: 08/21/2019
Halong Carnival held in Ha Long Bay (Vịnh Hạ Long) is one of the biggest and most famous festivals in Quang Ninh (Quảng Ninh) Province. There are some hottest entertainment shows that have been hosted by the festival during recent years. It is a reason why tourists and visitors want to come back to Halong Bay. So, visiting Halong Carnival Festival, you will be astonished at the bustling and colorful atmosphere.
Halong Carnival has become one of the special tourism products in Ha Long Bay. It is also one of seven wonderful world natural heritages of Vietnam. With the participation of local people and thousands of people coming from Asian nations such as Korean, Vietnam, and Filipinos, Halong Carnival Festival creates a great chance for Halong to show its image to the world and helps many countries find an opportunity to exchange their cultures.
The Time Of The Halong Carnival (Ha Long Bay)
Halong Carnival annually is held in late April and early May, which coincides with the Vietnam holiday 30/4 and 1/5. At this time, locals and tourists can enjoy the beautiful scenery and take part in many activities.
However, there are years this festival takes place earlier and lasts longer. For example, it can start at the beginning or mid-April and then finish in early May. The Halong Carnival is full of sound, color, light, and cultural quintessence.
The Place Halong Carnival Is Held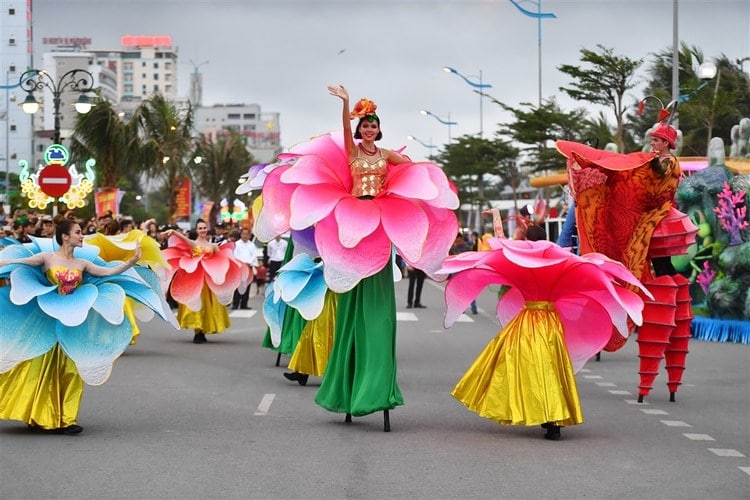 Halong Carnival usually takes place in the 30th Square, Ha Long City, Quang Ninh Province. Yearly, thousands of participants come to Ha Long City to enjoy their time in this famous festival, which makes the festival more meaningful and exciting.
Halong Carnival – The Famous Festival In Ha Long Bay, Vietnam 
With the purposes of exploiting, introducing, and promoting the cultural values and identity of ethnic groups, and spreading the Ha Long's image to the world, Carnival Ha Long will be burned out with many attractive and bustling activities. During Halong Carnival celebrated in the evening, there are colorful artistic performances in spacious scales with a lively festive and cheerful atmosphere. Participants of these performances are tens of thousands of beauty queens, models, professional and non-professional actors, local people, representatives of Quang Ninh's regions and art groups from many other countries.
It also has many traditional festivals such as Dao people ceremony, Tien Cong Festival (Lễ Hội Tiên Công), the singing and dancing festival of ethnic groups and the wedding ceremony of the Quang Ninh fisherman.
Furthermore, it is great to enjoy a music light with modern and traditional music. The music performance implies harmony and unity in everything. You can also take part in many interesting activities such as Mieu Ong Festival – Mieu Ba Festival (Lễ Hội Miếu Ông – Miếu Bà), Cherry Flower Festival – Mai Vang Yen Tu (Mai Vàng Yên Tử) Festival, ceremonies at the pagodas and temples, and Bach Dang (Bạch Đằng) Festival.
Cherry Flower Festival – Mai Vang Yen Tu Festival is a festival combining the golden apricot of Vietnam with cherry blossoms of Japan. With the shimming colors of flowers, this festival creates a cultural interference between the two countries.
In this festival, you also see the impressive street parades with Halong Bay parades and dragon cars. Participants on a variety of colorful clothes and costumes dance on the streets. These parades empress the passionate and hard labor life of hardworking fishermen from Vung Vieng (Vung Viêng) Village. The colorful night with a unique and interesting atmosphere makes tourists and visitors astonished and excited.
Moreover, a lot of tourists and visitors also enjoy a firework show at Halong Carnival. Water, sound and laser performance combining with impressive firework will create an amazing party of color and light. The lighting system will show the impressive stunning image of Halong by night in front of tourists and visitors.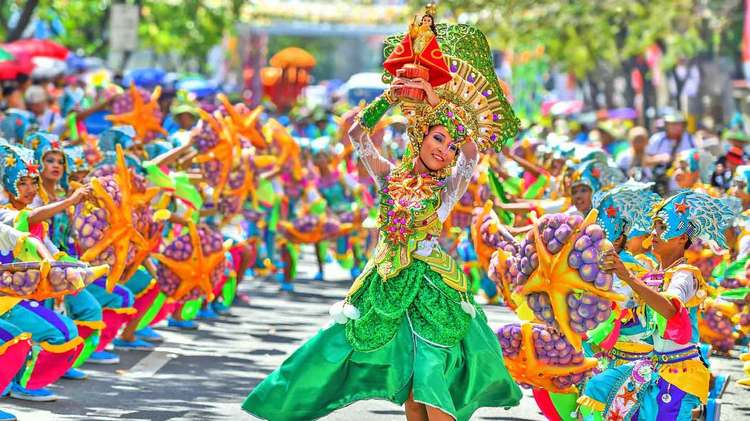 In addition to the performance of locals and professional artists, there is also enthusiastic participation of international artists from neighboring countries such as China, Philippines, etc.
If you are a fan of sports, visiting Halong Carnival is a great opportunity for them to take part in many sports competitions like beach volleyballs, dance sports, and tennis.
The Halong Carnival has been organized for over the years and each festival has a different theme. For example, the theme of the Halong Carnival 2010 was Integration of international culture. Halong Carnival 2012 was celebrated with the theme Quang Ninh: Convergence and Diffusion.
Read more:
Halong Carnival is the new festival in the S-shaped countries that has the participation of foreigners. With the rich cultural meaning, Halong Carnival has increasingly satisfied the needs of local people and tourists. Over the years, it has drawn the attention of not only domestic but also foreign press. The festival is a good chance for tourists to know about the identities and values of Halong's culture and beauty. It also contributes to the development and growth of Halong tourism. I hope that you will find useful information in this article. Any questions can be left below for us to answer soon. For many interesting articles about Vietnamese attractions and activities, you should visit Vina.com.