As a busy and crowded city, Hanoi (Hà Nội) is a paradise of shopping and entertainment for not only Vietnamese people but also for international tourists around the world. It has attracted a huge investment from many leading corporations including Vingroup Group which has opened several Vincom shopping malls in Hanoi, including Vincom Plaza, Vincom Center, Vincom Mega Mall, etc. One of the Vincom shopping malls and also the high-end commercial centers in Hanoi is Vincom Center Ba Trieu (Vincom Center Bà Triệu). If you have a chance to visit this shopping center, you might know why it is so well-known and popular.
Vincom Center Ba Trieu: Great Shopping And Entertainment Center In Hanoi
Location: 191 Ba Trieu (Bà Triệu), Hai Ba Trung (Hai Bà Trưng) District, Hanoi
Opening Hours: 9 am to 9:45 pm

Vincom Center Ba Trieu, Hanoi is a building complex built and developed by Vingroup Group. Located on Ba Trieu Street, this 21-storey high-end commercial center which opened officially on November 23rd 2004 features 1 apartment tower and 2 office towers with modern facilities. This shopping center has met the international standard and is asserted to be the largest twin towers in Hanoi. Nowadays, the tower has three connected building situated in the convenient trading position of Vietnam's capital city. Located less than 2 km from Hoan Kiem (Hoàn Kiếm) Lake, Vincom Center Ba Trieu as a luxury commercial center for entertainment and shopping has attracted a lot of locals and foreign visitors.
If you have a chance to visit Hanoi and want to go shopping, Vincom Center Ba Trieu  shopping mall is definitely a must stop destination. Covering more than 36.001 sqm of total retail space, Vincom Center in Ba Trieu is the shopping paradise of Vietnam. In this shopping center, you can find a wider array of products and goods of the leading domestic and international brands. On the first floor, there are numerous stores selling shoes, bags, cosmetics, perfumes, and jewelry. If you love fashion, you can go to the second floor which is used as the fashion selling space for clothes with well-known international brands for both males and females. On the third floor are office supplies, household appliances, and furniture. On the fourth floor is an electrical supermarket.
Besides, Vincom Center Ba Trieu also offers a number of cafés, famous restaurants and various food options for anyone with an empty stomach to enjoy the food and specialties made from many countries like Thai, Vietnam, Korean or China. If you want to relax and enjoy the meal in a comfortable pleasing atmosphere in Vincom Center Ba Trieu, please go to the fifth floor and the sixth floor. Furthermore, going to the seventh floor, you can enjoy interesting movies at the Mega Star Theatre set within this commercial shopping center.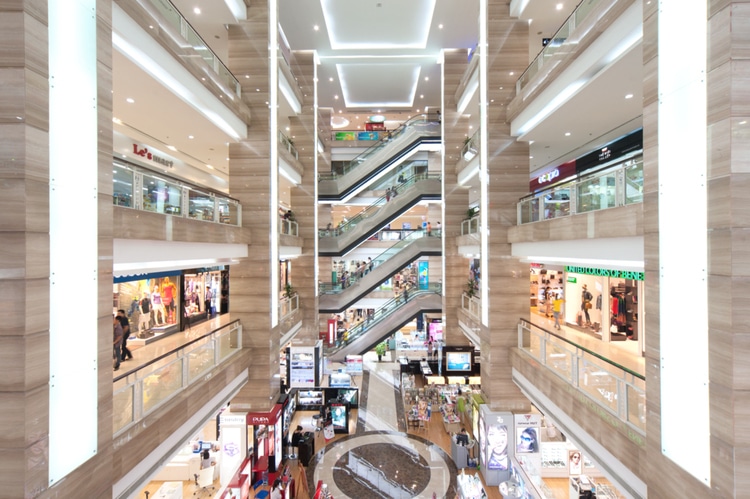 It is not surprising to know that Vincom Center Ba Trieu is not only a paradise of shopping but also an ideal destination for meeting and dating for the young.
Read more:
With the good and luxurious shopping and entertainment facilities, Vincom Center Ba Trieu is a popular destination for every family and visitors. I hope that this article in Vina.com gave you useful information and helped you know more about one of the best shopping centers in Hanoi. Any questions can be left in the comment section and we will answer them as soon as we can.