The United States is mulling over importing medical supplies and equipment from Vietnam for use in the prevention of the novel coronavirus disease (COVID-19) outbreak in their country, according to the Vietnamese ambassador to the North American country.
Ambassador Ha Kim Ngoc made the statement on Friday as he responded to questions about the United States' policy on Vietnam's exports during the epidemic and bilateral cooperation in COVID-19 fighting.
The response was made public by the Vietnamese Ministry of Foreign Affairs on Sunday.
"Currently, the U.S. is considering the feasibility of importing some medical supplies and equipment from Vietnam to serve the prevention of COVID-19 in the U.S.," Ambassador Ngoc said in the response.
The ambassador affirmed Vietnam has sufficient capacity to produce these products for both domestic use and export, contributing to the joint efforts of the international community in epidemic prevention and control.
"I hope this will create more opportunities for Vietnamese businesses to access and boost exports to the U.S. market," he added.
In Friday's response, the diplomat also asserted that the cooperation between Vietnam and the U.S. in general and in coping with the COVID-19 pandemic specifically is currently gaining positive results.
He said that the agencies and health experts of the two countries have been exchanging information and data in many forms to deal with the disease together since the end of January.
"The [Vietnamese] Embassy [in the U.S.] has also established a regular channel of communication with the U.S. Department of Health and the U.S. Centers for Disease Control and Prevention," Ngoc said.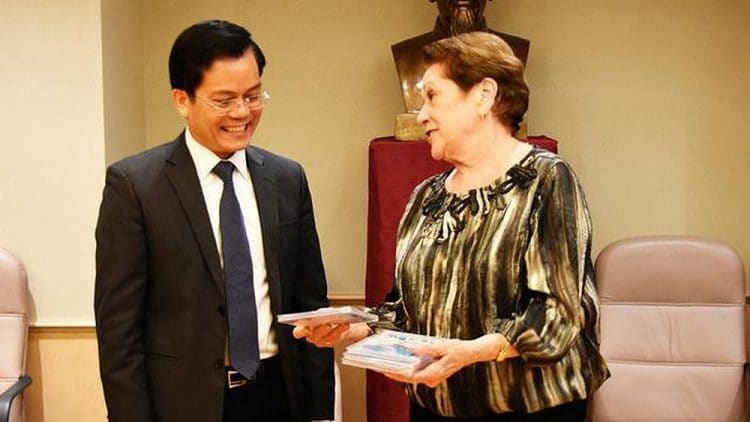 According to the Vietnames Ambassador, the United States has made positive assessments of the Vietnamese government's drastic, transparent, and effective disease prevention efforts.
"Recently, the U.S. government has announced a commitment of US$37 million in financing from the Emergency Reserve Fund for Contagious Infectious Diseases at the U.S. Agency for International Development (USAID) for 25 countries affected by COVID-19 or at high risk of its spread, including Vietnam," the ambassador said.
The novel coronavirus, which first emerged in the central Chinese city of Wuhan in December 2019, has infected nearly 337,000 and killed more than 14,600 people globally as of Monday morning, according to Ministry of Health statistics. Over 97,500 cases have recovered worldwide.
Vietnam has recorded 121 COVID-19 patients so far, with 17 having fully recovered and been discharged from the hospital by Friday.
No death attributed to the disease has been reported in the Southeast Asian country to date.
Meanwhile, the United States has reported 419 deaths from 33,546 COVID-19 cases.
Source: tuoitrenews