Indira Gandhi Park is an open space lying in the center of Hanoi. Because of the green space and full of utilities like trees, lakes, Indira Gandhi Park has attracted the attention of both capital people and tourists from all over the world. If you have a traveling tour to Hanoi capital city, do not miss the chance to explore Indira Gandhi Park.
Indira Gandhi Park – A Green Open Space In The Center Of Hanoi
Indira Gandhi Park in Hanoi is situated at the crossroad of Huynh Thuc Khang (Huỳnh Thúc Kháng) Street and Lang Ha (Láng Hạ) Street. It is opposite the National Cinema Center. The total area of the park is about 8.6 hectares in which the water surface area is 5.9 hectares.
During the French colonial era, Indira Gandhi Park was used as a meeting venue for concerts and important political events. In 1984, the park was renamed to commemorate Indira Gandhi – the first prime minister of Indian who supported Vietnam. This western name of this space also represents the Vietnamese's admiration for the great heroine who has made a lot of contributions in the prosperous Indian growth and development.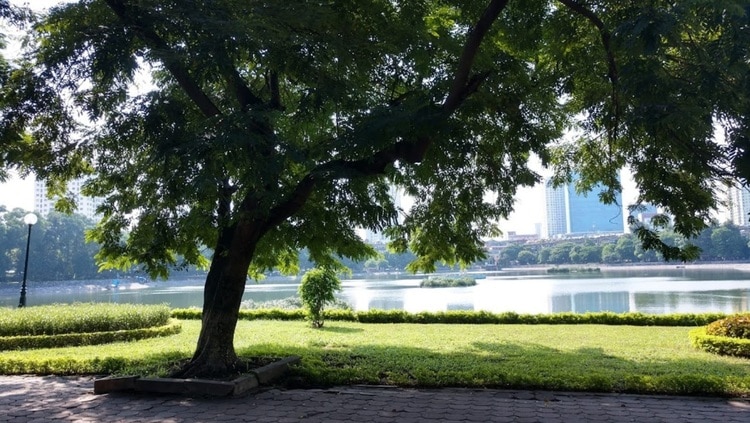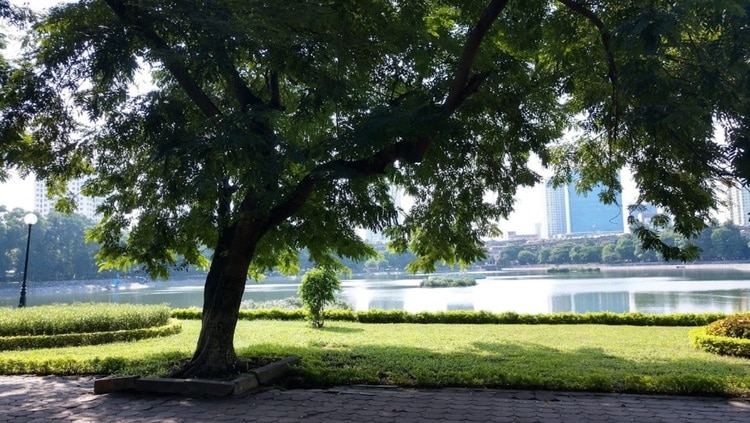 Entering the main gate, you will see a statue of Indira Gandhi with solemn and superficial look heading towards Lang Ha Street. Within the park, there is also a statue of King Ly Thai To (Lý Thái Tổ) – the first king of the Ly Dynasty.
Going deeply into the park, you will be astonished at how beautiful the park is. In the park, there is a rocked road around the clean green lake. In the middle of the lake is a monumental fountain. The park also has a shady area with planted trees and beautiful flowers. All of these things bring colors and attractiveness to space.
Walking around the lake in the early morning or late afternoon makes you feel relaxed and fresh as you are being lost in the beautiful miniature fairyland. Thanks to the shady trees and flowers, this attraction is seen as the green lung of Hanoi capital city.
Nothing is more excellent than relaxing, hanging out, and exercising in the park after a tiring day of studying and working. Visiting the spot, you can easily see people come to the park and enjoy their daily activities. For example, children play games like Ferris wheels and swings with their delighted smiles while adults go jogging freely around the lake. Furthermore, young people gather in the park to participate in group activities. Around the lake, you can see a group of fishermen go fishing. That brings a unique drawing. Indira Gandhi Park is an ideal destination where you enjoy the peace and stay away from the noise and complications of the city. The park is often crowded around 7:00 am. Therefore, if you want to meet the local people and have a small chat with them, you need to visit the park at this time. The park also has a chicken fight. The lucky visitors will have a chance to watch it.
The park opens every day to welcome everyone, including local people and international tourists. The admission tickets are free. But if you go to the park by your vehicle, the parking fee is 10,000 VND for motorbike, 5,000 VND for bicycle.
Located in the city center, this place can be reached easily by private means. If you go by motorbike or bicycle, you should go across Hoang Cau (Hoàng Cầu) Street, move to Thai Ha (Thái Hà) and turn to Huynh Thuc Khang and Lang Ha Street. If you travel by bus, you should catch the bus routes 26, 27.
Where To Eat Near Indira Gandhi Park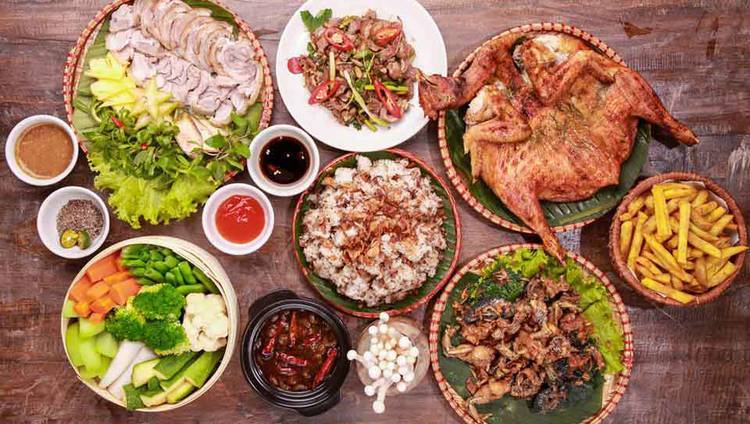 The center of Hanoi has numerous restaurants and food stalls. Near Indira Gandhi Park, you can find the best place to enjoy the delicious meals, including:
Luong Son Quan (Lương Sơn Quán) – 173 Thai Ha

Quan Sanh (Quán Sành) – 22 Huynh Thuc Khang

Lotteria – 63 Huynh Thuc Khang 

Bun Cha Huong Lien (Bún Chả Hương Liên)– No.14, Lane 59 Lang Ha

Pho Ly Quoc Su (Phở Lý Quốc Sư) – 111 Lang Ha
Where To Stay Near Indira Gandhi Park
If you want to find a commendation near Indira Gandhi Park, here are the recommended options:
Capital Garden Hotel – 4 Hoang Ngoc Phach (Hoàng Ngọc Phách), Lang Ha, Dong Da (Đống Đa)

Oasis Hotel – 19 Lang Ha, Ô Cho Dua (Ô Chợ Dừa) , Ba Dinh

Fortune Hotel Hanoi – 6B Lang Ha, Thanh Cong (Thành Công), Ba Dinh

The Pearl Hotel – 6B Lang Ha, Ba Dinh
That is all the information you should know before the trip to Indira Gandhi Park. I hope that you will find this article useful and informative. Any questions can be left in the comment section, and we will answer them as soon as we can. Thank you for reading. If you like our article, do not forget to support my job by taking a peek in Vina.com.
By Nga V